Man Fined for Trying to Fight Grizzly Bear
A visitor to Banff National Park wanted to wrestle a grizzly. He was lucky to make it out unscathed, says an expert.
Heading out the door? Read this article on the new Outside+ app available now on iOS devices for members! Download the app.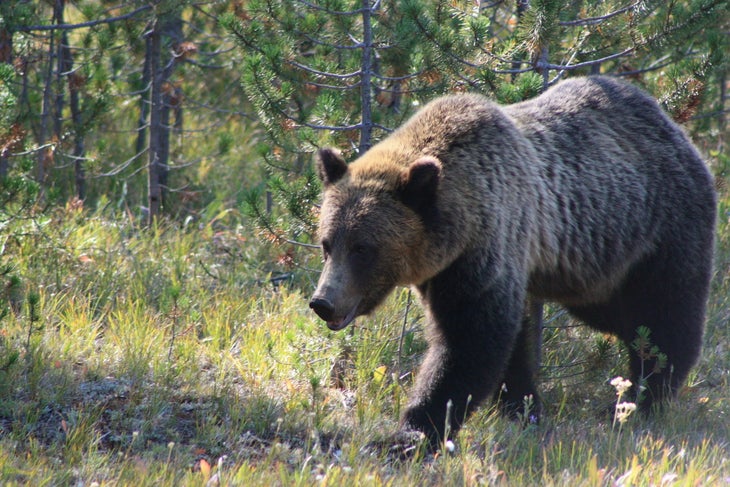 Here at BACKPACKER, we've covered a handful of incidents of bears mauling humans. But a human trying to attack a bear? That's a first. 
A case involving a man taunting a grizzly bear in Banff National Park in 2015 finally came to trial last week after the defendant missed two previous court dates. The judge fined Devin Mitsuing, who was seen yelling and throwing rocks at a grizzly beside a park road, CAD$4,000.
According to witnesses, Mitsuing and a companion pulled over beside the Icefields Parkway and began shouting at the young grizzly on June 5, 2015. Photographs of the incident show the distance between Mitsuing and the bear to be no more than a handful of yards. Then, Mitsuing removed his shirt and assumed a boxing stance, taunting the bear. Mitsuing, who police said was intoxicated, eventually began to run at the bear, which fled into the woods. 
"This falls into the category of 'stupid human tricks' where people out of sync with nature put themselves and wildlife at risk for a coveted selfie or photo with a bear," said bear biologist Tom Smith.
According to Smith, who has studied human-bear interactions for over two decades, such an incident could lead to the person becoming seriously injured and the bear being killed as a result. Or, "if not killed, the bear may repeat this behavior with other, unsuspecting persons who simply pulled over to take a photo and now suffer the indiscretions of others."
Money from Mitsuing's $4,000 fine will go toward Canada's Environmental Damages Fund, which fund conservation and environmental restoration projects. 
"Although the bear didn't pay him any attention, fortunately the judge did and he threw the book at this shirtless ninja," said Smith. "Not sure what I can say other than score: bear 1, human 0."
Want to hear more about wildlife encounters, near misses, and harrowing tales of survival? Listen to BACKPACKER'S Out Alive podcast now, and stay safe.