Live from the Tetons
Our intrepid blogger...leaves his desk!
Heading out the door? Read this article on the new Outside+ app available now on iOS devices for members! Download the app.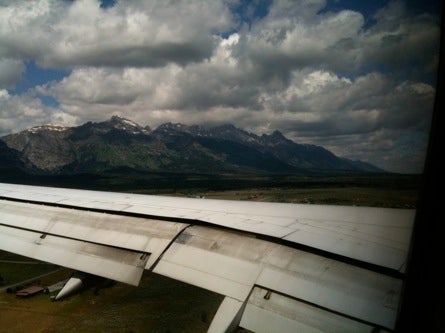 So it's not often that we bloggers get to see the light, much less get a view, but the BACKPACKER gods are sure shining on us brightly today: We're in Grand Targhee, Wyoming, set to explore the Tetons on the sly from the west side. To that end, we'll be filing trip reports and updating our Twitter feed for your viewing pleasure.
After yesterday's arrival and a scenic drive from busy Jackson to sleepy, rustic Victor and Driggs, Idaho, I hopped on a mountain bike for a little cross-country tooling around. This was a terrible idea, especially when you keep in mind that the last time I rode a bike, it had three wheels and was called a "trike." But I survived with nary a scratch, and even enjoyed my time speeding over rocks and through fields of wildflowers. (No pictures for that one–had to focus on not shouldering trees. But we'll get photos today–promise.)
That's likely to change today when I hop on a downhill bike. Hopefully I can keep my skeleton intact enough for the main event: an evening hike to the stunning South Leigh Lakes on the west side of the Tetons. Stay tuned.
–Ted Alvarez