Live From Kili: Climb On
BACKPACKER writer Nick Heil begins the trek to high altitude on Kilimanjaro
Heading out the door? Read this article on the new Outside+ app available now on iOS devices for members! Download the app.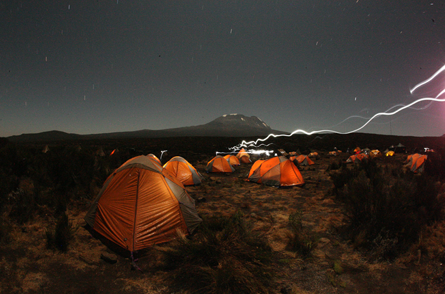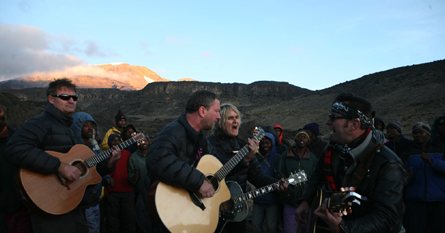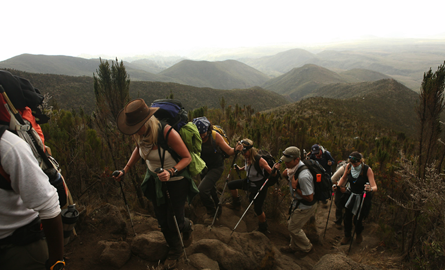 Nighttime on the Shira Plateau beneath Kilimanjaro.
Writer Nick Heil is on assignment for BACKPACKER in Tanzania, where he's climbing Kilimanjaro with the cancer-fighting Love Hope Strength Foundation. Keep checking back for updates on the climb, and to learn more about the expedition, visit kilimanjarorocks.com.
Sept. 29: K-Camp 1, 9,000 feet
Today brought a filling-dislodging 4-hour jeep drive across the hardscrabble valley separating Mount Meru and Kilimanjaro, followed by a 4-hour rooty hike through verdant sub-alpine forest. We're following the Lemosho Route, also called the Shira Plateau Route, which will bring us up to Kili's west flank before wrapping around to the east and climbing the massif proper.
The comfort factor has taken and pronounced drop: Standup safari tents have been replaced by two-person Mountain Hardware domes. Camp's laid out under a massive podocampus, as wide as it is tall: It's just us, the 25-member trekking team, our two trip leaders, James and Chili, two "production assistants," four assistant guides, four camp crew, five cooks, a four-man toilet team, and 111 porters.
That's not a typo: This must have been what it was like on the early Everest expeditions, with their massive wagon trains, hauling gear. We are now squashed in camp—one very, very big happy family. The musicians jammed before dinner, and now we're winding down, post-dinner (rice w/ chicken in peanut sauce, green beans, avocado salad) with rooibos tea, a snort or two of Ballentynes, Nick Harper riffing softly in the mess tent. Anxiety's already percolating about the high-country ahead. We ascend to about 11K tomorrow. Weather's perfect. So far, so good.



Trekking through the moreland.



Sept. 30: K-Camp 2, 11,417 feet
Our first full day trekking. Up and out of the arboreal forest, into the moreland, snaking through head-high heather and waist-high sedge. It's getting challenging. Almost 3,000 vertical feet today, including a long steady grind after lunch that deposited the team on the Shira Plateau, huffing and sweating.
We suffered our first injury today when one of the trekkers bit into a peanut butter slathered sliced of toast and left behind a molar. She's fine, it hasn't slowed us, but it is a sign of the attrition that's sure to take place over the next several days. Bitter cold tonight and 99 percent chance of rain in the forecast tomorrow. Still, the musicians cranked up a Beattles n' Stones tribute set this evening. Right now, just after dinner (fish n' chips) I'm sitting in the mess with the team while Nick Harper strums a gorgeous rendition of "My Imaginary Friend." Upward.
Concert at 13,000-plus feet.
Oct. 1: K-Camp 3, Mora Hut, 13,500 feet
Let the fun begin: We pushed across the Shira Plateau this morning, before following a steady winding climb up to Mora Camp. Most of the vegetation is below us now, and it really feels like we've taken our first good (well, shaky, for some of us) steps on the mountain. The rain stayed away, so we hiked under cloudy skies through a slight breeze.
The altitude is beginning to become an issue. Lot's of trail chat about headaches, nausea, sleepless nights. Dinner in the mess had a few empty chairs; team members crawled into their tents when arrived and we haven't seen them since. No serious problems at this point, just the usual projectile vomiting, skull splitting headaches, and general malaise. Familiar mountaineering blues. We had some nice views of Kibo tonight as the sun set and the clouds parted.
Props to the musicians who managed to crank out a 30-minute jam at the edge of camp. I couldn't have played guitar if you asked me…even if I played guitar. The scene was glorious, if slightly ominous: There is a LONG way to go–four days, and another 5,500 feet to be exact. It's going to be interesting.
—Nick Heil