Live From Kili: Basecamp Jam
Before heading out for the true climb, musicians and porters alike rock out in Kilimanjaro's basecamp
Heading out the door? Read this article on the new Outside+ app available now on iOS devices for members! Download the app.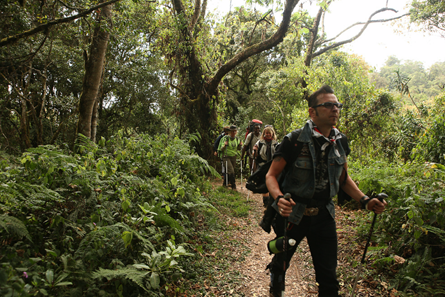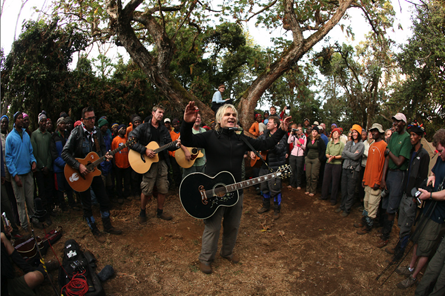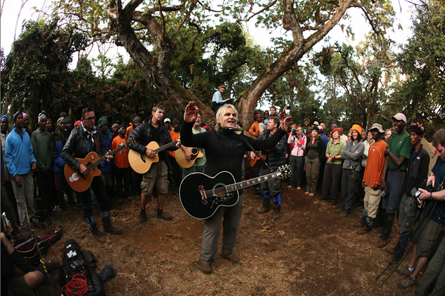 Mike Peters of The Alarm leads the rock show at Kilimanjaro basecamp.
Writer Nick Heil is on assignment for BACKPACKER in Tanzania, where he's climbing Kilimanjaro with the cancer-fighting Love Hope Strength Foundation. Keep checking back for updates on the climb, and to learn more about the expedition, visit kilimanjarorocks.com.
Day Two: Basecamp
A bit of a redux of our first day: an a.m. game drive starring colubus monkeys, more flamingos, baboons, and a family of giraffe. The afternoon flew by sorting, swapping, and—for a few victims of airline baggage—procuring, gear for the mountain.
We've become more musical, too. The team includes Mike Peters from The Alarm, Cy Curnin from the Fixx, Glenn Tilbrook from Squeeze, Robin Wilson from the Gin Blossoms, Slim Jim Phantom from the Stray Cats, and guitarists Nick Harper and Brien McVernern. I'm dating myself, but I grew up listening to these guys, and if you had told me 20 years ago that I'd be standing on a grassy knoll, listening to them play acoustic guitars in an impromptu episode of Kilimanjaro Unplugged, I would have laughed out loud.
Brien McVernon of Australia's Retro Rockets.


But, well, there I was, a few hours ago, watching the alpenglow fade from the peak and listening to these guys jam—Nick Harper doing "Rocket Man" (his, not Bowie's), Robin Wilson covering Queen's "You're My Best Friend," etc. It was a sweet kwaheri (goodbye) to our plush home of the last coupla days. Revelee sounds at 6 a.m. tomorrow and we roll out for our first real day on the mountain. Feeling well-fed and psyched for the climb.
—Nick Heil
You can follow the Kilimanjaro Rocks team in real time with the embedded map below: