The Most Popular Program in the Outdoors is in Danger
The Land and Water Conservation Fund has bought land for national parks and long trails, and doesn't cost taxpayers a thing. So why does the White House want to cut it?
Heading out the door? Read this article on the new Outside+ app available now on iOS devices for members! Download the app.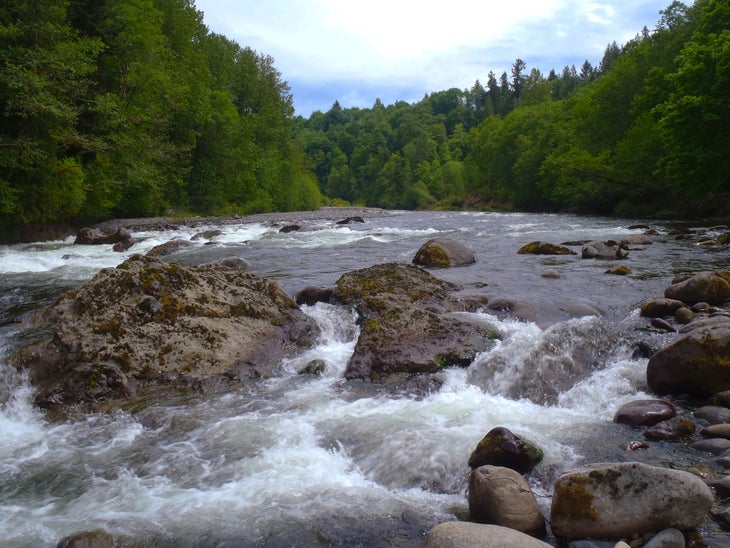 Jonathan Asher didn't know much about the Land and Water Conservation Fund when he started working for the Wilderness Society, where he's a senior representative for government relations. But when he scrolled through the list of projects that it had paid for, he found that it touched his life from end to end.
"I couldn't throw a stone and not see a place that I knew of or grew up around or had had some interaction with, whether it was Evergreen Lake and growing up skating there [in Evergreen, CO], or the Evergreen rec center, or my fondest or most epic trips, like Kenai and Denali," he says. Even visiting his father in Buena Vista, Colorado, he passes a sign touting the fund's support of the town's river park.
"It's one of the most popular things that no one's ever heard of," says Hannah Clark, executive director of the Washington Association of Land Trusts. She has seen the fund keep campgrounds open and pay for local ball fields. This year, the trust highlighted a request for $5 million to purchase 4,500 acres to reunite a fractured landscape in the Okanogan-Wenatchee National Forest east of Seattle.
But the fund, to which Congress can allocate up to $900 million, saw many of its components zeroed out by the president's proposed budget. All in all, the fund is looking at a whopping 85% cut, one of a series of reductions to the Department of Interior that saw millions dropping from the budgets for the National Park Service, Fish and Wildlife Service, and Bureau of Land Management. Conservation groups called it "reckless" and "a shameless attack on America's parks and public lands."
The House proposed an alternative version that reduces the fund by a damaging, though not as debilitating, 32%. (The Senate has not weighed in.) With an October 1 deadline to avoid a government shut down, the legislature has less than a month to decide what the future of the fund will look like.
Filling in the gaps
No taxpayer dollars go to the Land and Water Conservation Fund, which was created in 1964 to direct royalties paid by energy companies drilling on the outer continental shelf toward efforts to safeguard national parks, cultural and recreation sites, forests, rivers, and lakes.
"It was a simple idea: use revenues from the depletion of one natural resource—offshore oil and gas—to support the conservation of another precious resource—our land and water," reads a description of the program from the Land and Water Conservation Fund Coalition, an umbrella group of more than 1,000 state and local landowners, small businesses, ranchers, sportsmen, veterans, outdoor recreationists, and conservation organizations.
Every state has received money through the fund, which has gone to protecting national parks and wildlife refuges, endangered species habitat, working forests, and historic battlefields, and to state and local recreation projects including city parks.
"The president's budget would cut pretty much all of the above," Clark says. "It really touches every piece of our quality of life."
One of the fund's core projects has been to seek out the millions of privately-owned acres within national parks, monuments, and refuges, and buy them up.
"Most people don't really understand that when people designate a national park, they're not finished—they draw a boundary on a map, but not necessarily everything is federally owned," says Amy Lindholm, with the LWCF Coalition. "If you ever want to look at what this means, you can Google 'Zion trophy homes.' There are these McMansions in some national parks that are truly atrocious. They really disrupt the visitor experience."
Those purchases made it possible to close a mine posing a threat to the Yellowstone River and add a network of trails on lakefront acres in Acadia National Park.
"People often have to wait years to get up the list of priorities for the limited amount of the Land and Water Conservation Fund that exists even in a good year," Lindholm says. "Sometimes people can wait, and sometimes they can't."
The backlog of conservation needs has been estimated at $30 billion, according to the coalition, and includes land in Florida's Everglades and the Grand Tetons and civil war battlefields in Virginia.

The president's budget would effectively kill that, Lindholm says: "That's 85 percent more land owners who are dropping out and selling to developers."
It's not all wilderness, either. The fund's grant programs to underserved communities to improve city parks, recreation facilities, and green spaces likewise take a hit in the president's budget. State governments' needs there are estimated at $27 billion, according to the coalition.
Completing the trails
Major national scenic trails including the Pacific Crest Trail and Continental Divide Trail are similarly incomplete, hence the pieces where the trails route to roadways. The Partnership for the National Trails System, a federation of 35 nonprofit organizations that manage national scenic or historic trails, submitted a budget request for $54 million for 2018 from the Land and Water Conservation Fund. Their request outlines needs to close gaps along and preserve archaeological sites, wildlife habitat, and shoreline along the Appalachian, Continental Divide, Florida, North Country, and Pacific Crest National Scenic Trails, as well as the California, Captain John Smith Chesapeake, Lewis and Clark, and Nez Pearce National Historic Trails.
When Congress authorized each of the 11 national scenic trails, none of them were complete, says Gary Werner, executive director of the partnership.

"Across the scenic trails, if you add them all up, there's 4,500 to 5,000 miles of missing pieces that a right of way needs to be secured one way or another, and clearly the Land and Water Conservation Fund is one of the sources of funding to do that," he says. That money also goes toward protecting a hiker's view by establishing a protected corridor along the trail to buffer development. "The concept that they should be going through or providing an experience of relatively wild and undisturbed landscapes is sort of at the core ethos of those trails."
For national historic trails, designed to protect patches of historic trail systems or cultural sites, about 2,000 sites and segments—and counting—still need to be acquired by the federal government and protected. The hope there, too, is to preserve an experience similar to a historic travelers'—as it has been at South Pass, Wyoming, where the Oregon Trail crossed the Continental Divide and the big sky landscape still captures what those trudging alongside their westbound wagons would have seen.
Werner contrasts that view with what he saw on a recent trip to the Donner Party monument in California's Sierras, where a gas station sign interrupted the view.
Hope on the horizon?
When the Land and Water Conservation Fund works well, it's invisible. It's the land that wasn't turned into a housing development, a gas station, a pipeline, a mine, an oil well, or a road. As such, it often goes underappreciated, even by outdoors lovers.

While the fund enjoys bipartisan support, Congress has only allocated it the full $900 million once in its entire existence. In all other years, some portion of that money has been shuffled into the general fund, destined for day-to-day government expenses.
Moreover, Werner points out, the $900 million authorized in 1964 would need to be increased to about $3 billion to fund the same purchases today.
Sen. Maria Cantwell (D-WA) introduced a bill in March that would authorize permanent funding for the LWCF. It has not yet been heard in a committee. The fund is ripe, Werner contends, for a lot of calls to elected officials from voters who'd like to express their support.
"Because it's nationwide, it's supported by everybody but nobody," Lindholm says. "There's no one member of Congress who owns it and fights for it day in and day out."
That fight will become critical next year, when Congress is due to vote on reauthorizing the existence of the Land and Water Conservation Fund.
Even Interior Secretary Ryan Zinke, who is tasked with defending the president's budget, has historically supported the fund. As a representative for the state of Montana in 2015, Zinke wrote an op-ed about his vote for permanent reauthorization of the Land and Water Conservation Fund. To those 22 representatives who voted against it, he issued an invitation to "take a hike"—inviting them to Montana, to hike the trails and visit the public fishing areas the fund helped create.
"The American people support LWCF," he wrote. "It's time Congress gets on board."
While its successes may sometimes be invisible, the impact of its absence, found in closed trails, barred access, shuttered campgrounds, collapsing playgrounds, and development encroaching visibly on favored trails, would be hard to ignore.