June 2013 Table of Contents
Heading out the door? Read this article on the new Outside+ app available now on iOS devices for members! Download the app.
Features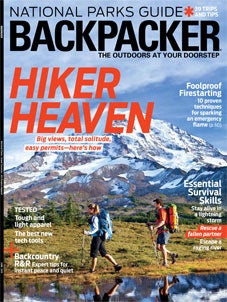 Why settle for bagging a single summit when you could nab a whole skyline's worth? From the Sierras to the Appalachians to the Rockies, these 13 routes take you across towering peaks, knife-edge ridges, and vast ranges—no backtracking allowed. By Brendan leonard
Wired & Unplugged
With the latest tech tools, you can plan trips better and more easily, stay safer on the trail, and instantly put your summit hero shot in front of the whole world. Just use this comprehensive guide to the latest gadgets, tricks, apps, and social media platforms. By Billy Brown
When a harried New York hiker yearns for instant peace and quiet, he signs up for a yoga/backpacking trip in the Yosemite high country. But will perfecting the Tree pose really make the forest more rejuvenating? And will the bears make it hard to meditate? By Steve Friedman
Our yearlong 40th anniversary celebration continues with this month's Dream Trip winner and more.
TRIPS

VIEWFINDER: THE PARKS AT NIGHT
Gain new perspectives on our wilderness icons.
LIFE LIST: PADDLE CANYONLANDS
Explore this desert park the right way: by water.
TOP 3: NATIONAL PARK HIKES
Best scenery, solitude, and swimming holes.
MOUNTAIN MAP: GLACIER NATIONAL PARK
Five killer trips for big views and big wildlife.
Local Hikes
WEST
Trek past eight lakes in Lassen Volcanic NP's high country, check out the newest national park, hike the Wonderland Trail in Rainier NP like a pro, and more.
CENTRAL
Hike the border country in Big Bend NP, bring your kite on an Illinois hike, see bison duel in Wind Cave NP, and go on nine more adventures.
EAST
Snake through swamplands in Congaree NP, see fireworks atop Vermont's highpoint, catch a firefly light show in the Smokies, and grab nine more early summer trips.
SKILLS

MASTER CLASS: MOUNTAINEERING
Explore the alpine zone with 31 expert tips.
INSTANT UPGRADES
Snag a last-minute park permit, treat poison ivy, cook for a group, and more.
TEST KITCHEN: ELECTROLYTES
Stay energized on summer's hottest hikes with these essential salt replacements.
SURVIVAL

OUT ALIVE: STRUCK BY LIGHTNING
A hiker fights for his life after a bolt stops his heart.
TROUBLESHOOT THIS: BUSTED HYDRATION BLADDER
Learn to field-fix a leaky reservoir.
CHART OF DEATH: DROWNING
Keep your head above water with this guide to surviving deadly river hazards.
SURVIVAL LAB: FIRESTARTERS
From cotton balls to cashews, we test the best backcountry fuel.
GEAR

LIGHT AND TOUGH APPAREL
Our testers put these picks through months of Grand Canyon abuse. Plus; a better bear canister, a versatile stove, camera upgrades for your smartphone, and more.
GEAR REVIEW: TRAIL SHORTS AND HIKING TOPS
Plus Outdoor Research Voodoo Pants, Marmot Stride Jacket, and more.