June 2010 Table of Contents
Heading out the door? Read this article on the new Outside+ app available now on iOS devices for members! Download the app.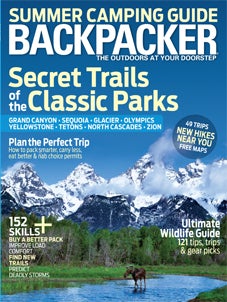 FEATURES
Wild Wales

With knife-edge ridges, cliff-brink coastal trails, and a pub a stone's throw from every peak, Wales is ideal for testing your backcountry mettle and then toasting your exploits. But it's not all epics and bitters. You'll also find two long-distance trails, plus historic castles and Arthurian legends around every bend. By Steve Howe
Animal Planet

Want to see a moose like the one on the cover? How about wolves, mountain lions, grizzlies, bighorn sheep, bald eagles, and more? To turn your next hike into a safari, follow these 121 expert tips from wildlife biologists, guides, and rangers. By Kelly Bastone
Secret Hikes in the Classic Parks

Ever wonder what it would be like to have Yellowstone all to yourself? We tasked our trail scout with finding unlikely solitude—during primetime hiking season—in a dozen life-list parks. And except for bumping into grizzlies, he found it, from a 92-mile circuit in Glacier to an insider's traverse of Zion. It's time to stop wondering—and start hiking. By Michael Lanza
High Note

Lots of musicians perform charity concerts. Very few climb mountains and play on top. And only one—Mike Peters of The Alarm—has staged a fundraiser on Mt. Kilimanjaro's 19,341-foot summit. The two-time cancer survivor is on a mission to fight the disease, and if he has to gasp for air between verses, so be it. Join Peters, plus friends from the Fixx, the Stray Cats, Gin Blossoms, and Squeeze, for the world's highest show. By Nick Heil
PEOPLE
Fast Responders

Mix first aid, adventure racing, and a survival smackdown, and you get this hybrid competition. Plus: Blind climber Erik Weihenmayer discusses his new hobby—photography.
Shot in the Dark: Q & A with Erik Weihenmayer
DESTINATIONS
TOP 3: Ghost Town Hikes

Explore the places time forgot in New Mexico, Colorado, and Massachusetts.
NATURAL WONDERS

Discover the world's tallest geyser, spot America's smallest bird, and picnic under Florida's shadiest tree.
RIP & GO WEEKEND ADVENTURES

No time for an overnight? Tear this page out and think again. This month: hikes in Wyoming, Washington, and Tennessee.
THE PEAK: Humphreys

Discover aspens and alpine hiking, plus views of the Grand Canyon, on this trek up Arizona's 12,633-foot highpoint.
SKILLS
THE MANUAL: Plan an Expedition

From thru-hikes to Alaska epics, here's how to scout your route, pack your gear, and train your body for the trip of your life.
Health: Strengthen Your Back

Hauling a heavy load can be a pain in the neck—not to mention the shoulders, hips, and lower back. Here are three surefire tricks to banish pack strain.
Dirtbag/Gourmet: Curry

Spice up camp meals with Asian flavors.
GEAR SCHOOL: Sunglasses

Vision quest: Here's how to choose, clean, and fix your shades.
GEAR
FIELD NOTES

A sub-2-pound solo tent, tough yet great-fitting softshell pants, quick-adjust trekking poles, and more
REVIEW: Knives

The best ultralight blades and mini multitools for every type of hiker
FIELD TEST: Do-it-All Packs