Heading out the door? Read this article on the new Outside+ app available now on iOS devices for members! Download the app.
The Ultimate Weekend Planner

Want to triple your trail time and still earn Employee of the Week? Our step-by-step guide to getting out more (and getting out faster!) tackles everything from job delegation to gear-closet organization. By Andrew Tilin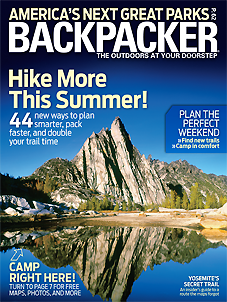 Hike It, Save It

Forget donations, petitions, and pickaxes. The best way to save endangered wilderness is to go backpacking. Here are 10 slices of pristine backcountry where you can vote for protection with your feet. PLUS: A special guide to the 2 million new acres of wilderness recently designated by Congress. By Charlie Wood
National Parks Project: Part 2

Yosemite

Solitude in America's third-busiest national park? You bet–on our 31-mile route, which follows a long-forgotten trail. Join contributor Kelly Bastone on a four-day trip that delivers grandstand views of Half Dome and El Cap without the grandstand crowds. PLUS: key skills, turn-by-turn directions, more quiet hikes, and a 3D Google flyover.
Sleep Better Now!

What's one thing sure to make every camping trip better? A good night's sleep, of course. Our restless guinea pig snooze-tested the latest science and gear to bring you a simple plan that's guaranteed to improve your backcountry zzz's. PLUS: Cozy bags, pads, and accessories for every season and hiker. By Grant Davis
Canister Stoves

They're tiny, featherweight, and affordable, and without them there'd be no rum-infused hot cocoa. Our field-test crew ranked the season's newest and most innovative ultralight stoves by boil time, burn time, and fuel efficiency. By Casey Lyons
There's a Bomb in My Backpack

The U.S.-Canada border is long, wild, and unprotected–a 5,525-mile entry point for would-be terrorists. Just how easy would it be to smuggle a pound of anthrax across? An anonymous hiker-patriot travels north to find out–and returns with this exclusive report from a frontier wilderness mere hours from downtown Seattle.
The Next Climb

Join several of America's top mountaineers– Ed Viesturs, Dave Hahn, and three generations of Whittakers–for a look at their new line of outdoor gear and upcoming Everest assault.
DESTINATIONS
TOP 3 DUNE HIKES

Trek between 500-foot-high drifts and listen to "singing" sands on these trips.
NATURAL WONDERS

Step close–but not too close–to Glacier's grizzlies, the world's hottest fumarole, and America's only wild Venus flytraps.
RIP & GO WEEKEND ADVENTURES

Grab your gear. Rip out one of these jam-packed one-page guides. Drive and enjoy. This month: overnighters in Utah, Arkansas, and on the Appalachian Trail.
THE PEAK: HARNEY

Explore South Dakota's 7,242-foot high point in a weekend or a day.
SKILLS
THE MANUAL CAMPING WITH DOGS

Make Fido's next trip doggie heaven with our tips on finding pooch-friendly trails, loading a dog pack, and treating injuries.
Dirtbag/Gourmet PIZZA!

Savor a spicy backcountry slice with these recipes for two delicious DIY pies.

Quick Pepperoni Pizza

Parmesan-Polenta Pizza
MEDICINE MAN: HIKING WITH A BABY

Experts say go ahead, take junior on alpine hikes. Here's how to keep him safe.
GEAR SCHOOL: WATER FILTERS

These packable pumps zap micro-nasties and make mucky water potable. Here's how to use, clean, and fix them.
GEAR
FIELD NOTES

Cloudveil BPM Jacket

Osprey MapWrap

Evernew EL9 Solar Light Clip

Vado Pocket Video Camera

Big Agnes Gore Pass 2
REVIEW: BACKCOUNTRY KITCHENS

Our top cooks dish on the best pots, plates, and gadgets for gourmet camp meals.