Heading out the door? Read this article on the new Outside+ app available now on iOS devices for members! Download the app.
Features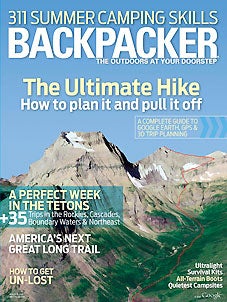 The Onion vs. Mr. Magoo

When a pair of ultra-distance backpackers set out to complete the first 5,600-mile roundtrip of the country's toughest trail, we knew it'd be a slow, epic race. The only thing we didn't expect: the cutthroat competition.

by Andrew Tilin
Adventure Guide: Grand Teton National Park

The perfect vacation awaits: We've fine-tuned 7 days of fast-and-light adventure, from bagging peaks only the locals know to camping with moose in the park's wild interior. Grab a camera—you've never seen the Tetons like this.

by Michael Lanza
iHike: Tech on the Trail

The revolution is here: Digital tools are changing the way backpackers plan, share, and even experience trips. In this special guide to the latest outdoor technology, we'll teach you how to preview a route in 3D, create a Google Earth flyover, sync your photos to a map, and wow your friends with Web-worthy slideshows and video.

by Evelyn Spence, Jason Stevenson, & Kris Wagner
Plan It: New Tools, New Rules

Every great trip boils down to this: Picking a ideal location, capturing memorable moments, and bragging about it. Here's how to get started the high-tech way.
Document It: Field School

Take your new tools to the trail to master the skills you'll need to navigate, record, and share your best adventures.
Organize It: The Cutting Room

Here's how to turn raw data into finished files that will wow your friends and preserve trip memories better than any photo album.
Share It: All the World's a (Cyber) Stage

Your adventure is ready for primetime. Here are 19 ways reach the audience in your living room — or around the world.
Hike It: 4 Big Trips Made Easy

Now that you've mastered the skills, put them to use. We show you how a tech assist can make it easier than ever to pull off a life-list journey.

By Michael Lanza
Gear
All-Terrain Boots

The best new footwear can handle big trips, heavy loads, and rough trails with zero break-in. We review six that made the cut.
Field Notes

We put a versatile pack, summer-weight merino baselayers, comfy camp shoes, ultralight hammocks, and more through their paces.
Adventures
Paradise Resurrected

Ecological balance—and dozens of sweet places to hike, paddle, and camp—have been restored at California's Channel Islands.
Quick Fix: The Black Hills

Discover cool lakes, shady aspen stands, and herds of elk in this exotically shaped jumble of South Dakota granite.
Top 3 Paddling Treks

Grab your sandals and drift-camp these scenic rivers in New York, Texas, and Alaska.
Trip Finder: Ridgewalks

Nine epic ridgewalks from the Northeast to the Pacific Coast.
Best Damn Weekend Ever: Hike Vermont's Bourn Pond-Stratton Pond Loop

Dig deep into Appalachian inspiration on this 23-mile loop through the Lye Brook Wilderness.
Vacations: Tahoe Rim Trail

Take two weeks—and you'll wish for more. This 165-mile Sierra loop passes fields of thigh-high lupine, sparkling lakes, and granite peaks.
Rogue River Redux

Hike up Oregon's wildest river. Then raft back down.
Where Can I Find: The Quietest Campsite in America
Trip Doctor: Junior's First Backpacking Trip

Nature



An End to Outhouses

Some park managers want hikers to do more than bury their waste. Are we ready to pack everything out, or is LNT going too far?
Phenomenon: Wildlife Crossings

How did the bear cross the road? See a few ways engineers are helping wildlife go over, under, and around traffic.
See More: Great Blue Herons

How can one bird look so majestic and odd?
The Big Question: Should loaded guns be allowed in national parks?
Skills
Light A Fire

How and when to build one to get warm in any weather.
The Specialist: Fighting Heat Strokes
The Fix: Organize Your Essentials
Reader Tip: Backpack-Friendly Cutting Boards
Survive This: Separated From Your Group
Start Smart: Perfect Sunset Photos

Our experts explain how to capture color and detail when the light is low.
Next Level: Survive an Emergency Rappel
Health News: What's in Your Bottle?
Health: Treat a Head Injury

Here's what to do when your partner gets whomped upside the melon in the woods.
Food: Sushi Anywhere

Miso soup, breakfast domburi, and pink caterpillar rolls? Domo arigato!