Heading out the door? Read this article on the new Outside+ app available now on iOS devices for members! Download the app.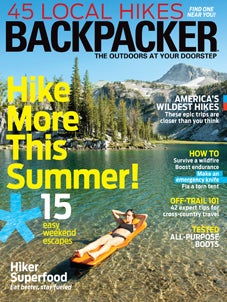 FEATURES
One-Night Wonders
It's Saturday morning and the clock is ticking. Make the most of your freedom: These trips pack epic into a weekend. By Kelly Bastone
Testing the Waters
Majka Burhardt just moved to New England. Her dad is not pleased. Can four days of father-daughter wilderness canoeing prove her case?
Hidden Montana
Big wildlife, big wilderness… big surprise: some of Montana's best hikes are not in Yellowstone or Glacier. Start with these eight. By Steve Howe
TRIPS
Life List: Moonlit Traverse
Hike New Hampshire's Presidentials—at night.
Top 3 Quad Burners
You'll be sore, but thankful, after these steep treks.
Mountain Map: Indian Peaks, CO
Discover five great trips in Denver's backyard range.
Local Hikes
West
Hike through wildflower-laden alpine meadows in Washington's volcanic high country, see a meteor shower in dark-sky New Mexico, escape the crowds above Lake Tahoe, and more.
Central
Trek along the country's first national river in Arkansas, find solitude in Michigan's Trap Hills, watch whooping crane chicks learn to fly outside Madison, WI, and plan for nine more summer trips.
East
Trace a West Virginia ridgeline in the Alleghenies, show your family eight waterfalls on one Pennsylania hike, check out a rare moonbow in Kentucky, and go on nine more adventures.
SKILLS
Master Class: Off-trail Travel
Escape the crowds and explore new terrain with 42 expert tips.
Instant Upgrades: Pro Tips
Hike farther, save cash on trips, fix a tent, and more.
Test Kitchen: Nuts
Fuel up on mixes, spreads, and bars featuring this hiker superfood.
SURVIVAL
Out Alive: Trapped by Wildfire
Two kayakers flee a burning shoreline—only to face hypothermia in a lake's cold waters.
Troubleshoot This: Silty Water
Don't let dirt ruin your filter. Use these field-proven tips to improve water clarity.
Survival Lab: Caveman Skills
Lost without your survival kit? Learn how to craft a blade and cordage from material found in nature.
GEAR
Big-Trip Boots
Our testers put these winners through months of Grand Canyon abuse. Plus: a bargain shell, ultralight camp shoes, the best new hydration gear, and more.
Heroes: David Gonzales, 46