January 2012 – Readers' Choice
Heading out the door? Read this article on the new Outside+ app available now on iOS devices for members! Download the app.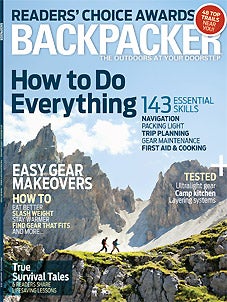 Readers' Choice 2012

Your favorite local hikes. The skills and gear makeovers you requested. Your wall-worthy photos and your most harrowing survival tales. It's all in this special issue created by and for the country's foremost backpackers—you.
DESTINATIONS

Dream Big

The assignment: Scout a life-list hike and bring back photos, GPS coordinates, and beta to share with BACKPACKER readers. Sweet gig, huh? More than 150 entrants in our Reader Leader Contest thought so. From Glacier to the Smokies, the winners report on their finds.
West

Spend a week in John Muir country, stare Mt. Rainier in the face, hike to a secret Cascades summit, and trek through redwoods to a backcountry soak.

TOP 3

Local Hikes

We Polled You: The Results

One Reader's Top Trails



Mountain West

Beat the crowds in Zion, see 1,000-foot sandstone towers, explore off-trail in a hoodoo wonderland, and fish in a basin of 30 alpine lakes.

TOP 3

Local Hikes

We Polled You: The Results

One Reader's Top Trails
Midwest

Circumnavigate a wilderness island, camp atop riverside bluffs, chance a glimpse of the northern lights, and climb a sea of dunes.

TOP 3

Local Hikes

We Polled You: The Results

One Reader's Top Trails
Northeast

Sleep on sandy lakeside beaches, snag three-state views, loop past 21 waterfalls, and tackle the best part of the East's hardest dayhike.

TOP 3

Local Hikes

We Polled You: The Results

One Reader's Top Trails
Southeast

Swim below a multitiered falls, brave alligators on the Florida Trail, top a sparkling quartz summit, and conquer the AT's highest stretch.

TOP 3

Local Hikes

We Polled You: The Results

One Reader's Top Trails
[skills]

Adventure Upgrades

Take your backpacking to the next level. Our experts craft custom plans for readers who asked for help with navigation, winter camping, thru-hiking, and more.
[survival]

True Reader Escapes

Caught in a flash flood? Charged by a bear? Learn how to live through these and four other backcountry disasters—from readers who survived.
[gear]

Extreme Makeovers

Cut weight. Hike more comfortably. Cook better. Here's how you can improve your trail life with a complete gear overhaul. Plus: Our top reader-testers review a versatile weekend pack, an ultralight solo stove kit, and more.
The Backpacker's Bible

There's something miraculous about a really good hike. So we've created a plan to help you upgrade your trail time in all the ways that matter: bigger views, more solitude, easier miles, and more. Don't hang up your boots until you've mastered this definitive list of skills and life-altering experiences.
The 10 Backcountry Commandments
1. Go Higher

Get closer to heaven—learn to use crampons and an ice axe, and head up.
2. Hike Farther

Improve your strength and fitness, and see more scenery with less effort.
3. Get Out More

Increase your trail time with key tips on planning and gear prep.
4. See More Wildlife

Become a stealthy hiker, and boost your odds of life-list animal encounters.
5. Camp Well

Upgrade every night on the trail with expert tips on where and how to pitch your tent.
6. Seek Solitude

Escape crowds anywhere with essential advice on where and when to look.
7. Find Your Way

Gain confidence with a map and compass, and expand your wilderness horizons.
8. Stay Dry

Don't let the weather limit your plans. Here's how to thrive—not just survive—in the rain.
9. Never Get a Blister

Upgrade every mile of every trip with this guide to pain-free feet.
10. Make Fire

In a backcountry emergency, your ability to spark a flame could make all the difference.