Heading out the door? Read this article on the new Outside+ app available now on iOS devices for members! Download the app.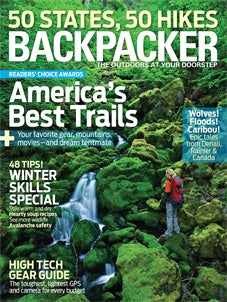 FEATURES
Dogs of War

The wolf. No wild animal is more revered–and reviled–than this icon of American wilderness. And now the most important group of wolves in the country, Denali National Park's Toklat pack, is caught in the crosshairs of these opposing passions. On one side: a hunter who once gleefully turned his gun on the pack's alpha female. On the other: a biologist who just might hold the key to the Toklat's protection. Senior editor Tracy Ross investigates the battle to save Denali's wolves.
Read the full article.
Watch BACKPACKER's accompanying 3-part video series:

Dogs of War Part 1: Hunting Denali Wolves

Dogs of War Part 2: Tracking the Toklat Wolf Pack

Dogs of War Part 3: Witness a Wolf Skinning

50 States, 50 Hikes

Readers' Choices Awards 2009!

Clear your schedule for one heck of a to-do list: the best hike in every single state. Here are your top picks from Alaska to Alabama.
Plus, your votes for…

+ favorite mountain

+ worst adventure movie

+ top national park

+ critical piece of gear

+ fantasy tentmate

+ scariest way to die

+ essential camp luxury

+ best reader photos

+ and much, much more
Mountain Under Siege

The first time Mt. Rainier got walloped by floods and landslides that obliterated roads and trails and changed river flows, it seemed like a once-a-millenium disaster. Then it happened again. In this new era of weather gone wild, researchers are no longer asking if this iconic peak will crumble–but when.

by Michael Lanza
ADVENTURES
Reindeer Games

See more woodland caribou than people on this paddling trip to Ontario's Slate Islands. Check out the accompanying

VIDEO

and

PHOTOS SLIDESHOW.



Dayhikes: Hawaii Volcanoes National Park

Plunge from rainforest to caldera in Hawaii's famously explosive national park.
Top 3 Ice Hikes

You don't need crampons to enjoy nature's ice sculptures.
Where Can I Find the Best View of the Northern Lights?
Weekend Snow Climbs in Three Regions

Winter Secrets Pack snowshoes for these nine epic treks to snowy solitude.
See California Condors in the Wild

Flight of the Condor See California's giant endangered birds in Los Padres National Forest's two million acres.
Life List: Climb Mt. Whitney

Climb the Lower 48's highest peak on a route with all of the thrills but none of the crowds.
NATURE
The Missing Lynx

Winter hikers help researchers track an endangered wildcat in Colorado's alpine wilderness.
See More: Winter Birds

Forget flying south. Learn the secrets of cold-weather survival from three well-adapted birds.
3 Super Squirrels
Danger Signs: Winter Sun
Phenomenon: Crevasses

These gaping glacier cracks are dramatic–and deadly. Here's how they form, plus three safe places to see a crevasse up close.
SKILLS
Navigate in Winter

Find your way when snow conceals the trail.
How to Shoot Video in Any Condition
Weatherproof Your Electronics
How to Survive Frostbitten Feet
+Pioneering Frostbite Treatment
How to Pitch a Tent in Foul Weather
How to Avoid Avalanches
Wash Dirty Clothes in a Water Bottle
The Tortilla's Many Uses
Easy Stews

Chunky potato soup and chicken with dumplings are the ultimate cold-weather comfort foods.

+ Dinner Party: Cooking for a Group



Mountain Training

Follow this winter workout and conquer the steeps come spring.
Hiking with Chronic Conditions
GEAR
The Gadget Guide

Six New GPS Units

Electronic convergence hits the trail with the latest GPS units, which combine the best of satellite navigation with multimedia features like music, photography, and web surfing.
Camera Quick Sheet

Whatever your budget or photo ambitions, we've found the perfect shooter for every type of backpacker.
Portable Power: Battery Chargers
3 Ways to Save: Video
Field Notes

The Latest Word from Our Testers

AirDrives Interactive Earphones

Petzl Ultra headlamp

Pieps iProbe avalanche probe