How Heather "Anish" Anderson Finished the Triple Crown in a Single Year
In just over eight months and almost 8,000 miles on the trail, Anish became the first woman to complete America's marquee long paths in a calendar year. Doing it took a lot of guts—and about 16 pairs of shoes.
Heading out the door? Read this article on the new Outside+ app available now on iOS devices for members! Download the app.
First, the numbers: It took Heather "Anish" Anderson 251 days, 20 hours, and 10 minutes to hike the Appalachian Trail, the Pacific Crest Trail, and the Continental Divide Trail. In that time, she covered a total of 8,000 miles, averaging 25 miles a day from March to November and wearing through a pair of shoes approximately every 20 days. She hiked her way through 22 states in the company of bears, wildfires, and knee-deep snow. And when she finished her in New Mexico this November, she became the first woman to complete America's three most famous trails in a calendar year.
So, looking back, how does she feel?
"Happy to be done walking," Anish says. "I'm satisfied with everything—I mean, how could I not be?"
Anish first got the idea for her calendar-year triple shortly after finishing her first AT thru-hike in 2003, when she read about Brian "Flyin' Brian' Robinson, the first person to accomplish the feat. When Flyin' Brian reached the top of Katahdin in 2001, he declared "I did the impossible." The reporters who trailed him up the mountain agreed: As a New York Times profile of him explained, "rational contemplation of such a walk is clouded by the facts—too many miles, too little summer."
But impossible wasn't much of a deterrent to Anish, who would go on to shatter a few records of her own. A three-time triple crowner, Anish set the overall self-supported speed record for the Pacific Crest Trail in 2013, hiking the trail's 2,650 miles in 60 day, 17 hours, and 12 minutes. In 2015, she did the same for the Appalachian Trail. (That one has since been broken, though Anish is still the fastest known woman to ever hike the trail without support.) Throughout all of those miles, though, the calendar-year triple was still on her mind.
"I definitely know better than to be like, 'What will I do to top the things that I've done?' but 'What are the unfinished dreams I have from the past?'" she says. "That was my first big dream."
Part of the allure, she says, was the opportunity to hike for an entire year. She chose 2018 to be that year, in part because it was the 50th anniversary of the National Trails System.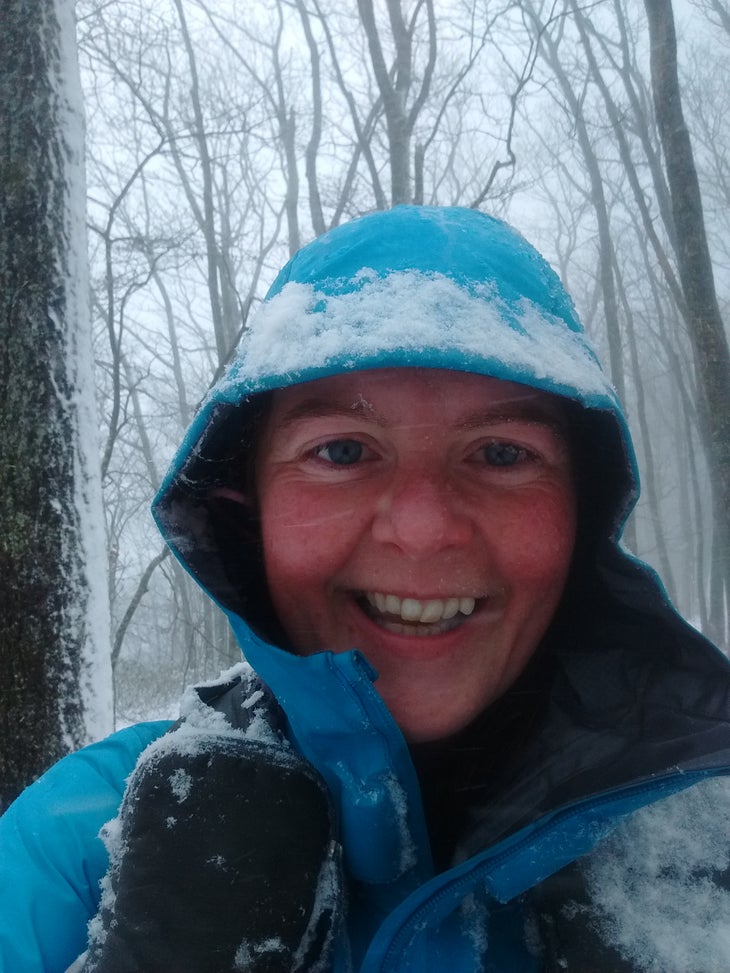 So on March 1, Anish set off from Springer Mountain in Georgia, the southern terminus of the AT. Her typical 40-mile daily progress was slowed both by legs that had spent the winter at a desk while she wrote a book about her speed record on the PCT, Thirst: 2,600 Miles to Home, and by winter conditions that included frigid wind and snow drifts as high as her waist. Instead of the heat and humidity commonly found on that trail up the east coast, she woke to snowflakes and pulled on frozen socks and shoes. Where Virginia would normally enclose the trail in a green tunnel, leafless trees offered up open views. She buffered herself from the cold, she wrote on Instagram, with memories of standing in those same places on summer days in a sundress, and drew from 15 years of hiking, mountain running, and mountaineering experience. In her first month, she covered 850 miles, enjoying the South in a season that, yes, brought snow, but spared her the snakes, ticks, and bears, as well as the crowds.
"It's a real treat, on the AT—it's such a busy trail and I've basically kind of had it to myself," Anderson said in a May interview while hiking through New England. "I do see people every day, but it's one or two other people, instead of 100."
With seasonal shops and roads normally used to resupply still closed for the winter season, she said, she found "a little bit more of a wild adventure on a trail that's usually more accessible."
After 1,600 miles on the AT, at the edge of New Hampshire and the still snowed-in White Mountains, she moved to the CDT. A plane flight to Albuquerque and a bus ride delivered her to Grants, New Mexico. From there, she hiked south to the trail's end, trading snow and fog for dusty roads, baking sun, and campsites amid ponderosa pines.
Dreaming of your own thru-hike? Make it happen with AIM Adventure U's Thru-Hiking 101 online course.
After nine days on the CDT, she was off again to the PCT to meet a permit start date of May 22. Her fiancé, who had proposed as she started the AT, is working on his own Triple Crown, and she'd orchestrated her schedule to hike the trail straight through with him.
That approach carried the added benefit of easing some of the mental strain of her ambitious undertaking. "I wasn't thinking about the rest of the year," she says. "I was just thinking about doing the PCT with him."
Wildfires and smoke dogged their hike. Places she remembered from her previous thru-hikes as green forests were now charred. By the time they reached the Canadian border in late July, she'd covered 4,000 miles, more than she'd walked in any other single year.
From there, Anish turned east to Montana, and started southbound on the CDT. Racing Autumn, she ticked off more than 30 miles a day and put off showering or washing her clothes for weeks at a time to focus on keeping her mileage up.
When she reached northern Colorado in Autumn, it was time to head back to the AT. The same maples she'd seen tapped for their spring sap were now dressed in red. Rather than pick up where she'd left off, she started at the AT's northern terminus to try to beat winter moving south, and topped Mount Katahdin by herself on a sunny afternoon.
Still, Anish got the "the full early winter treatment" from the White Mountains, where storms pummeled her with ice and high winds. For a day and a half, Joe "String Bean" McConaughy, who set a new speed record on the AT last year, hiked alongside her. Other companions joined her for parts of the AT, including friends Arlette Laan and Rich Gambale, and her fiancé helped crew parts of her hike. She wrapped up the AT in Hanover, New Hampshire, the same place she had left the trail in the spring.
After catching more snow on the CDT in Colorado and trekking back into New Mexico, Anish ended her journey back in Grants, a fairly unremarkable town among sandstone bluffs just off Interstate 40.
She had some unexpected company for the last few miles. Throughout her hike, Brian "Flyin' Brian" Robinson had been following her progress. When he got word she was approaching the end, he made the 15-hour drive from his home near Monterey, California to be there.
"Some people want adventure, but they need a role model to follow," Flyin' Brian says. "That's why I greatly admire who [Anish] is and what she does, because she is that role model."
For the last 10 miles, Flyin' Brian hiked with her, talking about the trail and how it had changed since his record-setting hike 17 years ago. When he hiked the CDT, it was little more than a vague shadow of the continent's spine that he navigated with a battery-powered GPS and self-annotated maps. Now, hikers have settled on a consensus route, and marked it most of the way through. But Flyin' Brian says that finding the path was never the greatest challenge.
"I don't want to say that she and I are not remarkable physically," he says. "But it's really not about the physical abilities—that's the ante in the poker game. If you want to get to heart of what makes someone like Heather Anderson, Anish, the super hiker, you've got to know that that's a mental process much more than it is a physical process. She's tough in every sense of the word."
Asked what's next, Anish says that three Triple Crowns are enough. For now, she's spending time seeing family and planning her wedding. While she's never been one to sit still, she hasn't had much of a problem doing it lately. But, in another week or so, she says, it might be time to go for a run.