How Do the Fat Bears Get So Fat, Anyway?
The chubby champions of Fat Bear Week pack on hundreds of pounds in a few short months. How they do it comes down to a magical combination of location, experience, and timing.
Heading out the door? Read this article on the new Outside+ app available now on iOS devices for members! Download the app.
From an outsider's perspective, the grizzlies of Fat Bear Week are truly living their best lives. They sit around all day gorging on salmon, surrounded by rugged Alaskan scenery, then sleep through winter in an all-time food coma.
But as indulgent as it may seem, bulking up for winter is a life-or-death trial for bears, and it's not as easy as it looks. At Katmai National Park & Preserve, the seasonal race for fat is a competition of wits, fishing skills, and good luck.
In the fall, bears enter a state known as hyperphagia, during which they eat constantly in order to pack on the pounds before hibernation. According to Danielle Rivet, a PhD candidate at the University of Saskatchewan who specializes in the diet of grizzlies and polar bear movement, bears consume about 30,000 calories daily during hyperphagia, and can max out at as much as 60,000 calories in a day. "They eat just about anything and everything they can find," she says.
What's remarkable about bears' rapid weight gain is their bodies' positive responsive to fattening up. While humans often suffer serious health effects from rapid weight gain, bears are built to bulk up quickly.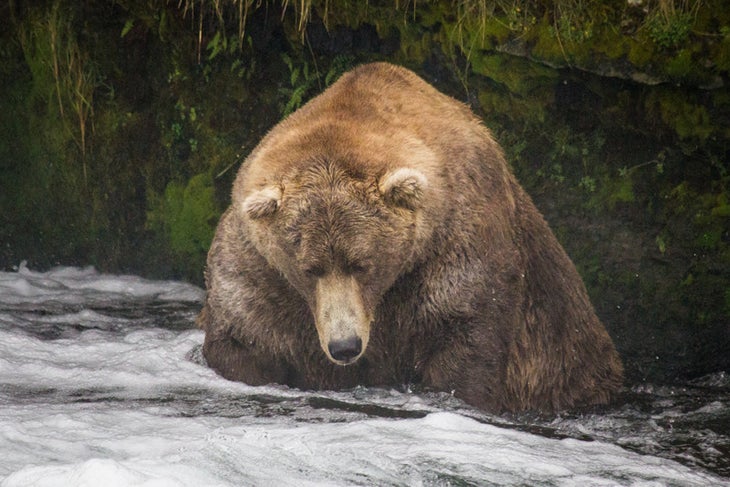 "They don't really experience any negative consequences for being ridiculously fat like that," says Rivet. And while bears lose 20 to 40% of their body mass during hibernation, they tend to be healthy when emerging in the spring and don't lose any muscle mass.
So how do they do it? According to Rivet, it comes down to location, location, location.
"The bears that are in Katmai along the Brooks River are in a really a unique situation since they exist on top of a huge salmon run," she said. "They can sit there and fish all day and pull out all sorts of Sockeye salmon. That's really how those bears get to be just as large as they are."
According to a post by Katmai National Park, a dominant male bear at Brooks River can catch and eat upwards of 30 salmon a day, often by remaining in one place and capitalizing on lucrative fishing spots. A grizzly's fishing success depends largely on its size and the social hierarchy.
Experience plays a factor, too. Fans of Fat Bear Week will recognize favorites returning year after year—animals familiar with the area have a better chance of bulking up quickly.
"They know where the best places are to fish," says Rivet. "A lot of the older and more experienced bears will pick off those areas rather early in the season and they'll defend their spots pretty ferociously."
Catching fish is only the half of it. Bears eat selectively, consuming only the rich skin, brain, and eggs of the fish. Focusing on the fattiest parts of their prey helps bears maximize their caloric intake and minimize energy expenditure from digestion. Plus, says Rivet, "they're full."
Bears know when to go for the most nutrient dense food, and their diet will change throughout the year as a result. In spring, for example, they'll fill up on grass when it is most nutritious and they are just emerging from hibernation. In late summer and early fall, when grasses become dry, they'll move onto fish and fattier foods.
Outside of Katmai's fish-choked rivers, bears have to work a lot harder for their fat. In inland habitats or places where the salmon run doesn't come in, bears often forage for berries or scavenge for additional food sources. Because of their unique locale, the contenders of Fat Bear Week gain weight much faster than bears elsewhere. In some locations, the animals will consume up to 200,000 berries a day to fill their calorie needs.
"While Fat Bear Week is really exciting and funny, and everybody likes to see fat bears, it's not the big picture," Rivet says.