Hikers Set New Speed Record for Climbing Adirondacks' High Peaks
Two personal trainers from New York City shaved 14 hours off the record time for self-supported hike to all 46 summits
Heading out the door? Read this article on the new Outside+ app available now on iOS devices for members! Download the app.
While descending from Mt. Marcy's 5,344-foot summit in gusting winds, in the middle of a massive thru-hike of the Adirondack's highest peaks, things began to look bleak for Mike Jock and Lucas Wear. It had been pounding rain for 12 hours, and the pair were soaked to the bone and cold. Their packs, which they had pared down to less than 40 pounds, were weighted down with rainwater. And they were only part of the way through a 13-peak link-up in the Great Range.
The pair looked at each other.
"I think we should go down," Wear said.
"We can't do that," Jock replied. If they turned downhill, they'd likely forfeit their third attempt at breaking the record for an unsupported thru-hike of the "46ers."
In 2009, Jan Wellford and Cory Delavalle hiked all 46 peaks above 4,000 feet in the Adirondacks in seven days, 14 hours and 15 minutes and a 196-mile route. While they don't have the sheer altitude of the Rockies, these peaks are remote and craggy, and no clear route connects them all, adding to the already tenuous nature of some of their trails. Bushwhacking is inevitable. If it's not storming, June temperatures climb into the 80s or 90s and bugs feast on bare skin. Only a handful of people have even attempted to thru-hike them.
With the weather bearing down on them, Wear stared at the maps until he spotted another way. He adjusted, ditching the second half of the link-up and heading them instead for Big Slide, a bit of an outlier peak with a long out-and-back route. They spent the night near its base, drying out and warming up. Early the next morning, they summitted, then headed back to finish the Great Range.
"It worked out for the best, because I couldn't take much more of that weather," Wear says.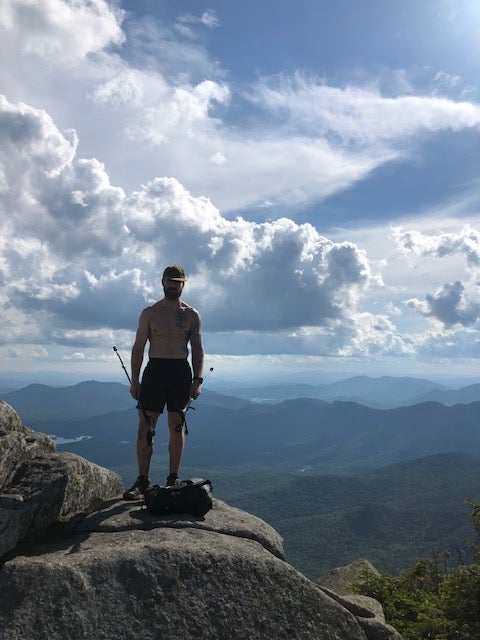 The choice shed a few miles and a repeat lap over one of the peaks, and in the end, he thinks, may have actually helped them set the record. They finished the last peak around 7 a.m. on July 4, at 6 days, 23 hours, and 45 minutes, cutting 14 and a half hours off the FKT. In that time, they hiked 212 miles and climbed 70,000 feet in elevation.
Accompanying the pair was Mike King, a former mixed martial artist who has been filming a documentary on their effort for two years. The three founded Team Adventure Portal, a company that blends personal training and fitness classes in New York City, where they live, with custom trips into the high peaks.
"We're trying to bridge that gap between the wilderness and the city and show people such a beautiful place is in their backyard," Jock says.
The trio routinely drives the five hours from the city to spend days off backpacking. For Jock and Wear, it's a return to a place they grew up—both spent time in the Adirondacks as kids. Wear had a childhood dream of becoming "a 46er," but says, "I didn't really think of it coming to fruition in this magnitude."
In addition to spending as much time hiking sections of this route as they could, they kept up with strength training, mobility work, and joint work.
"We had to do all this while training in the city, so you'd see us on a Stairmaster with 60-pound packs," says Jock.
Twice before, they'd set out on this record attempt only to be shut down. The chief culprit: Bears. Once, they headed out with a team of four, including King, only to see him stopped by a kidney stone. He crawled out of the woods with their fourth partner.
Jock and Wear decided to proceed on. They were camped at the base of the 4,360-foot Mt. Marshall when a black bear sniffed them out as they moved their food from bear canisters to packs early the next morning. They watched from a nearby hillside while it devoured all the calories they'd been counting on. The next attempt was cut off by a combination of bonking and another bear that stalked them into camp and shredded their packs while they hid in their tent.
Jock and Wear used their record attempt to stir donations for the Dubin Breast Center at Mount Sinai Hospital, where Jock's mother was treated for breast cancer. They earmarked the $20,000 they raised for client services, the program that helps people who don't have health insurance. So even after twice being shut down, it didn't feel right to just give up.
"If we're going to come out here and raise money for cancer patients, and we're going to tell them not to stop fighting, then how can we stop?" asks Jock.
So at 3:30am on Thursday, June 27, they set off toward their "buy-in" day of nearly 38 miles over 7 mountains, with 12,000 feet of gain and packs at their heaviest, loaded with a week's worth of food and gear. They'd cover 20 to 35 miles a day for the next six days, and log no less than 6,500 feet of elevation gain each day, sometimes covering seven or eight peaks.
This year, they brought "super meticulous" bear protocols—and ditched the stove, which both saved weight and reduced the appetizing scents they sent into the woods. Instead, they lived on a calculated diet of granola, energy bars, salt tablets, and eagerly anticipated dinners of candy bars and beef sticks.
On day two, they finished Allen Mountain (4,340 ft), which demands a roughly 20-mile out-and-back trek they thought might swallow the whole day with daylight still to burn. So with their gear stowed at camp, they took off with day packs to snag the summit of Mt. Marshall, site of their previous ill-fated bear encounter, in just two hours.
"That was unexpected," Jock says, "and we just rolled with that momentum."
The next day, again, the heavy packs stayed behind while they ran a 32-mile loop over 11,800-feet of elevation gain and eight peaks, skidding down Algonquin, the second highest peak in New York at 5,114 feet, in a thunderstorm as the weather took its turn. These were some of the steepest trails they'd see and they were tackling them in dumping rain.
The storm took another day to let up, forcing their route change on the side of Mt. Marcy, but the sun was out for their last 24-hour push. They covered 45 miles, including 15 miles pounding pavement in 93-degree heat on a highway, heading for those last peaks. King was sweating just driving by filming them. But it seemed like their last, best chance to significantly cut down the record.
"We'd been preparing for that knowing it was going to be an all-out push to the end," Wear says.
By their last peak, Whiteface (4,867'), King says, the emotion seemed to have drained from them as they powered through, Jock in the lead and still clipping through a mile every 17 minutes.
"It was all I could do to keep up with these guys," says King, who met them to film the last two peaks.
At the summit, they dropped packs and laid down. King asked if they wanted to talk about it—for the film. They didn't.
The finish line brought with it exhaustion, relief, and gratification for having come through for the many people who supported their effort. They've got big goals for the future—not just some other epic undertaking in the mountains, but to launch a nonprofit arm for their company and continue fundraising for charitable causes. Their message to would-be record setters: Find a team you can count on, and commit for the long haul.
"If you set goals, long term goals, lofty goals, your day-to-day life can align better, as long as you stay focused on that long-term vision," King says. "It's going to be hard and it's going to be boring, but if you put the effort into this, we promise you will get that goal, and I think the mountains are the perfect way to show people that."