Paul Evans Never Hiked the Appalachian Trail. But His Boots Did.
They say you can learn something by walking in another man's boots. On the Appalachian Trail last summer, hikers learned what happens when you carry them.
Heading out the door? Read this article on the new Outside+ app available now on iOS devices for members! Download the app.
Thru-hikers are a varied bunch, but there's one thing they all agree on: Don't carry an ounce more than you need. So it was more than a little unusual when thru-hiker Thomas "Jabba" Gathman stopped in Staunton, Virginia, in March 2016 and picked up a pair of size-13 boots that weighed more than 4 pounds—and which he had no intention of wearing.
Gathman was in the midst of a winter thru-hike, which made the extra weight even more arduous. Then it got harder. Gathman slipped and sprained his ankle while trying to make up the day he'd spent waiting for the boots to arrive in Staunton. "That weight began to really grate on me," he recalls with a laugh. "I started fantasizing about tossing my own boots—size 10s—and slipping into shoes three sizes too big."
Gathman persevered, carrying the boots for more than 300 miles to Damascus, Virginia. There, he handed them off to another hiker, who strapped them to his pack, too. And who later also passed them to another hiker. In all, 40 hikers carried one man's boots during the 2016 season, ensuring they traveled the entire length of the Appalachian Trail.
The boots that everyone carried were known simply as Paul's Boots. They belonged to Paul Evans, an Australian who'd never set foot on the AT. None of the hikers who carried Paul's boots had ever met him, and they never would. Paul died of a heart attack in July 2015, at the age of 53. 
But even without meeting Paul, they knew he was one of them. Paul had grown up hiking in Australia, where his dad served in the Royal Australian Air Force. The military life meant moving around from base to base, so the Evans family did three things to provide a sense of stability wherever they landed: got involved with the local scout troop, went camping on weekends, and spent vacations visiting Australia's national parks.
When Paul was 42, his parents' health deteriorated. First, his mother developed Parkinson's disease. Then his father was diagnosed with Alzheimer's. Paul moved in to help, and a few years later, was joined by his new wife M'Lynn Markel, whom he met in online support forums for people who act as caregivers.
"I was living in California, taking care of a friend who was dying of cancer," says M'Lynn. "It was a hard and lonely thing to deal with, and I was seeking comfort." She was taken with Paul's kindness in dealing with his mother.
The first time M'Lynn came to visit, the couple went backpacking. "Paul took me to one of his favorite trails, a route in Lamington National Park that goes up and down a series of waterfalls," says M'Lynn. "We must have hiked almost every trail on the east coast of Australia."
But their hikes became less frequent as Paul's parents required more care. "It got to the point where we had to watch them in shifts," says M'Lynn. Paul and M'Lynn cared for his parents for years, until first his mother died in 2010 and then his father in 2011.
This should be the point in the story where the couple gets back on the trail, finding solace in the outdoors. But no. Paul could no longer hike, let alone shoulder a pack. His own health had gone downhill during the time he cared for his parents. Paul, already a big man at 6'3", gained weight and then had a heart attack. By the end of 2014, he'd had two more heart attacks and the damage was so acute he had to walk down the driveway section by section.
But even as Paul's body was failing him, his love for the trail didn't. He started listening to the Dirtbag Diaries podcast series and was captivated by tales of gritty thru-hikers overcoming mental and physical obstacles.
"Every night, before we went to bed, he'd tell me stories about what he'd heard people were doing out on the trail," recalls M'Lynn, her voice catching. "I think it was the people's stories that he fell in love with. He wanted very much to be a part of that community, to experience it for himself."
Despite everything, Paul began plotting an Appalachian Trail thru-hike of his own. Reaching out to online forums and bloggers, Paul asked questions about the AT. He watched YouTube videos of hikers on the trail. In March 2015, he started packing for his thru-hike. He researched new gear. Bought guidebooks. Equipped his backpack. Stockpiled dehydrated meals. Made trail mix. Assembled resupply packages. M'Lynn did not try to dissuade him. "I think he was aware he wasn't going to be able to do it," she says, recalling that he was simply too weak to walk 100 yards, let alone tackle a thru-hike. "But he was taking so much joy in learning and getting ready, and that was so much better than the alternative."
After months of research and packing, Paul polished his three pairs of leather hiking boots. He arranged them by the front door and quietly told M'Lynn that he was ready to go.
A few weeks later, on July 23, 2015, just shy of his 54th birthday, Paul was gone.
What do you do with hiking gear that will never be used? M'Lynn donated the bulk of Paul's AT supplies to the scouts. But she couldn't simply give away the three pairs of size-13 boots still sitting beside the door.
Then she had an idea: Maybe she could get someone to take Paul's boots on the AT and send her a picture. It didn't need to be the whole thing. She was only hoping for a couple of photos, hoping to see his boots out there, on the trail he'd dreamed of hiking.
M'Lynn sent a letter to Paul's favorite podcast, Seattle-based Dirtbag Diaries. "We all read it and cried," says Managing Editor and Producer Becca Cahall. "We got together and said, 'We have to make this happen. We have to find enough hikers to string together a thru-hike.'"
Cahall and her team put out a call to the hiking community for volunteers to carry Paul's boots, relay-style, and record the journey in photos and video. More than 400 people responded.
One of them was Gathman, who had picked up the boots in Virginia (all three pairs were on the trail at various times). Gathman had hiked alone much of the winter, and was grateful for the company. "I would literally talk with Paul like he was hiking with me," says Gathman. "After a while, I'd forget the GoPro was rolling, and we'd be having these intense conversations." (Participating hikers carried GoPros for a planned documentary.) Gathman would talk to the boots about things like why in hell anyone would want to put themselves through a winter thru-hike. Or what kept people locked in jobs or relationships that they didn't even like. Sometimes, he'd just wonder aloud at the moonlight falling on a stand of snow-covered pines.
"For me, the trip was about inspiring people to tap into their inner wildness and summon the strength to quit putting off their dreams and pursue them right now," says Gathman. "That's what I've been trying to do with my own life. And I felt like Paul was with me, in cahoots with the mission."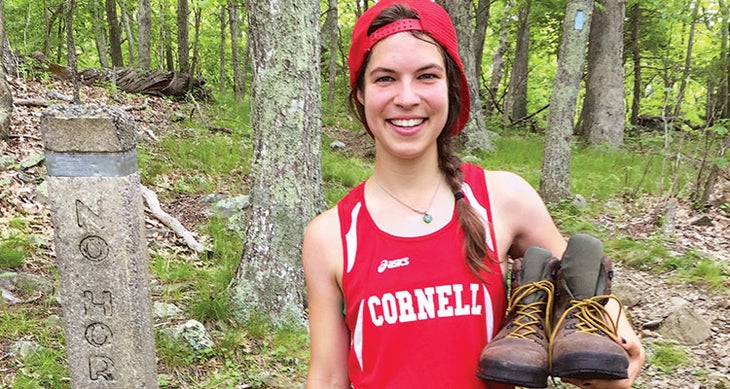 Everyone who carried Paul's boots became part of this larger mission. There were college kids looking for adventure, 40-year-olds taking a mid-career break, 50-year-olds taking their teenage kids on a rite of passage, 70-year-olds taking a final crack at a lifelong dream.
And there were hikers who might not have made the journey at all without Paul's boots. Take, for example, 28-year-old Alex "Daddy Long Legs" Newlon. As an epileptic, Newlon had been told a thru-hike was impossible for him. But after hearing about Paul's story online, he decided to reject the naysayers: Not only would he complete the AT, he was going to do it while carrying a pair of Paul's boots."I wanted to show myself, other epileptics, and everyone else that anything is possible," Newlon says.
But just over four months into his northbound journey, in New Hampshire's White Mountains, Newlon was worn down and felt dangerously close to quitting. "I was trudging up South Kinsman Mountain, staring at my feet, when Paul's boots came untied and whacked my left elbow," says Newlon. "I look up and there's a deer standing in the middle of the trail, staring at me. It was as if Paul was trying to tell me to pay more attention to my surroundings because, lost in my head and caught up in my own doubts and fears, I was missing the beauty of the world around me."
Newlon pushed on, thinking of Paul and his family. "It was like I had a team, and that team was going to help me make it to Maine," he says. Newlon made it, and so did Paul's boots. The unlikeliest pair of boots on the AT summitedKatahdin on August 24, 2016.
"The fact that my Australian husband's hiking boots became so recognizable on the AT is absolutely incredible," M'Lynn says. "The hikers carried his boots as if they were actually him. They took them to dinner, introduced them to friends, took pictures of them as if he was walking in them."
Turns out Paul was right all along. He was planning a thru-hike.
Eric J. Wallace encountered Paul's boots while hiking in Shenandoah National Park.