Heroes: Mike Peters, 54
This alt-rock star helps fight cancer by combining music and hiking.
Heading out the door? Read this article on the new Outside+ app available now on iOS devices for members! Download the app.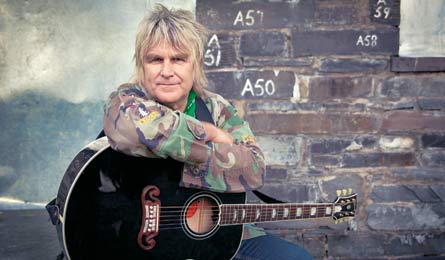 Mike Peters, 54 (lovehopstrength.org)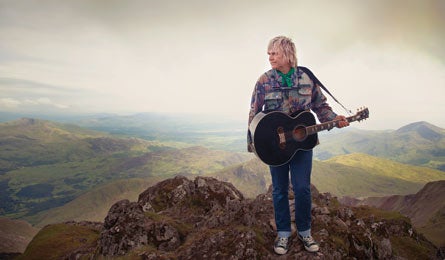 Mike Peters (lovehopestrength.org)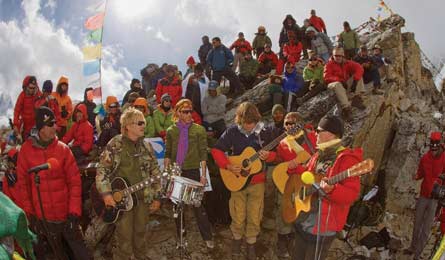 Kalapathar peak in Nepal (lovehopestrength.org)
They set off in October 2007 with their eyes on Kalapathar, an 18,000-foot Nepalese peak with a basecamp-to-summit view of Mt. Everest. Carrying prayer flags inscribed with the names of loved ones touched by cancer, 38 musicians, survivors, and mountaineers picked their way through a rock-strewn landscape. At the summit, despite frozen fingers and burning lungs, the hikers strung up the flags as they whipped in the wind. Then the musicians pulled out guitars, drums, a harmonica, and battery-powered microphones and launched into the highest concert ever performed. As long plumes of snow blew off surrounding peaks, the singers belted out, "I'll never give up without a fight."


The concert was the brainchild of Welsh musician Mike Peters, still worshipped in '80s New Wave circles as the founder of alt-rock band The Alarm. Peters survived non-Hodgkin lymphoma in the 1990s; less than a decade later, he was diagnosed with chronic lymphocytic leukemia. In December 2005, he was in a hospital bed in Wales, awaiting his first round of chemotherapy. "A friend said to me, 'Mike, when you get through this, you'll want to do something,'" he recalls. "He said I'd want to do it in an intimate and direct way, not just donate to the big charities." A vision took shape in a matter of seconds, as Peters stared out the window at nearby Mt. Snowdon, Wales' highest peak at 3,560 feet. "I thought, right, we'll climb that." 


Thus was born Love Hope Strength (LHS), an international cancer charity that brings musicians and hikers together to stage backcountry concerts, all the while signing up bone marrow donors and raising funds to support cancer centers worldwide. Since founding LHS with music industry mogul and fellow leukemia survivor James Chippendale in 2007, Peters has hiked roughly 250 miles with his guitar, including at Mt. Kilimanjaro, Machu Picchu, and Mt. Fuji (read about the 2009 Kili climb at backpacker.com/kiliLHS).


Incorporating the outdoors in his fundraising efforts was a no-brainer: Peters has camped and hiked since he was a child. He says mountains bring out unexpected emotions in people, heightened further by the LHS mission. "You're all striving toward one goal, at the same pace," he explains. Then there's the music. "The lyrics have a different meaning, amplified by the surroundings," he says. "Even two-minute bursts will bring people to tears and bring a quiver to a voice that wouldn't be there in a noisy, sweaty rock venue."


Since LHS's inception, more than 6 million people have attended its bone marrow drives, concerts, hikes, and special events on six continents; LHS recently surpassed 500 lifesaving bone marrow matches. This summer, Peters will participate in his first-ever LHS hike in the United States, in Vail, Colorado (see right for details on how you can join). He can't wait. "No two climbs are ever the same," he says. "You're tired, but there's joy. There's laughter. There's hope in the fight against cancer. Every day, more people are winning."
Take it from us…
Three Love Hope Strength rockers share their best trail tips.
Mike Peters
Climb at the pace of your slowest group member. That way everyone stays together to enjoy the day, challenge, views, and music as one. There are no prizes for getting to the top first.
Cy Curnin of The Fixx
Half of the stuff one packs is totally unnecessary. 
Brett Dennen
I love my SteriPen ($50; steripen.com). I obsess over it. I never want to go back to pumping, filtering, boiling, or iodizing water. I just want to wave my magic wand around.