Gulf Oil Spill Grows
See it on Google Earth
Photo: © KPA/Zuma / Rex Features
Heading out the door? Read this article on the new Outside+ app available now on iOS devices for members! Download the app.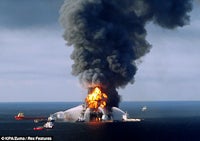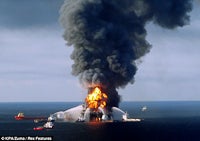 It's been more than a month since BP's offshore well failed and oil slick started pouring into the Gulf of Mexico. It's the largest oil spill in US history that started with a catastrophic explosion on BP's Deepwater Horizon offshore oil drilling platform on April 20, 2010, about 40 miles off the Louisiana coast.
Now, a month later, oil continues to spew from a well 5000 feet below the water's surface, and somewhere between 5000 and 100,000 barrels of crude oil (210,000 to 4.2 million US gallons according to the Christian Science Monitor) are being discharged daily. No one but BP knows just how much oil is being released each day, and they are refusing to allow independent scientists to measure the discharge, or the underwater plumes of oil not visible from the surface.
BP has failed to cap the well (yesterday a new strategy was postponed while BP did additional studies). And BP is refusing to fess up and share information that would assist in the response as well as the public understanding of the scope and severity of the disaster. At least one news report saysthat they are holding out because the smaller the official estimates of the spill, the lower BP's liability could be in court. 
Sign this petition to get BP to fully release information, but in the meantime, check out the spill on Google Earth as well as a photo of the spill shot from space, stored on Wikipedia. This data is from a few days ago, but it's periodically updated. Scary stuff. 
What can you do? Tell Obama to stop offshore drilling by signing Surfrider Foundation's petition. It has an excellent PDF debunking the benefits of offshore drilling, on which there was a federal moratorium on offshore drilling following the 1969 Santa Barbara oil spill and the 1989 Alaska Exxon Valdez spill. Its main points: 
1. Offshore drilling is good for the economy and will create jobs!
Our beaches are economic engines and the Gulf of Mexico fisheries are among the most productive in the world. This oil spill will undoubtedly devastate the local coastal tourism industry and the livelihood of people working in the fishing industry for years to come.
2. New technologies will prevent oil spills.
Accidents happen, and they will continue to happen in the future. 
3. We'll have a long-term supply of oil.
Offshore drilling will only give us about 18 months of supply at our current rate of consumption. There is not enough oil off of our shores to make America energy independent or to reduce gas prices. But, clearly there is enough to damage ocean and coastal ecosystems and billion-dollar coastal economies.
For more myth debunking,take a look at this fact sheet (a downloadable PDF) and pass it on to your friends and family.
-Berne Broudy