Gear Test: Throwback Daypacks
These new daypacks are totally old-school
Heading out the door? Read this article on the new Outside+ app available now on iOS devices for members! Download the app.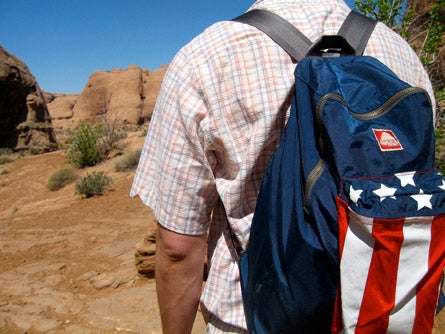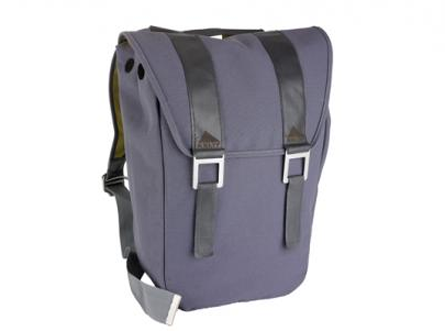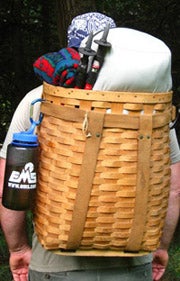 Remember the good ol' days? When backpacks —sorry, rucksacks—were made of cotton canvas, seatbelt webbing, and brass zippers (or even leather straps)? JanSport and Kelty apparently do: Both companies just released retro daypacks that shun modern technology for the glorious trappings of yesteryear.


JanSport's Stars and Stripes ride easy through the desert.
Take JanSport's Stars and Stripes (1375 cu. in., 11 oz., $55.00, jansport.com): If any backpack could suck you down memory lane, this one will, with an American flag motif a la Easy Rider. The nylon is weathered, as if it's already accompanied you on countless rambles into the hinterland. It also boasts the old JanSport logo, which looks quaintly charming compared to the slick labels that now adorn outdoor gear. The Stars and Stripes is part of JanSport's Heritage series, a whole line of new packs made just like the ones the company cranked out in 1967—complete with brass buckles and seatbelt straps.
Then there's the Kelty Scramble (1600 cu. in., 1 lb. 10 oz., $69.95, kelty.com), which is one of several new Kelty packs and bags that look retro but are actually made with 60% recycled polyester—a very 'now' choice.
There's no denying these packs look cool. Style-wise, they have it all over today's designs—in the same way that a sexy 1960s Mustang makes a new one look like a Honda Civic. But how do the seatbelt straps and sack-like suspensions hold up on a hike?
I took the Stars and Stripes on a 6-mile jaunt through Negro Bill Canyon, near Moab, Utah. It held everything I needed for the hike (jacket, snacks, camera, water bottle), but the thin fabric let the bottle's edges dig into my back from time to time. By mile five, the load's weight, however modest, tugged uncomfortably on my shoulders, and the wide, stiff seatbelt webbing cut into my neck, making me wish I was wearing a collared shirt.


Kelty's Scramble.
The Kelty held even more stuff than the Stars and Stripes, and the beefier fabric helped keep my back from getting poked by gear stowed inside. So I hiked with it in Colorado's Zirkel Wilderness. The Scramble actually lived up to its name, hugging my back—mostly—as I bent, twisted, and hopped up and down rocky ledges. But since it doesn't zip shut—the top closes with two metal buckles and Velcro strips—stuff tended to fall out of the pack when it got tipped sideways or upside-down (as I discovered while tightening my shoelace).
All of which just goes to show how spoiled I am: Back in the day, people toted overnight gear and scaled high peaks with basic duffel bags or even Adirondack pack baskets slung over their shoulders (modeled here by reader Karst Hoogeboom). But after hiking with old-school stuff, I craved a nice, ergonomically-shaped, load-supporting daypack made with waterproof zippers and a ventilating backpanel. Ah, progress.
I still reach for the Scramble, every time I commute somewhere on my bike. And the Stars and Stripes turns heads when I wear it to outdoor concerts, because it's about freedom, man—and that's what it's all about.
–Kelly Bastone