Gear Test: Take Your Pants Off
Be bold and wear this hiking kilt on trail--you (and the ladies) will thank us
Heading out the door? Read this article on the new Outside+ app available now on iOS devices for members! Download the app.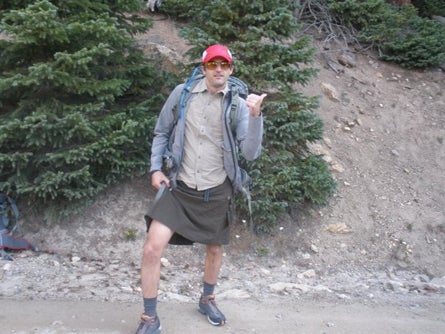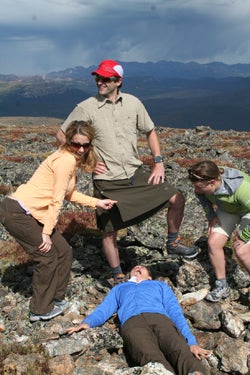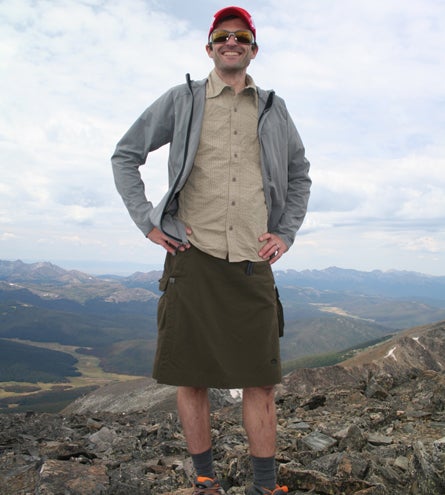 The author demonstrates proper hitchhiking technique while wearing a kilt.
Why do men want to take their pants off? Let me count the ways: There's our most basic urge. There's mass quantities of booze. There's the combination of the two. And now, thankfully, there's another excuse to drop trou: Mountain Hardwear's update of their Mountain Kilt.
The new version is called the Elkommando Kilt ($75, 15oz). It comes out next spring, and I got a preview last week in Rocky Mountain National Park. I set off with from Fall River Road on a big dayhike through the Mummy Range. Other than Mountain Hardwear's pack designer, I was the only dude. And I was certainly the only person in the group (and probably in the park) wearing a kilt or skirt-thing of any type.



Without further adieu, here's my analysis of my skirt-thing hiking experience:



First off, it's a kilt. Not a skirt. There were definitely a lot of "hey, cool skirt!" comments floating around. There are basically two ways to respond to this. 1) Correct that person, as I mostly chose to (the irascible approach). 2) Just say "thanks, man" (the hell cares approach). But one thing's for sure: Wearing a kilt definitely requires an attitude that's both bold and carefree. If you don't have this attitude naturally, a kilt will help you foster one along. It requires cojones.



And speaking of cojones, after I stepped out of the car, only 2.3 seconds passed before another person in our group (a woman!) lifted up my kilt. In addition to drawing attention, a kilt also apparently erases social mores. Women, at least initially, do not respect the kilt in the same way that men respect a skirt.



But how does it perform in the mountains?


PROS

[Alleged]

1. It prevents chafing. Kilts have a cult following on longtrails for this reason. Check any hiking forum (including ours), and you'll find a thread of thru-hikers touting the benefits switching to a kilt. Highlights: "if you hike sans underpants, you can save weight as well as time on laundry during town stops."



[Confirmed]

1. Air-y-ness. The breeze is nice up there, I gotta say. Ever hovered over an AC vent in the summertime? That's what I'm talking about. (I assume this pleasant zephyr is the key feature to those with the propensity for chafe-age).
2. Unrestricted striding. No, for the most part pants and shorts don't limit range of motion that much, but you are truly limitless in a kilt.
4. Chicks dig it. Or at least, they seem to love mine. A word of warning, though: Wear undies, at least the first few times. I know that a "true Scotsman" goes commando under the kilt, but if your day-one is anything like mine, more people will see your nethers than any day since that time you drank a fifth of vodka out of a watermelon and, well, we all know we're talking about me, so I'll stop now. An AT thru-hiker friend of mine (a gal whose trail name is Teddy Ruxpin) saw a lot of kilts on her 2007 hike and says: "I also saw more junk than I ever wanted to. Guys should learn to cross their legs—or at least not to squat while cooking."
5. Comfy waistband. The conical waist is fleecy and sits flat under my pack's belt more comfortably than just about any shorts and pants have.



CONS

1. Pleats. I don't think a kilt drastically out-performs a pair of shorts, but at the same time, I can't think of a single thing I didn't like about it, performance-wise. I'm not a big fan of the pleats in back, but that's tradition.
2. Limited to trail use. It's a trail-only piece of apparel for me. I don't suggest wearing it at the office, as I did yesterday as an experiment. It's way less of a problem to display your boxers (or worse) on accident on the trail than it is in the conference room. Oops.



Bottom line: Hiking should be about fun and new experiences, and wearing a kilt can make the whole act of walking new again. Let it all hang out.



—Shannon Davis
Conquering the mountains, in a skirt.