Gear Test: Stoic Bombshell
Backcountry's house brand delivers an epic winter softshell
Heading out the door? Read this article on the new Outside+ app available now on iOS devices for members! Download the app.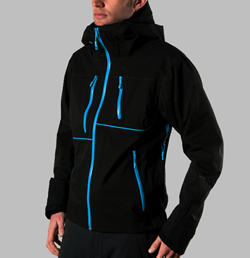 A few months ago we dropped word that Backcountry.com planned to launch a new house brand called Stoic, a technical category built around "core gear users helping create gear for other core gear users." After a winter's worth of thrashing about the mountains in the Stoic Bombshell ($259), we're happy to report that they've lived up to the challenge: The Bombshell is a dynamic, breathable, tough-as-nails winter shell with features and style to boot.
The Bombshell is built from a stretchy, 3-layer proprietary waterproof/breathable fabric, and while it feels thick, it's actually relatively light for a fully weatherproof winter shell. At 1.75 lbs., it won't double as a summer backpacking jacket, but you'll appreciate the extra armor in a winter gale. When a surprise blizzard blasted Steamboat's frontcountry, the Bombshell's 20K-rated waterproofing shed snow, meltwater streaming off a lift, and even slush sprayed from a passing car without letting in a drop. Fully welded seams make for some of the most leakproof but easy-moving zippers I've used.
Even more impressive: While hiking in Colorado's Indian Peaks, I got caught caught in pounding graupel at 12,000ish feet, which turned to a cruddy wintry mix at lower elevations. Heading downhill hard and fast, the Bombshell breathed so well I didn't need to mess with the pit zips. While skinning tough uphills in the Sangre De Cristo Range, a simple zip took care of all my excess heat, and sweating stayed at a comfortable minimum.
The jacket excels in its intended slopeside environment, providing plenty of stretchy articulation for advanced backcountry moves while deflecting tree branches like they're not even there. The freedom of movement would even work well in cold-weather alpine climbing, though you might want to ditch the powder skirt to save weight. The hood isn't removable, but it fits over large helmets, and while the large collar might be tight on your face when fully zipped, soft material takes the edge off.
So now for the caveats. This jacket isn't for anybody sporting excess pounds or with body issues—while the jacket gets style points for having a sleek, athletic fit, forget about concealing anything. They warn wearers to size up for a baggier fit, but even then this jacket might run tight. I'm 5′ 9″, 150 lbs, and of medium athletic build, and the jacket was trim enough to acommodate a baselayer and maaaaybe a light midlayer—any extra insulation was out of the question. But I wouldn't want to trade up sizes because the arm lengths felt perfect. The jacket features broader shoulders and a mid-size chest tapering to an extremely tight waist/midsection. Don't get me wrong: With urban black styling and bright-blue Tron highlights, the jacket looked spectacular and earned me compliments whenever I wore it. But just a few more inches in the middle might've made the jacket more versatile and practical for a wider range of folks.
Luckily, articulation and movement wasn't an issue, even when I bundled the Bombshell as far as it could go. The thicker material also kept me warmer without extra insulation in colder temperatures than expected. The wrist gaiters with thumb loops in the sleeve were nice for when I wasn't wearing gloves, but they pulled tight and cut off circulation when I did, rendering them essentially useless except in urban situations.
In the end, the Stoic Bombshell performs like a much more expensive shell, and with rock-solid construction and styling, it looks the part. (You can often get the Bombshell for even cheaper: It pops up regularly on Steep And Cheap at discounted rates). Without any obvious logos, your friends will be asking you all day what it is and where you got it—but you'll be too busy blasting through the trees in comfort to answer.
—Ted Alvarez