Gear Test: Nuu-Muu Hiking Dress
Female BACKPACKER editors discover fashion trumps function in hiking dresses
Heading out the door? Read this article on the new Outside+ app available now on iOS devices for members! Download the app.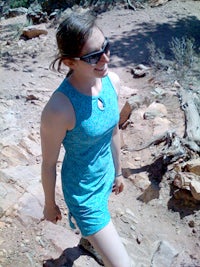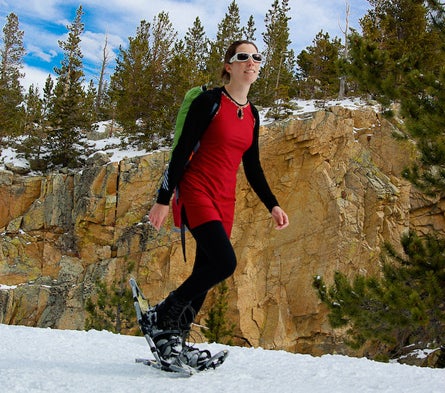 For this week's Gear Test, this intrepid blogger had to call for backup. While I'm not afraid to don a dress on occasion in my personal life, I feel I'm not fully qualified to go hiking in one. (Not so for all our male editors). So the Daily Dirt decided to call in the big guns: Senior Editor Tracy Ross, Assistant Editor Elisabeth-Kwak Hefferan, and Senior Associate Photo Editor Genny Wright Fullerton donned the Nuu-Muu Exercise Dress and tested it in rigorous conditions, from dayhikes around Boulder to longer winter hikes in Rocky Mountain National Park to multi-day ski tours and mountaineering jaunts all throughout the Rockies. After hours of pounding dirt and snow in a stylish skirt, here's what the ladies had to say.
Genny Wright Fullerton: (I liked the Nuu-Muu) because you feel pretty! It's fun, and with all those winter hiking tights that are way too tight to wear as pants, it's perfect to cover up a bit. When you're out in the winter, I don't like having so much stuff on that I can't move, and it allows me to wear one layer of pants without having to layer with a shell pant when I don't want just skin-tight tights. I feel like anything with tight bottoms, I'd prefer to have (the dress) than a shirt.
Elisabeth Kwak-Hefferan: Clearly, the whole point is a fashion thing. But when I'm hiking, I don't want to do my hair, put my makeup on and wear a dress.
Tracy Ross: I think a lot of girls do. I think it's pure folly—there's no technical advantage to it—but it's in the spirit of fun. Deviate from your normal outfit. Zero function, all fashion.
EK-H: But it's so short—it's hard to hike in without flashing anyone behind me.
TR: I would definitely wear it in the summer, for when I get far enough away that I don't have to worry about that. It's versatile—I would change into it in camp, wear it going out to breakfast, and I would hike in it with a pair of boy short-style underwear. With people I know, of course.
EK-H: I feel like we should mention that it looks ridiculous with hiking boots, and you could never wear a pack with it, because the dress would keep getting pulled up. I would also say it's only for athletic bodies— (it's) unforgiving and short.
GWF: As much as I love it, it doesn't help me do things faster or better, but it's versatile. The dress doesn't replace anything, but it makes me more comfortable in things I already have. I can wear just tights, and have one waistband, rather than deal with the discomfort of multiple waistbands on top of each other.
The Verdict
EK-H: Overall, thumbs down. The Nuu Muu is good for wearing to a summer barbecue with spandex under it, or possibly skiing. But I wouldn't wear it hiking or backpacking again. I might change into in a hot night in camp.
TR: I wore mine in Rocky Mountain National Park, on Boulder's Mt. Sanitas, skiing on James peak, and in Nederland, Colorado with fleece pants. I would wear it with knicker running tights for cool-weather hiking, and also farther back where I'm not going to see many people and have to worry about flashing them. But it's cute whimsical and fun, so thumbs up.
GWF: I still give it a big thumbs-up. I would wear it anywhere that I feel like being pretty. I even wore it on Christmas day.
—as told to Ted Alvarez
So how about it, ladies? Anybody else out there tried a hiking dress? What did you think?
Image Credit: Ben Fullerton, Fullerton Images