Gear Test: Loeka Women's Mountain Biking Duds
Can mountain biking clothes be sexy and functional? We put one extra-colorful pair of shorts and two technical shirts from Loeka to the test on the bike, the run, and the hike.
Heading out the door? Read this article on the new Outside+ app available now on iOS devices for members! Download the app.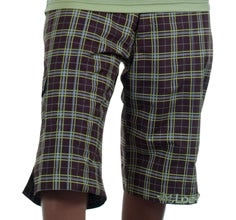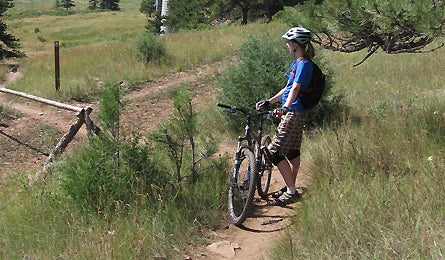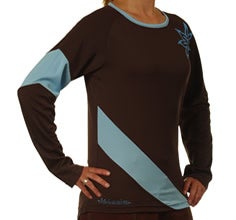 **NOTE: OBJECTS ONLINE ARE NEVER AS BRIGHT AS THEY APPEAR IN REAL LIFE**





To prove my above statement, take the Harmony All Mountain shorts by Loeka, a relatively new Canadian outfitter that makes "stylish, fitted, comfortable, sexy" mountain biking clothes for women. In the picture to the left, taken from the Loeka website, and above, in action, the Harmony shorts look muted, almost business-casual. But in real life they are the most eye-popping shade of plaid you've ever seen. Bright yellow stripes form the basis of the grid; they are not for the chameleons amongst us. These shorts, which in a size medium (the size I normally wear) were a tad big and thug-like on my frame (try them on first, people), looked stunning when paired with my 1980s-era Rollerblade knee pads, which I always wear when mountain biking.
That's not to say I didn't receive several compliments on my shorts—although the main compliment payer was later seen wearing a dashing Loeka hat (which I can't find on their website, so it's possible she's on their payroll). The baggies (mountain-bike-speak for loose shorts) hid my Lycra biking shorts (a chamois is not included in the Harmony) with ease, which is very important for mountain biking cred. A big plus: They didn't catch on the back of my seat, likely a result of the "stretch panel" sewn into the rear. They're completely lined with mesh, and since they aren't attached to a pair of chamois shorts like most baggies, there wasn't that weird "I'm wearing shorts attached to other shorts" feeling (a hard feeling to explain, but you Betties know what I'm talking about).
I'm pretty sure if I'd ordered a small that I would wear these shorts around town (as advertised) because the mid-knee capri length (they also come shorter) is quite beguiling–especially when paired with a plain-Jane shirt. But even when I wore the thuggish mediums immediately post-ride to the Little Bear bar in Evergreen, Colo., I received no more offensive stares than I normally do when I'm this dirty and smelly.
The two Loeka shirts (Long Sleeve Jersey, Chocolate Bar (right), $69.99 CDN and Short Sleeve Jersey, Loeka Sky (above), $59.99 CDN) I tested, however, soon became my go-to, wear-with-anything, for-any-activity tops. I wore them running, and biking, and hiking, I think. It's all a blur, actually, because I was washing and wearing them so often. (At one point I found the long-sleeve jersey balled up on my kitchen floor, a sure sign that I was wearing it often enough that I didn't feel the need to put it back where it belonged.)
Both shirts are made of antibacterial polyester pique, which the Loeka website claims is "100% wicking and breathable." I concur. I think the long-sleeve jersey shrunk a bit in the dryer, but if you're a good line dryer you won't encounter this problem. The cut on both shirts is a bit boxy, but the style is long enough to accommodate a little squareness in the shoulders. In fact, with a closet full of tiny, streamlined running tops and cycling jerseys, the fit of these shirts is likely the reason I grabbed them so often. Plus, they have stylish colors and logo-free designs that didn't make me feel like a walking (or riding) billboard.
–Katie Herrell
Product photos from the Loeka website.