Gear Test at 14,410 Feet
Associate Editor/Bear Fighter Shannon Davis tests some of the latest and greatest schwag on his successful Mt. Rainier climb
Heading out the door? Read this article on the new Outside+ app available now on iOS devices for members! Download the app.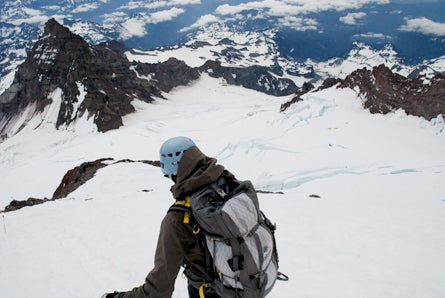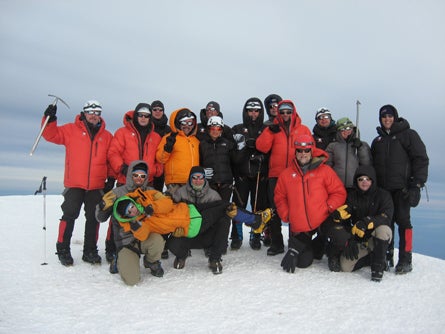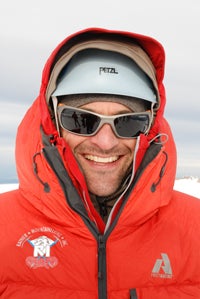 The author cruises down the Ingraham glacier in a Jansport Tahoma pack.
I've been higher (…in altitude. C'mon). But even after two attempts, I'd never stood atop Mt. Rainier, Washington's tallest peak and the biggest mountaineering challenge in the Lower 48. This made my invitation to join Jansport's 38th Annual Dealer Climb in mid-June all the more exciting. I'll be covering the event more in-depth later (click back in August for slideshows and video), but long story short: We had perfect weather, and every person on our team summited. Here's the rundown on what gear stood out:

Vasque Radiator ($450)

When lead guide Casey Grom looked at my boots he said, "Those would be great for guiding—what size are they?" he may have been hinting that my boots would make a great gratuity, but I agree with his appraisal. More than any other double-boot I've worn, the Radiator is a comfortable strider. It's stiff enough for steep snow and ice, but manages to feel like a hiker then you're cruising the flats. The Superfabric-coated exterior has little guard plates, like scales, that resist abrasion and punctures from rocks and errant cramponing—they'll last years. The Boa lacing system bulges a bit under gaiters but it's easy to use even with gloves on. At $450, they aren't cheap, but comparable boots cost up to $700. And true to their name, they're warm as hell.
Keen Yogui ($33)

These are the ugliest things I've ever worn*. But I love them anyway. They're the Shar Peis of camp shoes. I've been wearing them for about a month cruising around after trail runs and dinking around camp. I like wearing them with socks, which likely enhances the unloveliness they exude. I wish I would have packed them for hanging out in Camp Muir, which is like cross between the moon and summer camp. If you stay here, make sure to pack something (like old tennis shoes) to wear around the huts. Or if you're tenting, pack some down booties.
*Note that I own two pairs of cowboy boots and a pair of pleather pants with flames on them. But I've never, not even once, worn a pair of Crocs.
First Ascent Peak XV Down Jacket ($269)

It's nice to feel calm and comfortable amid deteriorating conditions. On rest stops between the top of Disappointment Cleaver and the summit, as temps were dropping rapidly, the Peak XV was gold. It's overstuffed with 850-down, and everything is in the right place. It's easy to put on and zip up with gloves on. The hood is simple to adjust, and the handwarmer pockets are as warm as they should be for guarding your fingertips after de-gloving to rip into a Clif Bar (or a bag of Tim's Cascade Chips… nothing beats junk food at 14,000 feet!).
Julbo Bivouak ($120—$190)

I've tested a dozen pairs of Julbos in the past six years (I wore the Nomads up Denali in 2003), and the two on my desk right now are the best yet (and they should be, given the hefty pricetag). The Run is great for virtually everything, giving you a bright, yellowy, and detailed widescreen view of the trail (it has a "Zebra" photochromic lens that adjusts to different light conditions within 30 seconds). And the Bivouak is perfect for mountaineering. Bend the pliable stems for a custom fit to your melon. They come with their own tether, so you can leave your skuzzy old Chums at home. Polarized and photochromic, they're the darkest shades I've worn—essential for protecting yourself from glacier glare. They also have magnetic side shields, which I'm not totally sold on yet, since they seem a little too prone to falling off in your pack.



Jansport Tahoma ($300)

Push pause on that groan. I'd be writing about this stellar pack even if this were an Osprey- or Deuter-sponsored climb. (We gave the Tahoma's older brother, the Whittaker LR, an Editors' Choice award in 2007). At 4 lbs. 4 oz., this pack qualifies as ultralight in the gear-intensive world of high peaks, and it doesn't compromise durability one bit. The main body is made from VX07 sailcloth, a material that won't stretch and handles abrasion like Teflon handles eggs. There are some features you won't need on a cold summit climb—hip belt pockets, water bottle pockets—but these make the pack more trail-worthy below treeline. At 4,600 cubic inches, it's just big enough for weekend mountaineering. I know a guy in Tucson who uses his regularly on the Arizona Trail too.


Davis and team celebrate after a successful summit.
Twisted Pine mesh-back hat

You should bring a little bit of your homeland with you when you travel. Which is to say, "You gotta represent!" So I did one of my favorite local breweries proud by wearing their cap to shade my beak from Rainier's blazing sun. I originally bought the cap for one simple reason: You get a free pint every time you wear it to Twisted Pine's tasting room. It could have had deely boppers and a "kick me" sign on the back, and I still would have ponied up for it (dude, free beer?). Luckily, though, the style is mountain-town cool, and it performs pretty well on actual mountains, too. I wouldn't have minded some more effective wicking on my brow, but I can return to the hometown bar with my hat sweat-stained and faded, which equals cred around here. And you can't have enough of that. Or free beer.
—Shannon Davis