Gear Test: Asolo Broad Peak GV ML Boots
These burly boots trekked glaciers and hitchiked highways with nary a blister or a rub.
Heading out the door? Read this article on the new Outside+ app available now on iOS devices for members! Download the app.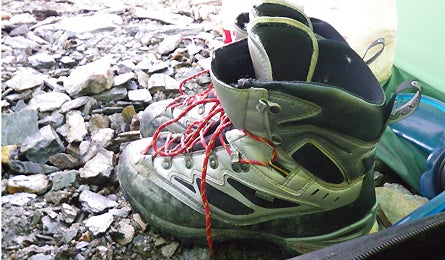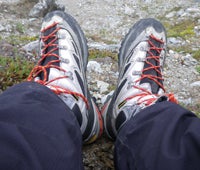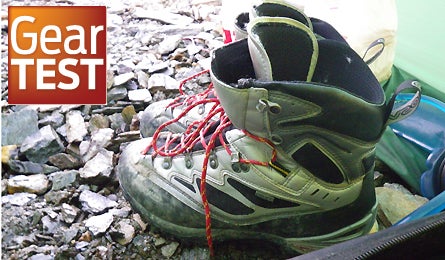 The thing about having problem feet is that the thought of gear testing brand-new boots on a multi-day glacier expedition is terrifying.
Yes, I broke them in. I wore my Asolo Broad Peak GV MLs (part of Asolo's alpine/climbing collection; $360) around the office with whatever I happened to have thrown on for clothing that day (it felt like I was wearing rollerblades). And I wore them on a test hike through the Colorado foothills. But obviously I couldn't recreate glacial conditions in August in my backyard, so there were a lot of unknowns when I boarded the plane for Anchorage.
On the ground the boots were put to the test right away. The first day of hiking was a rainy mess and the terrain was boulder hell with wet alder and willow branches not only plastering my face but plastering the rocks that I couldn't see but had to walk over anyway.
The mountaineering boots held up perfectly. I was thankful for their hefty ankle support (the upper is made of polyamide fabric and microfiber), which I thought might have been a bit over-the-top for the early parts of our trip. I never slipped; I never rolled an ankle; and I only teetered a few times but I blame my collapsing trekking poles which did not like the rainy conditions.
The soles, made of Asolo/Vibram Everest dual-density rubber, were grippy and my feet stayed dry (hallelujah). Plus, this was aerobic hiking of the back-and-forth, up-and-down, 'are we lost?' kind. I usually wear lightweight trail shoes and I thought the added heft of these uber boots would tire out my legs, but no such problem. Day 1, A+.
Over the next few days these boots saw what they were made for. I strapped on crampons without a problem for a potentially treacherous ice field crossing; scrambled up (and then down) a 35 degree talus slope; hopped over (and occasionally landed in) glacial mud and glacial streams; spent hours along a rocky medial morraine; and even (don't tell my mother) hitchiked along the highway.
Throughout it all I only had praise for my boots. I never got a blister, my bunion didn't scream, and although my narrow heel was a bit loose in the back of the boots, the snug ankle fit and tight laces held the boots on securely. I always wore two pairs of socks, one heavy and one light, and my feet were miraculously never cold and never wet, no doubt thanks to the Gore-Tex lining.
Entire Trip, A+.