February/March Table of Contents
Heading out the door? Read this article on the new Outside+ app available now on iOS devices for members! Download the app.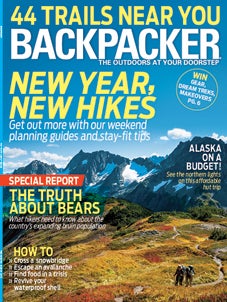 Special Report: The Truth About Bears
You love them. You fear them. And you misunderstand them. See more bears and learn about the surprising new thinking around hiker safety in this complete guide. By Ted Alvarez
Part 1: The Mystery
Grizzlies vanished from North Cascades National Park five decades ago. Or did they? Our scout joins the search for Washington's elusive mountain ghosts.
Part 2: The Maps
Bears in the Lower 48 have rebounded from decades of declining populations and shrinking habitat. Also improving: hikers' chances of seeing a bruin in the wild. Here's why, and where to go.
Part 3: The Skills
Learn how to stay safe in bear country from myth-busting biologist Tom Smith. Plus Experts break down the lessons of Denali's first-ever fatal grizzly attack.
Free Trips, Gear, More!
BACKPACKER turns 40, you win. Learn how to enter contests for dream trips, gear, makeovers, and more.
DESTINATIONS
VIEWFINDER: READER PHOTOS
We asked for your best shots—and wow.

LIFE LIST: ALASKA SKI HUT
Ogle the northern lights from cozy cabins.
TOP 3: BETTER IN WINTER
These hikes improve as temps drop.
MOUNTAIN MAP: THE WHITES
Explore New Hampshire's storied peaks.
Local Hikes
WEST
Soak in a New Mexico hot spring, spot wintering bighorn sheep in the Winds, hike to a lost California oasis, and more.
CENTRAL
Snag a dozen great winter trips, including a Texas Hill Country overnight, a Lake Superior snowshoe, and a hike to Apostle Islands ice caves.
EAST
Tromp through a Florida cypress swamp, find solitude on a Catskills peak, look for rare Carolina blooms, plus 9 more.
SKILLS
MASTER CLASS: GET FIT
Shape up with this gym-free training plan.
INSTANT UPGRADES
Revive waterproof gear, save your map, sleep better, and pack smarter.
TEST KITCHEN: CHOCOLATE
Drink it, spread it, savor it. We tested the best trail-friendly ways to indulge.
SURVIVAL

TRAPPED IN AN ICE TUNNEL
Learn from a hiker who fell through a snow bridge, then struggled to escape her icy tomb.
TROUBLESHOOT THIS: SNOWBLIND!
Treat and prevent sunburnt corneas.
SURVIVAL LAB: FORAGING
Our man in the field shares the best emergency eats. Plus Pack a 2-ounce tackle box.
GEAR
WATERPROOF CAMERAS
We tested point-and-shoots and found the best for backpackers.

GEAR REVIEW: MERINO MIDLAYERS
Plus big-load boots, versatile layers, an ultralight tent, and more.
Heroes: Bob Peoples, 68