Fat Bear Week is the Only Playoff That Matters
Three of the fattest bears in Katmai National Park are going head to head right now. Here's what you need to know.
Heading out the door? Read this article on the new Outside+ app available now on iOS devices for members! Download the app.
It's the battle of the year—a primal faceoff pitting two supersized bruisers against each other in a battle to see who can be the biggest, baddest bruin in the North. Yes, friends: Fat Bear Tuesday is here again.
Last week, Katmai National Park and Preserve kicked off their 5th-ever Fat Bear Week, an annual competition that sees the public determining the park's fattest bear by a series of popular votes. It's good fun with a serious subtext: Bears entering hibernation need all the fat they can get. Chub stored during the months beforehand must be sufficient to sustain them through nearly half a year of slumber, so bears feast like their lives depend on it, gaining up to two pounds a day during peak eating periods right before they enter their dens.
Katmai's brown bears are familiar to the many viewers who make a hobby of watching them on Katmai's webcams via Explore.org. Each has a backstory and distinct demeanor that determines everything from their fishing strategy to where they stand in Katmai's hierarchy.
So far, this year has seen some of the park's titans fall. 480 Otis, a two-time champion who's one of the park's oldest resident bears, fell in his first match, as did 435 Holly, a beloved super mom who, unusually for her species, adopted another bear's abandoned yearling in 2014. With the dust settling, three bears still have a shot at the title.
The Semifinalists: 32 Chunk and 747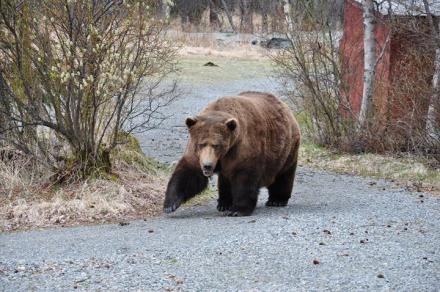 First identified in 2007, 32 Chunk is a rotund adult male who carries most of his weight in his hindquarters. As the second-most dominant bear last year on the Brooks River, 32 owns some of the area's prime fishing spots, and occasionally steals catches from other bears. His face displays a number of small scars and cuts from his many battles.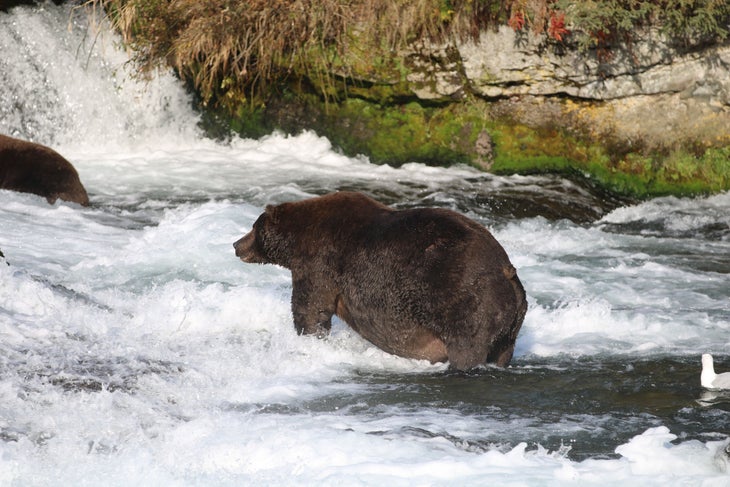 Consistently one of the largest bears in the area, 747 yields to none. This stocky, mature male is revered by all, bears and humans alike, and wields endorsement from former Katmai ranger, Mike Fitz. His belly barely clears the ground as he ousts competitors from coveted fishing locations, resembling less a bear and more a bear-shaped freight train.
Right now, 747 leads 32 Chunk by a power of ten. (Voting closes at 6 p.m. Alaskan time; cast your ballot here.) The winner earns the right to face…
The Finalist: 409 Beadnose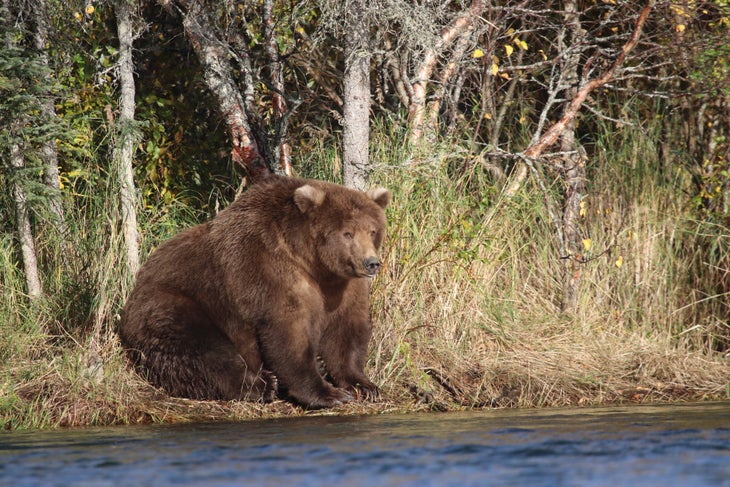 First identified in 1999, former Fat Bear Week champion 409 Beadnose is no stranger to the competition. Her fans recognize her blonde ears and upturned nose as she rotates through her many fishing spots on the river. Having raised four litters herself, 409 is a literal grizzly mama, and she likely won't be defeated easily.