Meet Otis, the Fattest Bear
Otis the bear is one glorious half-ton of fur and blubber, and for the second year in a row, he's the winner of Katmai National Park's Fat Bear Championship.
Heading out the door? Read this article on the new Outside+ app available now on iOS devices for members! Download the app.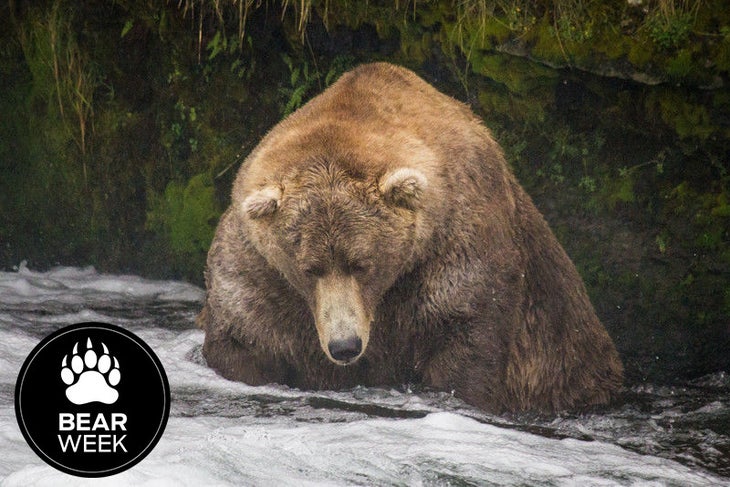 What makes a champion? If you're 480 Otis the bear, it's patience, experience, and a few thousand salmon.
Each fall, rangers in Alaska's Katmai National Park pit the park's brown bears against each other in a March Madness-style bracket, monitoring the bruins as they gorge themselves on fish and pack on winter weight. Each week, the fattest bears (as determined by a vote) advance, until only one ultra-chubby champ remains.
For the bears, however, their fall feasting is anything but a game. Brown bears in Katmai can lose up to a third of their weight over the course of the winter. According to the Index of Mammalian Species, bears may delay hibernation if they can't put on enough paunch, waiting until low temperatures and snow force them into their dens; if they run out of fat reserves and wake up early, they face a fight for survival in the cold, resource-poor Alaskan winter.
480 Otis's victory is notable for his age. At 20, Otis is old. (Male bears can live up to about 25 in the wild.) His remaining teeth are ground down to stubs, and he's no longer powerful enough to challenge the park's biggest bears.
But what Otis lacks in strength, he makes up for in patience. Nicknamed "the Zen Master" by park staff, Otis's modus operandi is to stake out a fishing hole on the Brooks River and stay there, unmoving, for hours.
"Otis conserves energy by sitting in one place all day, sometimes even sleeping on the job while he fishes," wrote park officials on Katmai's Facebook page. "His high energy economy helps to convert salmon into the maximum amount of lard around his belly." 
While the park doesn't have an official figure for Otis's weight, rangers estimate he punches in at a hefty 1,000 pounds.
Otis's success came late in life. Following a few lean years, Otis won his first Fat Bear Tuesday Championship in 2014. He went on to repeat in 2016, narrowly defeating 435 Holly, "the Queen of Bass."