Dolomite Dreams
Dan and Janine Patitucci live in the Italian Alps, shoot adventure photos for magazine covers, and still find time to adventure race. Jealous yet?
Heading out the door? Read this article on the new Outside+ app available now on iOS devices for members! Download the app.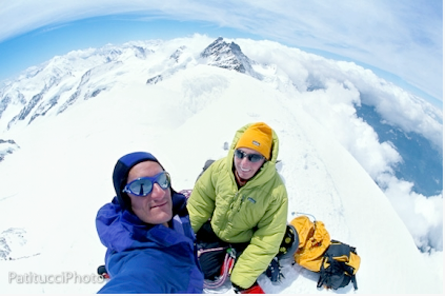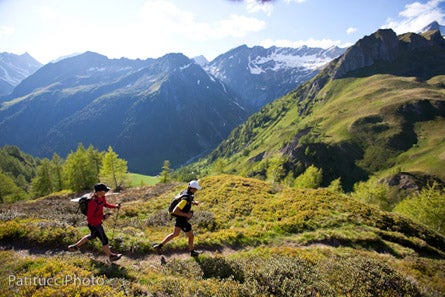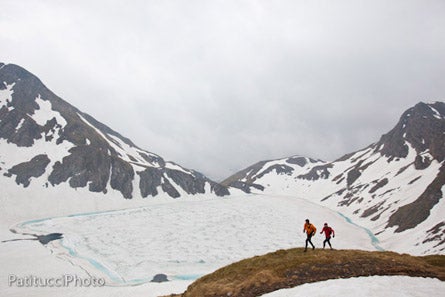 Dan and Janine alone atop a Swiss mountain.
Pity poor, poor Dan and Janine Patitucci: They wake up to the craggy Italian Dolomite mountains outside their window, only to be forced to get up early, go out and play in those same peaks, and shoot award-winning photos for magazines all over the world (including BACKPACKER). To add to the pure suffering, they often end their grueling days by sitting down to a home-cooked Italian meal in a remote mountain hut.
Kidding aside, the Patituccis have meticulously arranged their lives to allow for the ideal adventure lifestyle. Now, in addition to their photography, the power couple hopes to draw international attention to the lesser-known Italian Dolomites through their DolomiteSport site. DolomiteSport provides a place for travelers, adventurers, athletes, and Italophiles to learn about this range and its potential as a hidden outdoor mecca.
There's no doubt the Patituccis worked hard to reach this exclusive plane of outdoor living. But there's good news: You can, too, and in this exclusive Q&A, Dan Patitucci explains how to live—and shoot—the dream.

BACKPACKER: You live in the Dolomites full-time now. What made you choose that particular location in the Italian Alps?



Dan Patitucci: We decided on the Dolomites as home because it provides the ideal venue for everything we do as both athletes and photographers. The Dolomites are the perfect combination of beautiful mountains, great weather, and rich mountain sport culture.
On any given day, mountain biking, trail running, climbing, hiking, road biking, and ski touring are literally all right out our door and of the highest quality. Being active each day in the mountains is just what you do here, and all ages—from teens to 80-somethings—are outside. It's fantastic to see.
BP: We've all heard of the Alps—less so with the Dolomites. How do they compare?



DP: The Dolomites are much more user-friendly and allow for more variety than, say, the Swiss or French Alps. The Alps are bigger, more alpine, but also steeper with more challenging weather. The Dolomites are more gentle, less alpine, with towering rock spires growing from alpine meadows and lush forests.
The trail system in the Dolomites that link huts, villages and mountain groups is what attracts the hiking crowds. One can begin a day hike and explore mazes and corridors of Dolomite walls and canyons, cross magnificent passes, hike up peaks, then enjoy an amazing meal at a hut.
The longer trails, like the Alta Via One, offer week-long tours where hikers can carry super-light packs, walk all day in a stunning landscape, and then stay in these incredibly comfortable mountain huts with private rooms and Italian cuisine.
The major draws here for American hikers would be the famous mountain groups: the Tre Cime di Lavaredo, the Civetta, the Sella, and the Pale di San Martino.



Andreas Irsara and Janine Patitucci on kilometer 26 of the Pfunderer Hohenweg trailrunning tour.
BP: What's been the hardest part about moving to Europe? Do either of you speak Italian?



DP: Emotionally, the hardest part has been leaving friends behind in the US. But we have a consistent stream of house guests.
Much of the Dolomites are in the Sud Tirol, and in this region of Italy, German is spoken throughout the area. One also speaks Italian but a dialect of German is the primary language where we live. In a couple of nearby valley's, yet another language is spoken, Laidin. So here we have three entirely different languages to deal with. Janine's first language is German and I pretend to speak Italian, so we get by fine.
But the languages are actually a funny part of our life as almost everything here has three totally different names. Our blog has endless funny stories about living in a different culture.
BP: Is there a difference in the way Europeans approach mountain sports compared to Americans? What can we learn from them, and what can they teach us?



DP: Americans seem very goal oriented in the mountains, while Europeans seem more experience-driven. Neither outlook is better, just different, and one begins to understand that when spending time in the mountains of Europe.
I think the thing to learn from the European mountain sports culture is in its depth. The proximity of so many mountains to so many large living areas provides for a vast community of people interested mountain recreation. Combine this with a perfectly designed infrastructure to get people into the mountains, a hut system, education about the mountain environment within the school system and a long, rich history of mountain culture, and you have the European tradition of going to the Alps and the Dolomites, not just for "athletes" but for everyone in order to experience them.
It is not unusual to see literally hundreds of people out ski touring on the same peak as yourself, or 30 people gathered on a summit – throughout Europe, crowds are the norm. For an American this might be a turn-off, but think about the implications of this for a society as a whole: This is what allows for such a rich heritage of mountain culture for non-motorized, environmentally friendly recreation.
BP: You've shot several covers for BACKPACKER. What's the best single piece of advice you'd give amateur outdoor adventure photographers for taking their shots to the next level?



DP: Shoot a lot. Study what you love about photography, then apply it to your vision of how you want to capture life.
Also, having a thorough understanding of the subject matter you are photographing is hugely important. We really only shoot what we do as mountain sports people ourselves. Perhaps by understanding a sport, you also know what it is about the activity that makes it special. Through photography you can then present something that a viewer will emotionally identify with. Successful outdoor images rely on this.
BP: You've incorporated a lot of social media, like Twitter and blogs, into your brand and lifestyle. How do you use these to stay connected to the outer world while adventuring?
DP: Over the winter I did this huge solo ski randonee race training trip at night. I Twittered throughout and had people cheering me on from all over, it was super fun.
In Europe, phones work just about everywhere, so with the iPhone I can blog, Twitter and use Facebook to stay in touch. I've Twittered while sitting in the peloton and Facebooked during photoshoots. Then later, I detail more fully what it was we were doing through blogging. Our followers feel a part of what we do by seeing the whole process.



Irsara and Patitucci running near Wildersee/Lago Salvaggio.
BP: Ultimately, what would you like to accomplish with DolomiteSport?



DP: Through our photography and stories, our goal is to inspire people to come to the Dolomites, specifically mountain sport athletes: hikers, runners, cyclists and skiers. Additionally, we'll provide information about what to do, how to do it, and the best gear to do it all with.
BP: Can you share your ideal day in the Dolomites?



DP: Long days in the mountains with lots of kilometers covered, whether it be ski touring, trail running, hiking or cycling – with friends, all culminating in a huge Italian meal in a mountain hut. This is part of the tradition here, to stay within the mountains in the evening, have a meal with friends at a hut, then head out late and in the dark. It is great fun.
BP: Also, tell us about a favorite new piece of gear you've discovered that has become indispensible in your outdoor life:
DP: It has to be the iPhone. We can run our business while in the mountains or traveling. People might laugh at this, as so many think the mountains should be a place without phones, but we are in them everyday and for us it is work. The iPhone and the many apps allow us complete freedom to be out each day—again, combining work with play.
BP: To a lot of people, you're living the dream life. Do you have any tips or a personal philosophy that can help others achieve that same dream life?



DP: We live by the cliche, "follow your dreams." 10 years ago we had a vision as to how we wanted to live, we committed to it, survived some tough times and made it happen. We chose a way of life that combines work and play, and for the most part there is no division, we love everything we do each day.
"Follow your dreams" gets tossed around a lot, but really how many people commit to it? It is not difficult, but it does require truly understanding what your dreams truly are.
—Ted Alvarez