Diary of a Gear Tester
Editor Shannon Davis lets you inside the mind of a gear tester. Hint: It's not all glamorous, folks.
Heading out the door? Read this article on the new Outside+ app available now on iOS devices for members! Download the app.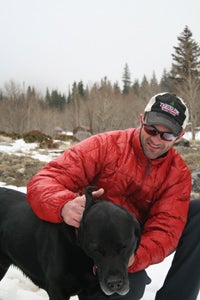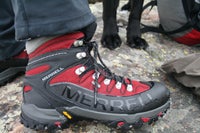 I'm a geek: On my last two trips, one of them a three-day solo, I didn't send a postcard or keep a journal or scribble poetry to my wife, at home 2,000 miles away. I filled my 3''x 5'' Rite in the Rain notepad with exhaustively detailed trail data and gear testing notes. (I used a #2 pencil sharpened with my Benchmade 530 Pardue SBK, and this worked great.)
You'll get the best of the trail data soon enough (for a future Rip & Go), but here's a peek into what new gear performed well.
4/12 – Shining Rock Wilderness, NC
Effing weather. It's hard to get out of the rental car when it's 30 degrees and raining sideways. I chose this hike b/c of the unobstructed views, and it was socked in all day. Hiked 9 miles along the Ivestor Gap Trail, then the Art Loeb trail to a little bench on the south side of Cold Mountain. Brought the new 7-oz Marmot Nano shell to test for the September issue's apparel guide. Was watertight today—the wire bead in the brim of the hood kept face-drippage to a minimum. Will see if it's breathable tomorrow on the climbs. Just cooked dinner in the vestibule of the Big Agnes Fly Creek UL1, this little 1lb., 14-oz. shelter that was in our April Gear Guide. I still can't believe that something this light has actual livable space. Dehydrated meal was past it's "best by" date, but I couldn't taste any difference. Hmmm. 7:00. This'll be a long rainy night. Comfortable on my Therm-a-Rest NeoAir.
4/13 – Shining Rock Wilderness, NC
Intermittent gorgeousness today. Periods of drizzle, rain, and hail, then sun and fast moving clouds. Venting on jacket is not awesome—no pit-zips, just some vents inside the pockets when you open them. But who wants their pockets open in the rain? Summitted Cold Mountain in the morn, then packed up to hike to Black Balsam knob. The temps dropped making it perfect to test Montbell's new Ex Light 6.7-oz down jacket. It KICKS ASS! There's no elastic at the hem or pockets, but its 850-fill down acts like a jacket of chemical hand warmers. I'm hot. It's 33 out and windy.
4/14 – Shining Rock Wilderness, NC
Woke to an inch of rime ice on everything. Made grits in the Jetboil and packed up. Very Narnia looking on the stroll back to the car. Found a sweet-spot with the Marmot. I love this thing when temps are lower—blocks wind and rain like armor and breathability isn't as big an issue. Note on the car from the park service says that the Blue Ridge Parkway is closed due to ice.
4/25 – Indian Peaks Wilderness, CO
I'd planned on climbing Mt. Bancroft today, but the weather is shite, so I dayhiked with my wife and dog. We postholed for a few miles in the clouds and wind before deciding that our 11-year old lab had had enough. (Us too!) Wore a sweet new pair of Merrells. The Outbound, a burly waterproof-breathable with a synthetic upper and a gnarly rubber rand. They felt so awesome—even pressure across the top of my foot, my heel suctioned back into the heelcup, plenty of wiggle room for my toes—that I think I'll be wearing these all summer. Also wore the new Guide Jacket from Eddie Bauer's surprisingly awesome new First Ascent series. It's a softshell with waterproof areas on the shoulder and hem. Perfect for windy and potentially drizzly peaks.
4/26 – Longmont, CO
I told my editor that I was going to blog about Millet's new model of "summer mountaineering" boots, but I wussed out on our climb, so now I'm wearing them around Super Target. They were way too rigid for the freshly-waxed, perfectly horizontal linoleum terrain I encountered in the produce section. My heel slipped a bit when I stood on my tip-toes looking for my favorite salt and vinegar chips in aisle 16. Given the balmy temps I estimated to be at least 67 F, they seemed to breathe quite well.

—Shannon Davis