Buzz for 'Wild' Builds at Telluride Film Festival
Reese Witherspoon hits the trail in the adaptation of Cheryl Strayed's PCT memoir. Our man gives his early review.
Heading out the door? Read this article on the new Outside+ app available now on iOS devices for members! Download the app.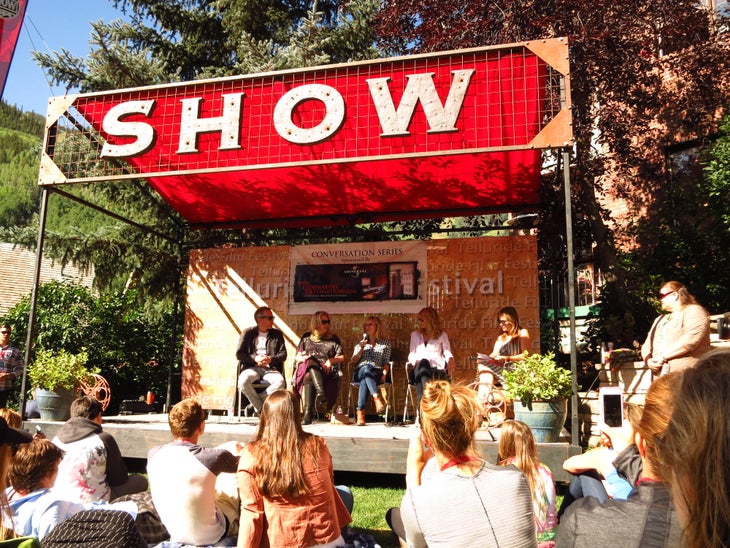 From left: director Jean-Marc Vallee, author Cheryl Strayed, star and producer Reese Witherspoon, co-star Laura Dern and interviewer, novelist Vendela Vida. [image: Barney Scout Mann]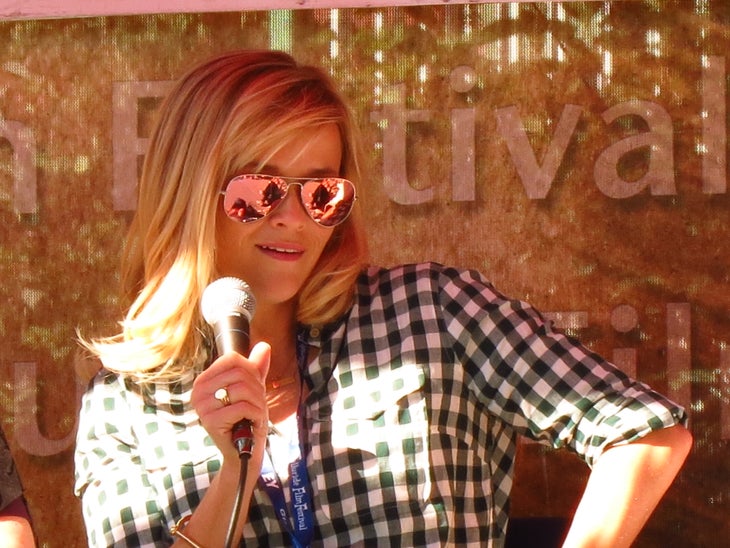 Reese Witherspoon at the 2014 Telluride Film Festival. [photo: Barney Scout Mann]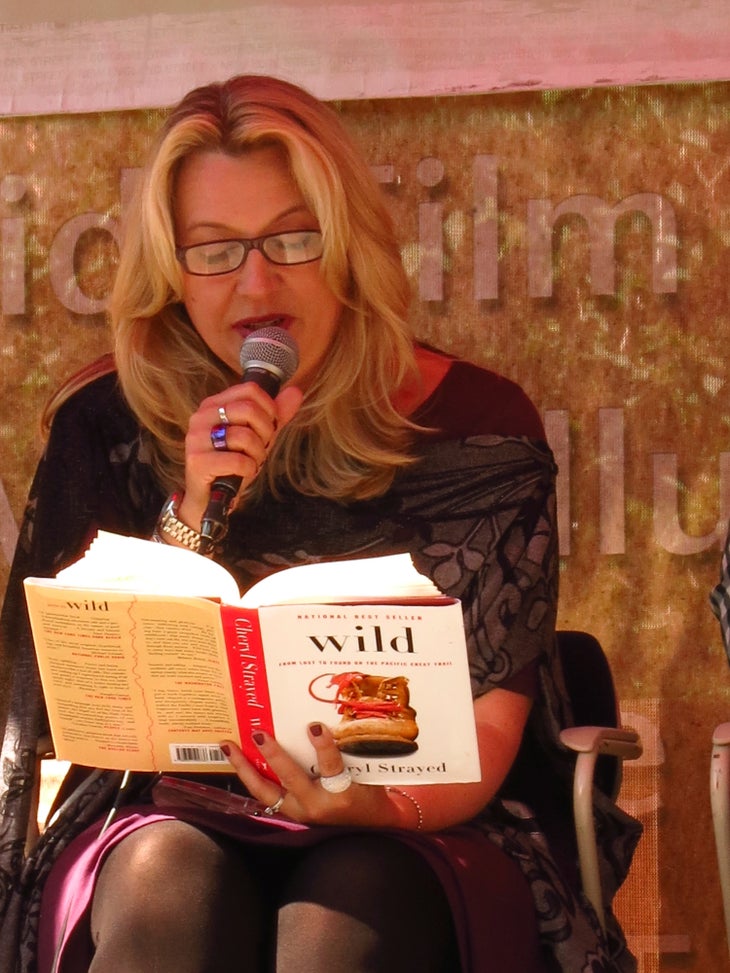 Author Cheryl Strayed reads from her memoir 'Wild' at the 2014 Telluride Film Festival. [image: Barney Scout Mann]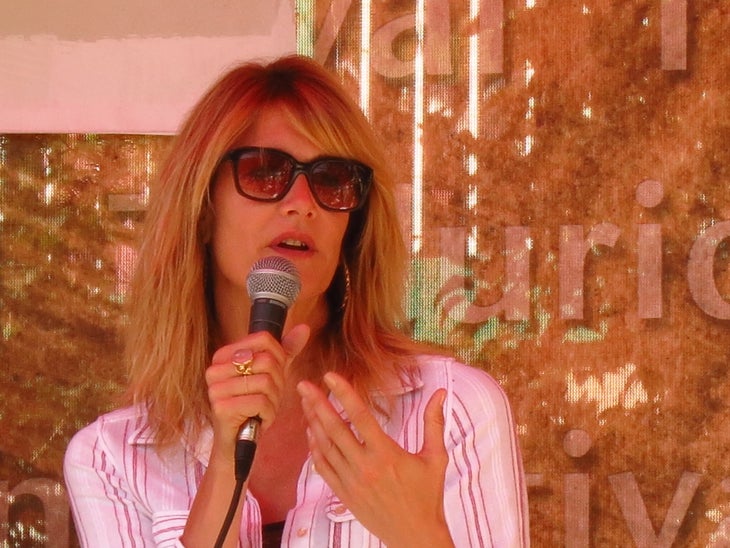 Actress Laura Dern speaking at the 2014 Telluride Film Festival. [image: Barney Scout Mann]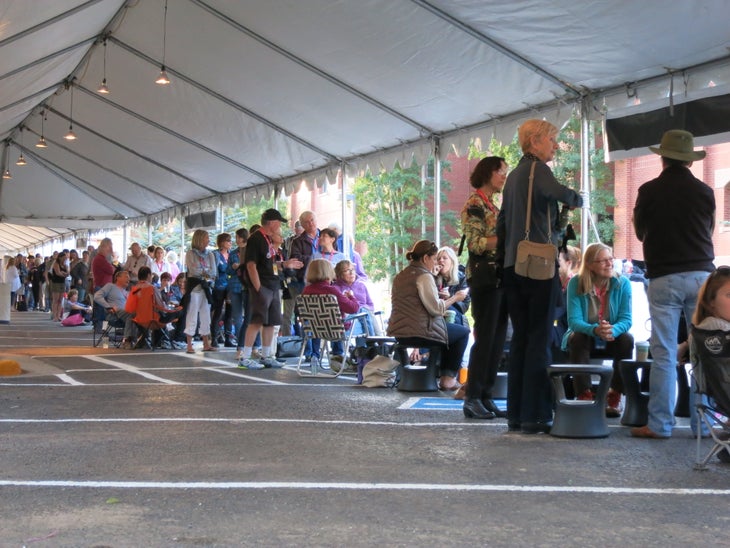 Screenings of 'Wild' drew long lines at the 2014 Telluride Film Festival. [image: Barney Scout Mann]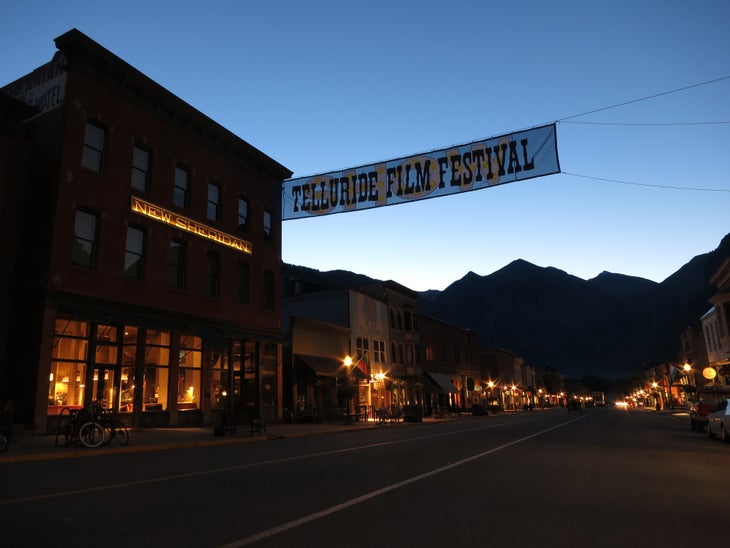 Main Street in Telluride, Colorado. [image: Barney Scout Mann]
Lines were long and praise was high for 'Wild' at the Telluride Film Festival over Labor Day weekend. Headlining the mountain festival's opening night, the film's first two showings were standing room only and extra screenings had to be added due to demand.
The highly anticipated movie, an adaptation of the eponymous memoir by Portland, Oregon-based author Cheryl Strayed, recounts Strayed's 1100-mile solo trek on the Pacific Crest Trail at age 26. Reese Witherspoon stars as Strayed and attended the premiere along with co-star Laura Dern and the film's director, Jean-Marc Vallee.
After the debut, both the crowds and movie tabloids were abuzz. Before the second screening in the packed 650-seat Palm Theater, Strayed walked down the aisle to speak with a small group and said, "Have you seen the rave reviews online?" Indeed, Varietycalled Witherspoon's performance a "tour de force." The Hollywood Reporter was equally enthusiastic, writing that the film "seems sure to figure in this year's awards race." In previous years, Telluride acclaim has served as an Oscars springboard for hits such as Gravity, Slumdog Millionaire, Juno, and Argo.
Just before the lights dimmed in Palm Theater, Vallee took the mike and confided how he, Witherspoon, Dern and Strayed had spent the morning. They all went for a hike together. He also quipped: "I tried my new boots today and I got two blisters."
(They don't give Oscars for best scenery or for best backpack, but if they did, the Pacific Crest Trail and the Witherspoon's pack, nicknamed "Monster," would have the inside track for the gold statuette. In the opening scene, Witherspoon convincingly spends almost five minutes just trying to get upright with Monster on her back.)
The Telluride Film Festival is also known for the opportunities for close contact with stars, producers and directors. The day after the premiere, there was an intimate Q&A with Witherspoon, Dern, Vallee and Strayed. Here are a few choice highlights:
Q: I want to touch on your relationship with your backpack…

Reese Witherspoon: Being in the movies for so many years, I thought, I'm not going to put anything in the backpack…It pulls on your shoulders. It has a life of its own. I talked him down from 75 pounds to 60.
+++
Cheryl Strayed: I was on the set one day and I needed to have my make up touched up. I went to the make up department and they said, "I'm sorry, we only have dirt and blood."
+++
CS: On the set, Jean-Marc would call out, "Cheryl." And both Reese and I would turn our heads. We'd say, "Who do you want? Which Cheryl?"
+++
Q: Your daughter plays you in the flashbacks in the movie. She's eight now. What was that like being on the set with your daughter playing you at a young age?
CS: It was tremendously moving. My daughter is named after my mother Bobbi. That is the loss that keeps on losing. When my kids were born I had another era of grief. My mother never got to meet her grandchildren. … When Bobbi was cast as Cheryl I thought she will get to meet the grandmother she would never get to meet.
+++
RW (asked about filming the off-the-trail flashbacks): "One day I am doing heroin, the next day I am doing explicit scenes and then the third day my mother was dying. It was definitely the hardest movie I ever made."
+++
Q: What was it like to see the film yesterday?

CS: It was a singular day, up there with the your wedding day, the days your kids were born, the day your first book was published, the day the movie of your life premieres. That kind of thing…Seeing it in front of an audience, I cried harder than I ever had.
+++
Q: When did you start crying?
CS: At the credits. I started when it said, "Fox Searchlight presents."
+++
RW: I dreamed about making this movie and I said to [film co-producer] Bruna, "If we can pull this off, this will be the first movie that I know of in history—I grew up as little girl loving movies—but never in my twenty years of making movies, have I ever read a script where at the end, the woman is alone, no man, no money, no job, no opportunities, no house, no car, and it's a happy ending. I think that is revolutionary.
Wild opens nationwide December 5.