Black-Footed Ferrets Are Your New BFFs
The adorable little predators can eat 100 prairie dogs per year—but plague and rodent control almost pushed them into extinction.
Heading out the door? Read this article on the new Outside+ app available now on iOS devices for members! Download the app.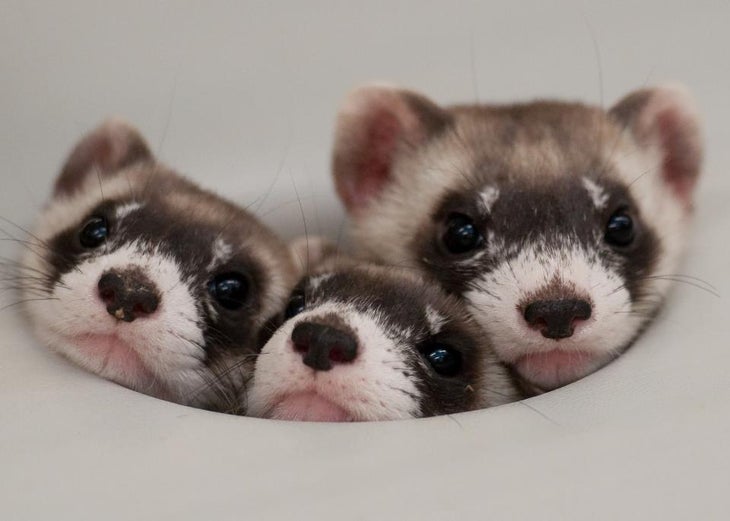 Editor's Note: In our new series Nature is Rad, we're exploring the animals and plants that make the outdoors our favorite place to play. The subject of this week's entry: one of North America's most endangered—and cutest—mammals.
Black-footed ferrets—often called "BFFs" in wildlife biology circles—are just about as cute as a carnivorous, rodent-devouring machine can get. As mustelids—relatives of weasels—they hunt and devour ground-dwelling rodents on a massive scale. On average, a black footed ferret eats around 100 prairie dogs a year.
That's impressive, especially considering that ferrets are about the same size as prairie dogs. It's also a little grim. So let's focus on a more important fact: Black-footed ferrets are adorable. They weight about 2.5 pounds, and they have a Zorro mask and matching socks. When they're excited, they do a hopping "war dance." They bark and carry dirt out of tunnels with their hands. They can also travel as far as 10 miles in a single day—pretty far when you're six inches tall.
Black-footed ferrets are also highly endangered.
Their problem? Around 90 percent of their diet consists of the world's most irritating food source. Prairie dogs, in theory, are rad: They dig subterranean lairs connected by winding passageways, use an incredibly complex language composed of whistles and squeaks, and will completely shred any plant that stands in the way of their front porch view. (It's so they can see predators, but still, you have to have some respect to their dedication to lawn maintenance.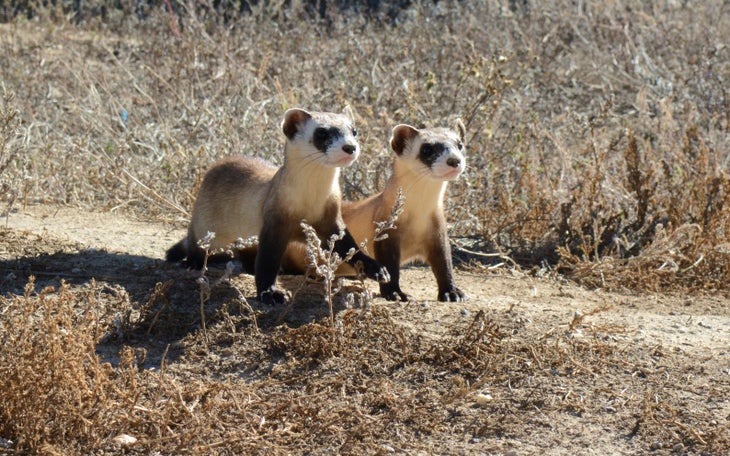 However, all the things that make prairie dogs rad also make them a nightmare for ranchers and developers. They nibble crops, turn stable farmland and housing sites into Swiss cheese, and almost never shut up. The biggest reason for the vilification, though, is the popular misconception that they compete with cattle for grass.
Nevertheless, ranchers have been dumping poison down dog holes for decades. The end result: hungry BFFs. In 1986, ferret populations in the American heartland dropped from the tens of thousands to 18, and every single one of those 18 ferrets was being raised in captivity. After some serious conservation effort, today there around 300 wild ferrets.
Now there's a new threat: plague. Prairie dogs were never the best at resisting either bubonic or sylvatic plague. Whenever an outbreak rolls into town, whole colonies bite the dust. While there are enough prairie dogs around for overall populations to bounce back pretty quickly, the fledgling ferret populations aren't so lucky.
In an effort to keep prairie dog populations from plaguing out (and infecting toehold ferret communities in the process) scientists have come up with some unique tactics. One of the latest? Shooting vaccine-laced peanut butter pellets out of drones to inoculate prairie dogs against sylvatic plague.
Now that's rad. 
Where to see them
A population of black-footed ferrets has lived on the grasslands of Soapstone Prairie Natural Area, located near Fort Collins, Colorado, since 2014. Try the 7.9-mile Pronghorn Loop.