Best of BACKPACKER – November 2010
Heading out the door? Read this article on the new Outside+ app available now on iOS devices for members! Download the app.
Editor's Note

Top 10 Page Turners

Our editor-in-chief's picks for the finest writing in this magazine's history.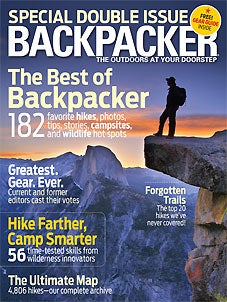 Best. Trips. Ever.

To choose the top hikes in the world, we crammed editors and trail scouts in a room and let them fight it out. The result: this list of 20 life-list trails. PLUS: Discover 20 more amazing trips we've never written about. By Kelly Bastone and Dave Pidgeon
How to Do Everything

Over the years, we've learned from survivalists, wildlife experts, fitness pros—and our own mistakes. From the right way to treat a snakebite to the wrong way to feed bears, here's our best (and worst) advice for nutrition, navigation, and more. By Kristin Bjornsen
Time-Tested Gear

Field testing can get ugly (sideways rain and -50°F nights, anyone?), but that's how we find equipment that really works. Here are top picks from veteran staffers, plus tried-and-true classics, hall-of-fame Editors' Choice winners, and more. By Kristin Hostetter
Viewfinder: Our Best Photos Ever

If the average picture is worth 1,000 words, the best wilderness images from BACKPACKER's top photographers are worth millions. Get inspired—and find the beta you need to hike to our favorite scenes—in this collection of classics.
The Last Best Place

Twenty-seven years ago, we rejected a story about a secret Sierra hideaway where the trout grow as big as cats and the meadows are lined with Frisbee-size wildflowers. Too good to be true, we thought. Until now. By Eddie Oglander
Reader Heroes

Meet seven subscribers whose passion, service, and spirit of adventure inspire us every day.