Behind the Scenes: BACKPACKER At The TODAY Show
Gear editor Kristin Hostetter gives us the backstage dirt after appearing on NBC's TODAY Show
Heading out the door? Read this article on the new Outside+ app available now on iOS devices for members! Download the app.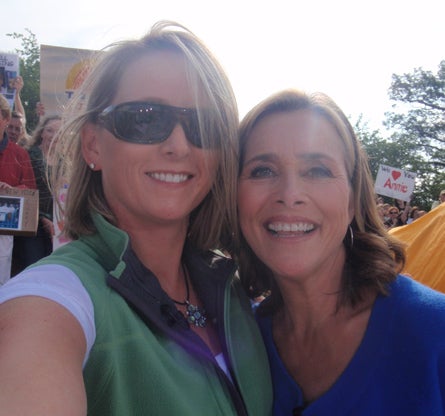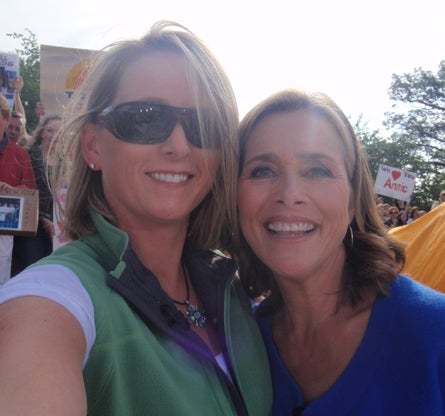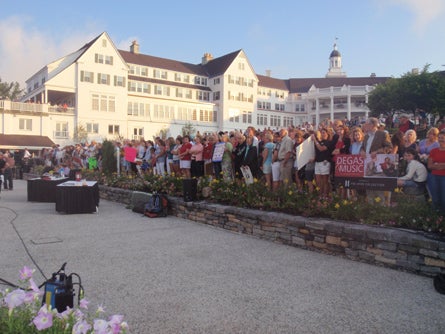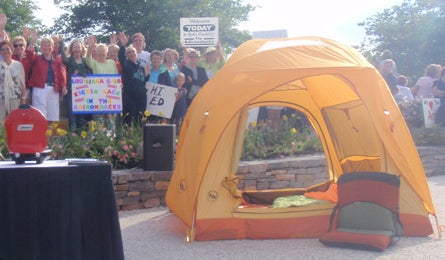 Kristin and Meredith Vieira.
Whew…what a day! After my TODAY Show adventure, I haven't mustered the courage to watch the clip, though my colleagues back at HQ were quick to post it. Here's the rundown of my 18 hours with the TODAY Show team:
2:00PM Sunday: I arrive on site at the Sagamore Resort, where I meet the producers and paw through the massive pile of gear that I had ordered. We quickly determine that the Big Agnes Big House 4 would only fit on the poolside set without the awesome add-on vestibule. I hook up the stove to check that it worked, and tried to plan my attack.
4:00PM Sunday: The rain comes blowing in, and the forecast was sketchy. In my post-OR (Outdoor Retailer trade show), pre-TODAY Show frenzy, I had forgotten to pack a rain jacket, which was embarrassing, considering I have at least a dozen test models hanging in my office.
6:00PM Sunday: With the segment finalized, I bellied up to the bar for dinner and found myself next to Mark, the stage manager, who regaled me with stories of his travels (India, Hong Kong) and primadonna stars.
 9:00PM Sunday: I watched The Departed in my lovely hotel room, then it was crash time.
5:00AM Monday: I felt like I had just finally fallen asleep, when the wake-up call came. I flicked open my blinds and saw the white glare of the stage lights shining all over the property, which was already crowded with hoards of die-hard fans waving "we love you, Meredith and Ann" signs. Gulp…show time.

Early morning crowds at Lake George.


6:00AM Monday: Quick shower, angst over what to wear, a bagel in the green room, hair and makeup (that's right, you heard me), and a quick chat with Meredith.
8:30 AM Monday: Before I knew it the cameras were rolling. Right before we went on, the producer told me we only have two minutes for my segment. Two minutes! Good thing I had plenty of coffee in the green room (which was not green). Then there was a moment of confusion when Meredith and Ann tried to figure out who would intro the segment. With seconds to go, they dialed it: It's amazing how much composure they have on the fly. It was over in a blink, and it was on to the cooking segment, which got pinched even shorter than mine.
The Big Agnes Big House 4, and some TODAY Show fans.
When it was over, I hung around on set and ogled at the whole affair. I fed the appreciative crowd some of the Curry Sweet Potato Latkes I made, and packed up the tent, only to discover that the crew had weighted it down inside with huge granite boulders, which decimated the floor (sorry Big Agnes!)
My phone's been ringing off the hook since then (thanks to all my peeps who called in for support), and the most common question is: 'What's Meredith like?' Both she and Ann are totally cool and amazingly gracious to their fans, posing for countless pictures, signing autographs, and chatting up the crowd.
All in all, an amazing, exhilarating experience. And exhausting. I can't wait to get home to my family and just chill. As for Meredith, Ann, Mark, and the rest of the crew? They gotta get up and do it all over again tomorrow. And the next day. And the next.
Rock on, TODAY Show! Thanks for the ride!
—Kristin