Wyoming Announces Grizzly Hunt Near Yellowstone and Grand Teton
Hunters will be able to kill a total of 22 bears.
Heading out the door? Read this article on the new Outside+ app available now on iOS devices for members! Download the app.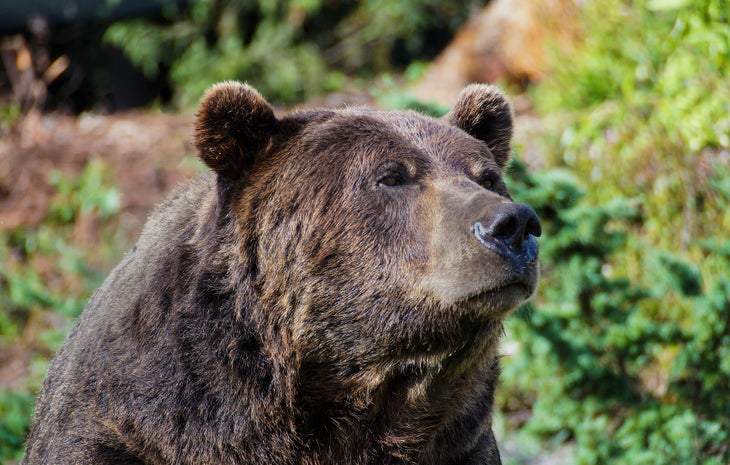 On Wednesday afternoon, the Wyoming Game and Fish Commission voted unanimously to open grizzly bear hunting in areas surrounding Yellowstone and Grand Teton National Parks. The new rule allows for the killing of up to 22 grizzlies during the hunting season, which opens in September.
This policy paves the way for the largest grizzly hunt outside of Alaska since 1974. In 1975, grizzly bears received federal protection after being put on the Endangered Species List. In June of 2017, The U.S. Fish and Wildlife Service removed the Yellowstone-areas's population of bears from the list after their numbers rebounded to an estimated 700 animals.
While bears within both Yellowstone and Grand Teton National Parks still are still protected, hunting is now allowed in what's known as the "demographic monitoring area," which surrounds both parks. Only one permitted hunter is allowed in the hunting zone at a time, and will be able to kill one cubless female and 10 male bears. Hunting will also be allowed outside the demographic monitoring area, where another 12 bears will be available to hunters. The Wyoming Game and Fish Department describes these hunting regulations as "conservative."
Montana and Idaho share responsibility for policies on Yellowstone grizzly hunting in the wake of the bear's delisting, but in February, Montana decided not to allow trophy hunting this year, and Idaho will only issue a permit for one grizzly. Bears around Montana's Glacier National Park are still considered endangered for now, though the U.S. Fish and Wildlife Service is considering also delisting them in September.
In April, 73 scientists signed a letter condemning the decision to allow hunting, saying it would harm the bear's comeback. "To trophy hunt such a vulnerable population is ethically irresponsible, unwarranted, and not in the public's interest," the letter claimed.
Earlier this month, 200 indigenous nations from Wyoming and across the U.S. released letters of opposition to the hunt as well, proposing instead to transfer grizzlies — which are considered sacred animals — to reservations so that they would continue to receive protections. Also in May, 107 wildlife photographers addressed a letter to the Wyoming Governor's office, asking that the proposed hunt be rejected.
Wednesday's unanimous vote in favor of the trophy hunt came after a two-hour presentation and livecast from the Commission, during which advocates both for and against the hunting of grizzlies could voice their concerns to committee members.
Applications for grizzly hunting permits open on July 2nd.