BACKPACKER Photo School: Taking Perfect Photos on a Cloudy Day
Picture perfect weather doesn't necessarily mean blue skies. Sometimes, when clouds roll in, they make for better shooting weather, and better photos.
Heading out the door? Read this article on the new Outside+ app available now on iOS devices for members! Download the app.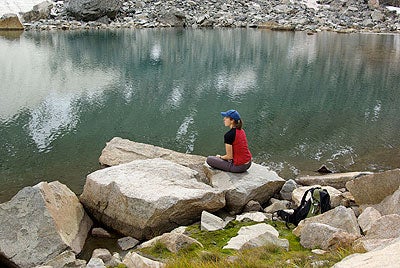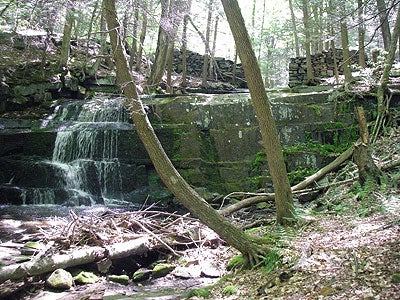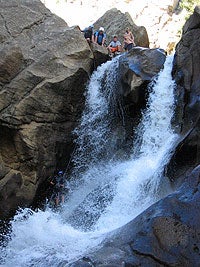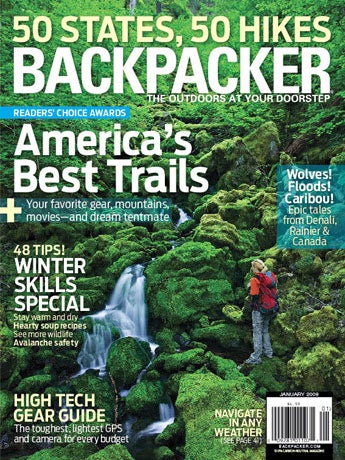 Here I'll show you the benefits to photographing on cloudy days and a couple ways to adjust your shooting so you can take beautiful photos in "interesting" weather.

First off, it's important to know the benefits of clouds. In the past, if I woke up and saw a white, cloudy sky I used to cancel my plans and snuggle back under the covers. Now that I've had some good shooting days with a white sky, I don't mind clouds. Sure I still want an extra half hour of sleep, but there's a reason for that: Shooting midday when it's cloudy doesn't result in reduced quality like shooting midday in bright weather. So, get that extra sleep, then get on your way to great photos. Here's what you're up against, and how to handle it:
THE CONDITIONS

On a bright day, the sun gets intense as the day goes on and shadows are cast all over the place. Dark, shadowy eyes make people in photos look distorted and even scary. If the sun is shining from directly overhead, a person wearing a baseball hat ends up with a completely obscured face. In the southwest, canyons fill with black pools as the day goes on, and in the forest, spots of bright sun and spots of shade are everywhere.

THE EQUIPMENT

Cameras are limited to the range of light they can record, so when it's bright, and there are dark shadows, your camera has to figure out what to miss and what to capture accurately. Either shadows go black, or bright spots go white. It's like when you wear sunglasses and stand in the sun looking into the shade. Sometimes the dark areas go black. Even our eyes can't see everything at once.

THE SOLUTION

On a cloudy day, the whole sky is lit up and sunlight is diffused, spreading out evenly. Light comes from many directions instead of from the sun to the subject in a straight line. We call this soft light. It's gentler and shadows tend to be smaller, lighter, and have fuzzy edges. If your hiking partner is wearing a hat and the light source is big enough, it can send light around the edges and illuminate most of your subject's face beneath the brim.



BENEFITS OF EVEN LIGHT

Having even light helps on a much larger scale as well. The difference between shadows and sunny areas isn't as great (canyons, for example, don't fill with such deep black shadows), so the camera can record the scene more accurately. In the photo to the left, the action was in the shade, but the terrain in the background wasn't. The difference between the shade and sun was too much for the camera to handle, so the background turned white, or got blown out. If the sunlight had gone through a cloud, the two areas would have been closer to the same brightness and the background could have been recorded accurately.
ONE DRAWBACK

Speaking of turning white, cloudy skies will tend to do that if you try to shoot wide scenic photos. Since the whole sky tends to act as one big light source, it's too bright in comparison to the land. If it's super cloudy, I often adjust the way I shoot to not include the sky. Try to position yourself slightly higher than your subject so you're shooting at an angle that doesn't include sky, like the photo I used at the beginning of this post. This works well if you have a person or animal as the main subject in a beautiful scene, but if you're trying to take a purely scenic photo it may look odd not to have a horizon.
BIG AND SMALL

Cloudy days are good days to shoot details: a spider on a log, the texture of a tree's bark, flowers up close, leaves and mosses. Try to notice the little things that benefit from even light. Where shadows would cause lines interrupting the shape of your subject, soft light allows you to capture nuances that would otherwise get lost. The shape of flower petals, or the color of a butterfly is more interesting when there aren't shadow lines intersecting across them.
FRAMING

It's amazing how much more inviting the weather can look in a photo depending on how the shot is framed. By leaving the sky out, people don't see that it wasn't a blue bird day. Look at our January 2009 cover photo created by Thomas Kaspar.

It looks like somewhere I'd want to be. I've never looked at it and thought the weather looked bad, but the light is so even that it probably was a cloudy day. There aren't any blown-out areas where too much bright light is streaming through the tree branches. It looks like it might have been a day I would have skipped photos, until I learned the benefits of cloudy weather.
Try these techniques yourself. I'd love to see what you come back with.
And, speaking of your photos, with fall arriving this month, we're going to post a slideshow of seasonal shots. If you've got a photo we should consider for this slideshow, send it to readerphotos@backpacker.com by Tuesday, September 29. Use the subject line "Fall Slideshow" and include your full name and hometown, so we can give you credit if we choose your shot. Looking forward to seeing them!
– Genny Fullerton