Backpacker Photo School: Olympus Lens Reviews
Mini reviews of our favorite Olympus lenses—and a tip from Steve Howe.
Heading out the door? Read this article on the new Outside+ app available now on iOS devices for members! Download the app.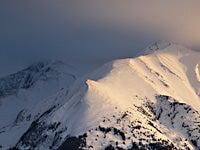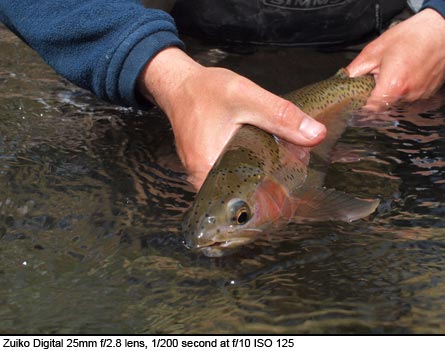 The backcountry is filled with great scenery. You've got to use something to capture all the great views and bring them home with you. Olympus recently let us try out a variety of their lenses on their E-620 camera body, and here are our thoughts on which lenses are best for what.
Zuiko Digital ED 14-40mm f/3.5-5.6 and 40-150mm f/4-5.6

This wider lens is good for close-ups and macro-type photos with a minimum focusing distance of 10 inches. It works well in tight quarters, when you can't back up, like in a tent or on a boat. It does a good job capturing patterns in nature and other close up details, like slippery fish skin and wildflowers.
The longer focal length brings distant ridgelines near. It has good clarity in tight shots on subjects many miles away. It also does a good job on close-ups, but from farther away (min focusing distance of that one is closer to 3 feet).
Lenses are available with Olympus cameras, or can be purchased separately.

14-40mm: $250, 8 oz.

40-150mm: $280, 10 oz.


Zuiko Digital 25mm f/2.8

This lens is so light and 1-2 stops faster than the kit lenses reviewed above. At dawn and dusk, that means a shooter can open up that aperture instead of boosting ISO or extending shutter speed. If weight savings is priority, this might be your new favorite lens: It is tiny and light on it's own, but you'll also be able to get away without a tripod more often. With a fixed focal length, you move around a lot more to compose the image, needing to change the distance between the camera and the subject in place of zooming in or out. The 25mm focal length on digital is versatile and natural for shooting most subjects. (Because digital sensors are smaller, 25mm on Olympus digital cameras translates to the ever-popular 50mm focal length on a 35mm film camera). $250, 4 oz.


Zuiko Digital ED 9-18mm f/4.0-5.6 wide angle

This wide angle works well to get up-close detail and pull a lot of scenery into the background of the shot, giving a good sense of place. The minimum focusing distance is less than a foot, so don't be afraid to move in close. The lens does not have a lot of zoom, but the range it has is useful for fine tuning composition of the shot. Our tester reports "This has become my go-to lens for when I'm going to be close to my subject all day." The perspective is wide, but without the distortion of a fisheye lens. $600, 11 oz.
Lens tip from Steve Howe

"If I had to go with one focal length prime, it'd be a 24mm. For years, I used a Sigma 24mm f2.8, and despite having a full quiver of other lenses from 17mm to 750 f5.6, 95 percent of the photos I sold came off that Sigma. I liked it better than the Nikon 24mm because it focused down to 4 inches for macros, was smaller, lighter, less expensive, and had a slight barrel distortion that seemed more pleasing than the rigidly rectangular Nikon images. 24mms work great for near-far scenics. They're superb for close-up action passbys, since you can fit all the elements in without severe distortion. They're also excellent for shooting landscapes and people in a setting. Like all wide angles, they make mountains smaller and cliffs seem like slopes, but if you augment a 24mm with an 85mm, or a 28-105 zoom, you have excellent coverage for most backcountry situations, without towing the weight of an f2.8 telephoto zoom, or settling for blurry pics from a cheap tele-zoom."
Browse the galleries at out Howe Photo for some more inspiration.
Lens testing by Genny Fullerton & Mike J. Donley
Images by Mike J. Donley