Backpacker Photo School: Light Painting in Camp
Memories and laughter await after sunset when you and your campmates try out these lightpainting techniques. Grab your headlamp, set the shutter speed to ultra-slow, and get started!
Heading out the door? Read this article on the new Outside+ app available now on iOS devices for members! Download the app.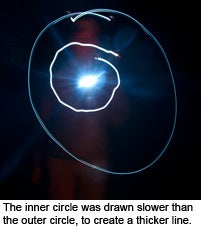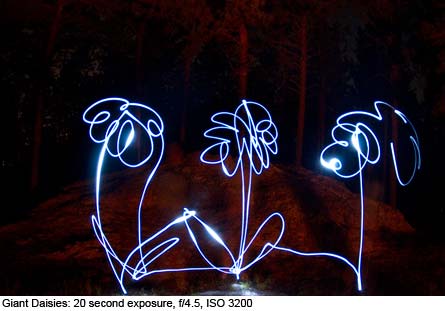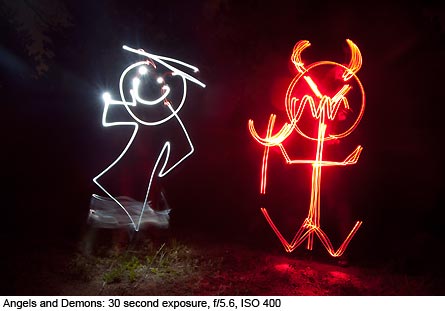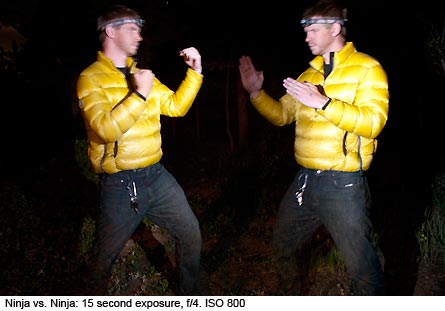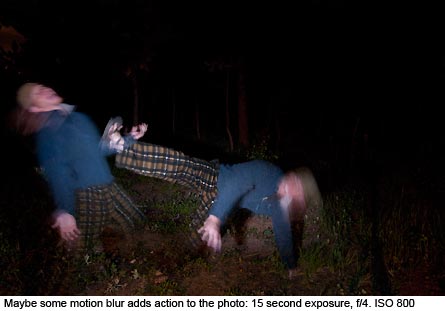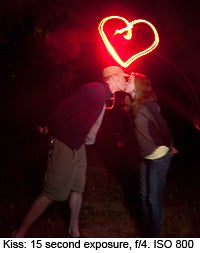 Light painting is like drawing onto a photograph: You can add in all sorts of shapes, write messages, or illuminate real objects simply by casting light in a certain direction. Let your imagination run wild and you can have a "photograph" of just about anything.
There are two different ways to paint with light. The first is like taking a marker and writing across the image. This is done by going into the area where the camera is aimed and shining the light back towards the camera. Keeping the light still will make a very bright spot in the photo, but moving the light creates a line. you can use any headlamp at all, but I've noticed this method works better when you have a very narrow light source. A tiny, powerful light, like the Princeton Tec Pilot ($10) seems to make better lines and leave fewer unintentional glowing areas in the image. If you have headlamps that shine multiple colors, see what you can come up with to use those colors to your advantage.


The second type of light painting is more like coloring in a picture. To pull this off, you shine a bright headlamp on objects in the darkness to illuminate them. It's like using the flash on the camera, except that you have more control as to what's lit up and what isn't. If you want to light up the environment that your tent is in, for example, shine your light all around the tent while exposing the image. This method is also how you can show the same person twice in a photo. Shine the light on the person in one place, have the person move while the light is off, or pointed away, then shine the light on the person again in the new position. If you have an off-camera flash, you can flash it multiple times for this type of light painting.


The only rule in light painting is to hold your camera absolutely still. A good tripod will work best for this, but you could also balance the camera on some rocks, or your pack, or tie it to a sturdy tree branch if you didn't bring a tripod. The more still your subjects can stay, the better the photo will come out—but don't be bound by that as a rule. Sometimes you can employ blur to add to the effect of the photo you're creating, like below.


Set the focus to manual, so the camera doesn't get fussy about not being able to focus in the dark. Use the guide on the lens to guess where to focus based on how far from the camera your subjects are. For most of these examples, I had the focus at about 2 meters away.
Everything else is trial and error. Exposure length is based on how quickly you can draw, or how detailed your light painting is going to be. Take a guess, do a first version, and if you run out of time, try a little longer. It'll probably take a few tries to get the drawing right, too.


You can adjust your aperture depending on how much ambient light you want to allow into the frame. After dark, it won't make much difference, but if you're light painting at sunset and there's still some visible sky, decide how light or dark you want that to be in the image by adjusting your aperture size.
For ISO you'll want it sensitive enough to pick up on the headlamp's light. Noise is probably not too big a concern because these aren't the type of photos you print large and frame. They're more likely to be viewed small and posted on Facebook—at least for the playful images you make around camp. Maybe you'll eventually get to be an expert and make really beautiful light painting pieces like Travis Ramos of Fuse-Photographic or Ben Fullerton of Fullerton Images. Check out those links to see how magical light painting can become.
Light painting in camp works best when you have a few people to play along. I've usually had one person press the shutter button, someone else in the picture as the subject and someone else as the person doing the light painting. You could do it all yourself if you're quick, but large groups really gets the creativity flowing.
Try these ideas on your next trip (or in your living room with the lights off if you can't wait that long):

-Walking an imaginary dog

-Riding a motorcycle

-Holding a fairy

-Hugging a dinosaur

-Writing the name of the place you're in
Let's see what kind of masterpieces you come up with. Post them to our Facebook wall, or send them to ReaderPhotos@backpacker.com with the subject line "Light Painting"—we'll feature the best in photo gallery if we get enough good ones.
–Genny Fullerton
Images by Genny Fullerton, Fullerton Images, and Fuse Photographic