Backpacker Photo School: Better Flyfishing Photos
Tips from the expert: We interviewed Tim Romano to get some tips and tricks for improving flyfishing photos.
Heading out the door? Read this article on the new Outside+ app available now on iOS devices for members! Download the app.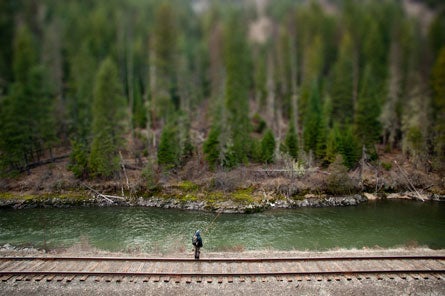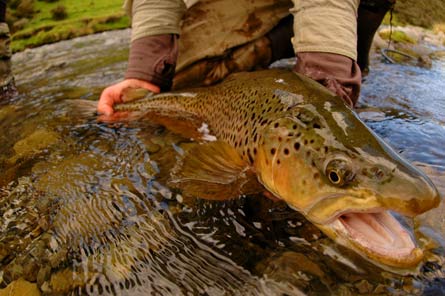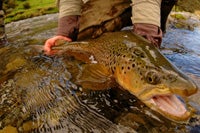 Tim Romano began living the dream when he left his job after a year of saving to go on a 3-month fishing trip to New Zealand. Don't we all dream of doing that?
Romano sold the photos and story of that trip to what was then the première fly-fishing publication, Wild on the Fly. His content led to a job traveling worldwide, producing stories and photos. After Wild on the Fly, he worked starting three other magazines in the fly fishing industry. He's currently the photo editor at The Flyfish Journal — recognized as one of the Best Magazines of 2009 specifically because if its high quality imagery.
Romano knows how to prove your big-fish story with a good fish photo, so we asked him to share some tips.
BP: Let's start with this amazing image. What was your process for making this photo?



TR: Not so sure it's amazing, but thanks for the vote of confidence. Well, some buddies and I rode what's called the Steelhead Train in eastern Oregon. This is my friend Will Rice waiting to flag down the train. Shot it [Nikon d700, 20-35mm lens, 1/80 second at f/7.1, ISO 250] and threw some tilt and shift magic via PS on it, and viola. That's about it.
BP: Do you have certain gear that you always keep packed?
TR: I always pack according to the trip. Long trip on a boat or in a car: I bring a rolling Pelican case. If weight is an issue I will pare it way down and only bring a lens or two and roll the dice on not damaging my only body. If I had to bring one camera it'd be my Nikon d700 and a 50mm 1.4 lens. To me the 50 is as versatile as it gets. I find bringing one fixed lens makes you get creative. You don't end up relying on silly wide angle stuff, long lenses etc. to make things interesting. It gets you intimate with your subject very quickly. I use a Patagonia Stormfront backpack for weather and a Lowepro Chest Harness for hiking or less sketchy wading situations. I always check the weather and plan for the worst even if it's supposed to be sunny.
BP: How do you shoot in extreme weather conditions such as snow, rain, or extreme cold?
TR: Honestly, I try not to. Most of the time it's not worth it, but it obviously makes for some great photos. If it's raining I simply put my camera with strap under my rain jacket. Keep a spare small towel or lens cloth in the pocket and shoot only when you think it absolutely worth it. It's one of the few times I hold down that shutter and let it rip. People get so concerned about their cameras, but a little bit of rain or sand isn't going to kill the thing. If you're not willing to take a risk with your camera outdoors, you might as well save the weight and leave it at home. Waterproof point and shoots are pretty handy too. The are fairly inexpensive now as well. They can take it all—snow, wind, rain. Tape and hand-warmers are one of your best friends for shooting in the cold. I keep a couple wrapped around my spare batteries if shooting in extreme temps.
BP: What do you do when you need a shot on the water that requires a tripod? Do you stick the legs of a tripod directly into the stream?



TR: Yes, I stick the legs in the water all the time. I've ruined a couple of tripods this way. It really helps if you get a tripod with a hook on the center post where you can hang some weight to keep the tripod stable. Here's another trick for making a superlight tripod from a screw and some string. You can always lie on your stomach on the bank and stabilize using the ground or rock too.


BP: What is one piece of advice you would give to our readers to help them get better shots?
TR: The one thing I would say to make photos more interesting is very simple: Get closer to your subject. Really close. So many people take shots from about 10 feet away and let all sorts of unimportant objects into the frame. Simply get closer, look around the edges of the frame for distractions, recompose and shoot. Oh, and read your manual for the camera. Seriously.
BP: If you want to get inspired, whose photos, besides your own, do you look at?
TR: Ben Knight [Be sure to check out the gallery called kamchatka.]

Adam Barker

Brian Grossenbacher

Liz Steketee [Look in the Assignment Portfolio]

And of course: Andy Anderson
—Mike J. Donley
Images by Tim Romano