BACKPACKER On Denali
Gear Tester Steve Roy returns fresh from a Denali summit to weigh in on climbing season and crucial gear on The Great One
Heading out the door? Read this article on the new Outside+ app available now on iOS devices for members! Download the app.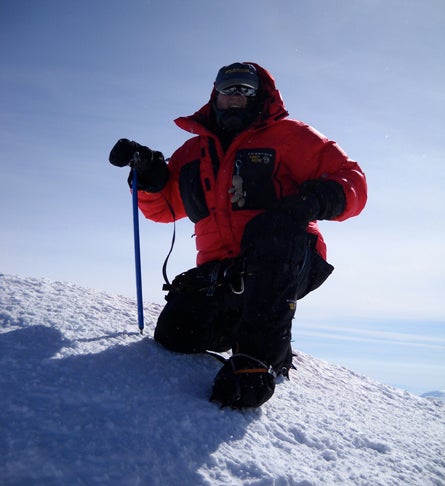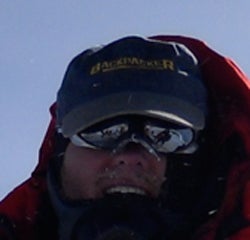 BACKPACKER Gear Tester Steve Roy goes to extremes to thrash the latest gear, literally: This year, he went to the summit of North America, Mt. McKinley, and brought the toughest gear with him. n this exclusive Q&A with our gear Editor Kristin Hostetter, he shares his gear tips and reports on this year's climbing scene on the roof of North America.



KH: Climbing Denali is a huge accomplishment—congrats! I know that you're a guy that does his homework and trains hard for big trips like this. Were you fully prepared, mentally and physically, for climbing 20,000+ feet and sleeping in a tent for 20 days?
SR: I trained really hard for several months, (but) unfortunately, I had a knee injury about a month prior to leaving, which left my cardiovascular fitness a little shy. This reared its ugly head on summit day, when the need for efficient oxygen exchange was paramount. I basically got through it with willpower and by drawing on my experience from other big mountains. Knowing when to push (like getting up past Denali Pass) and when to coast (like on the less steep terrain heading up to the Arch Deaconess Tower) helped a great deal.
As far as mental conditioning goes, I backpacked the AT in 1998. On more than one occasion, I spent several days stuck in my tent waiting for the rain to subside just long enough to make it to the next shelter or town so I could dry out. That experience really helped me cope at the high camps on Denali, when I was holed up in a tent or building snow walls for 3 days at a time waiting out a storms.
KH: Two doctors were killed in a fall on Denali right at the end of your stint on the mountain. Does word of tragedies like this circulate around the mountain? What was the general scoop on the climbing season this year?
SR: This particular incident actually occurred just a couple of days after we flew off the mountain, but in terms of the climbing community, lets just say that I was forwarded this article by more than one member of our climbing party as well as by friends, family members and co-workers.
Climbers definitely take stories like this to heart. We spent several days at 14,200′ camp, which is directly below the Messner Couloir, where this accident took place. I can't imagine poking my head out of my tent and seeing a fellow climber taking that fall. Rumors and stories of tragedy definitely make their way around the camps. During my trip I heard of a climber who passed away of a heart attack at the 11,200′ camp before we arrived on the mountain, and while we were up at 17,200′ camp there was another climber who had to be rescued after a likely heart attack.
In general, though, I find climbers tend to be lighthearted and optimistic. The biggest topic of conversation is usually the weather, and what teams are heading up when. Good weather can be in short supply, and there tends to be a feeling that there is safety in numbers, so everybody tries to figure out what everybody else is doing. With the route in such great shape–as it was this year–people don't want to miss their chance at the top.
KH: Being in extreme mountain conditions for long periods of time really makes you appreciate your gear. Give us the quick scoop on the one piece of gear that was really key in keeping you comfortable on your climb.
SR: I have to say that there is nothing so comforting as putting on your down parka. Though it might have been a bit overkill, I had a Mountain Hardwear Absolute Zero parka that was impenetrable. The second you stop to take a beak, the parka goes on. On Summit Day, when we hit Denali Pass and the wind was blowing 30 mph around that corner, the parka was the one item that kept me from wanting to turn around. I actually climbed in it for the next several hours until the winds subsided.
I also had this great new facemask that I was testing: The Cold Avenger by Talus Outdoor (talusoutdoor.com). Though it looked like something out of Return of the Jedi, it turned out to be far superior to anything I saw other people using. It's a warm, fuzzy-lined softshell face mask with a raised silicone/rubber piece that you breathe through. The rubber piece allows cold inhaled air to mix with warm exhaled air; not only did it keep my face warm and dry, it protected my airway from constant exposure to cold, dry air. Plus, I could breath very heavily without fogging up my goggles.
KH: Was there any gear that you brought that really bombed?
SR: Denali is the kind of trip where you don't have a lot of extra room for luxury items and new trinkets to try out, so I cut most of that stuff out my kit. I basically only took things that I was certain would work. I think the one thing people need to be cautious of is the overboot/crampon combination that they use.
Be forewarned: Just because a company says their product works with another doesn't mean it does. This was the biggest problem I had, and at least two of my climbing partners also had a problem with this—one of them (had) to buy a new pair of crampons in Talkeetna. I spent more time adjusting my crampons and just trying to get them on over my overboots above 14,200′ camp than I like to remember. Everything is so much harder up at 17,000 feet, Get your footwear combo nailed down while you are still at sea level!!
KH: Being a top gear tester for Backpacker requires a certain kind of mindset and a particular set of skills—can you give other potential gear testers any tips on how to do it well?
I think first and foremost, you have to be a gearhead. You have to love this kind of stuff, and be into the latest and greatest. If you have that kind of drive, I think it will give you the analytical insight to try things that the average consumer would never think to do. What happens to a stove if you drop it in a puddle while lit, or if you get dirt ground into the burner? How well do these new fabrics stand up to pricker bushes? Asking yourself these types of questions will provide insight into a products potential use and quality. Of course you also have to be willing to walk into those pricker bushes to find out…
KH: Do any of the skills or lessons you learn from gear testing come into play on a big trip or climb like this one?
SR: I think the biggest lesson is trying to anticipate problems with equipment in advance and trying to put (gear) into those sticky situations before you get into them on a trip. There is no question that you are going to encounter things that you didn't anticipate, so you have to be able to improvise to overcome them.
Trying to find unusual situations enables you to head off 99 percent of the problems you may encounter. Over the course of 20+ days with harsh weather conditions, things are going to break. You need to be self-sufficient. Knowing your gear inside and out goes a long way toward this self-sufficiency.
KH: Last question: What's the deal with that little teddy bear clipped to your jacket?
SR: The teddy bear is actually a PEZ dispenser that my wife slipped into my luggage when I went to climb Kilimanjaro in February of 2007, just 4 months after we were married. It has a heart that says "I miss you!" The significance is that my AT trail name was PEZ Boy because of all the PEZ and PEZ dispensers that I carried with me on the AT.
I carried this bear to the top of Kili, and any time I have been on a climbing trip, I have brought it with me to remind me of her and to make sure I come home safely. It's kind of funny to think that the little guy has been to the top of 2 of the Seven Summits.
—Kristin Hostetter