BACKPACKER Goes to Teva: Whitewater Ramble
Intrepid staff athletes stun endurance race crowds with a surprising finish—and a bit of whitewater sabotage
Heading out the door? Read this article on the new Outside+ app available now on iOS devices for members! Download the app.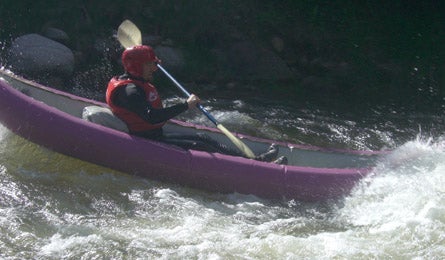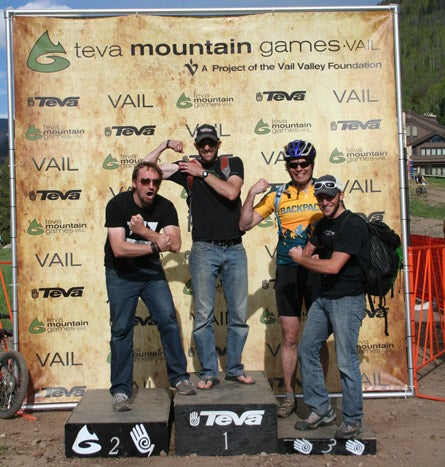 This past weekend, the Teva Mountain Games blew through Vail, Colorado, bringing a whirlwind of multi-sport madness in paddling, kayaking, mountain and road biking, climbing, bouldering, and even dock-dog jumping events. Rather than just cover the action, BACKPACKER decided to join in—specifically, for the GNC Ultimate Mountain Challenge, an individual or team event that covers four major races: paddling, trailrunning, mountain biking, and road biking.
Four staffers—Associate Editor Shannon Davis, Map Editor Kris Wagner, Assistant Map Editor Mark Harrison, and yours truly—all signed up for the team event, where each of us would tackle a single race. The rest of the time, we'd provide logistical + beer support to our teammates. Here's the rundown of the paddling event:

Bud Light Lime Downriver Sprint

For the initial leg, kayakers paddled through a 4-mile course of Class II-III rapids on Gore Creek, from East Vail to the Covered Bridge in the middle of the ski village. Our team had a big initial hurdle: no paddler. That's where I came in, and in foolish fashion. I'd never really paddled before outside of a single rafting trip, and my kayak experience was nil. Naturally, I'm the perfect fit.
Rolling in a kayak helps keep one from drowning, and it's an essential skill I never picked up pre-race. My worries were compounded by the fact that rescuers pulled a kayaker's body from the raging Gore the day I left for Teva. But my teammates allayed any fears of dying and Executive Editor Dennis Lewon stepped in with an interim solution: He lent me his 12-foot rubber kayak for two, known in industry parlance as a "ducky." It was huge. It was purple. It was inflatable. I nicknamed it Violet Violence and prepared for battle.
Pre-race, my nerves stayed calm, despite the early-morning chill and the intimidation factor of seeing my balloon-like boat next to sleek fiberglass race kayaks. I pretended to be official, and with the surreal presence Ryan Sutter of "Bachelorette" fame just a few paddlers behind me, I felt like any jerk could join in. (Nevermind that the Vail resident could probably paddle me into the river bottom.) When the beep sounded, I paddled furiously, determined to be the first-ever ducky champion.
It didn't exactly happen that way. The ducky maneuvered like a floating tree, and I managed to complete entire stretches of the river sideways, or even backwards. During one of my sideways escapades, I got pinned against a chunk of rock and debris, and ended up going in the drink. After a few minutes of hypothermic swimming, I righted the ship and paddled on to finish the race.
Only one hurdle remained: I didn't know how to stop. I cruised past the finish line and toward the International Bridge, where playboaters did kayak tricks in an extra-sticky hole (I only learned these terms after the fact). Stunned playboaters looked at my oncoming ducky as if a great white shark had suddenly appeared in the river, and the smarmy announcer stammered for once, trying to find words to describe my intrusion (he settled on "There's a f***ing couch coming through the hole!"). Thanks to Violet Violence's sturdy walls I blasted through the hole without incident, managed to wedge my paddle into a flagstone under the bridge to stop myself, and got out, pulling my hulking boat with me. My time was good enough for second-to-last place. Eat it, ducky haters.
Total Course Time: 26:01:26

GPS Map of the Race Course
(Tune in tomorrow for reports on the rest of BACKPACKER's events at Teva, plus video!)
—Ted Alvarez