BACKPACKER Goes To Teva: Saddle Perspective
Our Assistant Map Editor burns legs and lungs racing his road bike up Vail Pass for the Teva Mountain Games
Heading out the door? Read this article on the new Outside+ app available now on iOS devices for members! Download the app.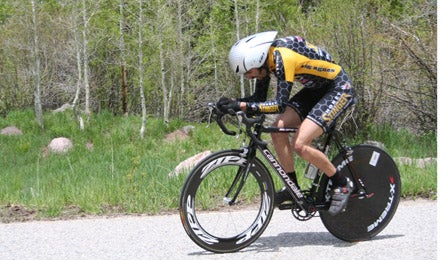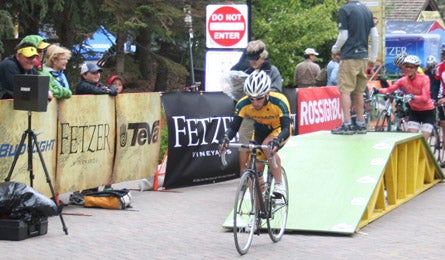 This past weekend, the Teva Mountain Games blew through Vail, Colorado, bringing a whirlwind of multi-sport madness in paddling, kayaking, mountain and road biking, climbing, bouldering, and even dock-dog jumping events. Rather than just cover the action, BACKPACKER decided to join in—specifically, for the GNC Ultimate Mountain Challenge, an individual or team event that covers four major races: paddling, trailrunning, mountain biking, and road biking.
Here, Assistant Map Editor Mark Harrison gives us the lowdown on the Fetzer Vineyards Hill Climb, a grueling road bike race that sends cyclists towards the clouds up 10,662-ft. Vail Pass.
Fetzer Vineyards Road Bike Hill Climb

There is a subtle difference between riding a bicycle up a mountain and racing a bicycle up a mountain. The former I do quite often; it usually involves rolling over to my favorite local café for coffee and a croissant before chatting leisurely with friends on a ride up to 9,000 feet (where we reward ourselves with homemade chocolate chip cookies before cruising back down to another cup of coffee).
The latter involves heaping amounts of lung-searing pain and is never any fun until it's over. Every now and then I forget this difference and sign up for a race to remind myself. Enter the Fetzer Vineyards Vail Pass Hill Climb.
My race plan was pretty simple: don't get passed. Not getting passed in a time trial doesn't necessarily mean that you're doing well–it just means that you don't feel like you're doing poorly. On a bicycle, perception is reality.
After successfully not wiping out on the starting ramp (an achievement in itself), I hit it hard on the frontage road leading up to the pass. Far ahead, I could just pick out a rider ahead of me; about half-way in, it became clear that I was going to pass him. This was a huge bump to my race plan/ego, so as the climbing grade ticked up around mile 6, I decided to burn a bit more fuel and catch my newfound nemesis. Crowds were cheering riders early in the climb, and I could feel a real adrenaline boost as I zeroed in on the rider ahead.


A super-aero competitor.
With about three miles to go, I passed him. I felt great, and then I realized that he only had one leg. And then I got passed by some other guy in a fully aero bike. And then another. At that point in the race, I was noticing a discomforting pounding in my chest and generally feeling like a schmuck for demonizing a courageous amputee cyclist. All the same, I dug deep to finish without imploding physically (and mentally). At the finish, I felt hollow and a bit queasy: a good sign that I hadn't left too much in the tank (and that the post-race PBR was going to be sooooo good).
A mile or so into my descent back downhill, I slowed down as I came upon the one-legged cyclist still plugging away at the climb. I offered a word of encouragement, but he was lost in his own mid-race mind game, suffering but intensely focused on the objective at hand. Sometimes, I don't get people who are so busy racing their bikes that they forget to enjoy riding them. And sometimes I forget that bike racing is just a damn good way to prove you're still alive. That's a perception I can get behind.
Total Course Time: 36:34:42

GPS Map of the Race Course
(Tune in tomorrow for reports on the rest of BACKPACKER's events at Teva, plus video!)
—Mark Harrison