August 2012 Table of Contents
Heading out the door? Read this article on the new Outside+ app available now on iOS devices for members! Download the app.
AUGUST 2012 TABLE OF CONTENTS



>> FEATURES

The Other Way In

Frustrating fact: Annual permits to climb the Cables Route on Yosemite's Half Dome sell out in less than 30 minutes. But that doesn't mean you have to win the lottery just for the privilege of joining the crowd. For backpackers in-the-know, there's a better way. Here, we deliver low-traffic, alternative itineraries for Half Dome, Mt. Shasta, Katahdin, Angel's Landing, Mt. Whitney, and more. By Brendan Leonard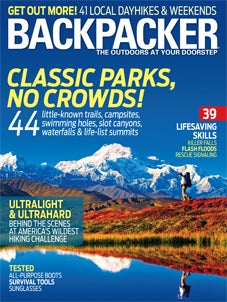 The Last Bus

Imagine a Denali National Park that looks like this: zero permit hassles, and solitude so extreme you'll think you're the only hiker in the park. Too good to be true? Not if you follow the advice of a former backcountry ranger. Step 1: Start your trek with the season's last hiker shuttle. Contributing editor Tracy Ross shares her tips for planning the ultimate Denali itinerary, seeing wildlife, beating the rain, and more.
Summit Fever

Want to test your fitness, mental fortitude, backcountry know-how, and peakbagging prowess—all at once? Sign up for the Sierra Challenge. There's no entry fee. No prize money. No sponsors. Just 10 remote peaks in 10 days. Total mileage: 154. Total elevation gain: more than 53,000 feet. And total satisfaction for hikers who love adventure with a good view. Photographer Michael Darter brings the race to life.
Grand Teton Adventure Guide

Climb to top-of-the-world views of the Grand, Middle, and South Tetons. Scramble up an isolated 11,000-foot peak. Follow an unmarked route to a set of hanging lakes. Our map team scoured this 310,000-acre park to deliver field-scouted directions for these hall-of-fame routes. Plus: Scope out 18 more must-do hikes on our 3D park map, and download complete trip data. By Michael Lanza and Molly Loomis
Heroes

Diversity in the outdoors isn't just a feel-good cause. Rue Mapp, founder of OutdoorAfro.com, says it's the key to ensuring the preservation of America's wilderness. Learn why, and what she's doing to bring about a culture-shift that will inspire a new generation of hikers.



>> TRIPS
Life List: Buckskin Gulch

Find religion in the country's longest slot.



Mountain Map: Olympics

Explore peaks and forests in this coastal range.
Top 3: Beach Campsites

Dig your toes into a sandy wilderness paradise.
Local Hikes

West: Rip & Go, From the Field, Trail Mix
Central: Rip & Go, From the Field, Trail Mix
East: Rip & Go, From the Field, Trail Mix
>> SKILLS
MASTER CLASSShoot the stars

Photograph summer's night-sky fireworks with expert camera and camping advice.



INSTANT UPGRADES5 pro tips

Pack for fast getaways, fix a headlamp, get stronger, travel faster off-trail, and more.



TEST KITCHENDried meats

We pick the best-tasting, longest-lasting salami and sausage. Plus: Make DIY jerky.
>> SURVIVAL
Out Alive:Trapped by a Flood

Learn from one hiker's near-disastrous encounter with a storm-swollen river.
Troubleshoot This:Lion attack

Fight back! When a cougar mistakes you for lunch, you need to act fast. Here's how.
Chart of Death:Falls

Gravity is the backcountry's biggest killer. Learn where you're most at risk, and how to avoid a deadly tumble wherever you go.
Survival Lab:Signaling devices

Flash, whistle, or light? Our man in the field tests three strategies for contacting rescuers. Plus: saved by a dead cell phone.
>> GEAR
All-purpose boots

Our test crew found seven do-it-all shoes: light enough for dayhiking, supportive enough for rough-terrain backpacking.
Field Notes

An ultralight and ultralarge pack, a springy trail runner, a tiny multitool, easy-adjust poles, and a tough stove.
Review

Protect your eyes: We rate sunglasses for every type of trip and budget.