August 2011 Table of Contents
Heading out the door? Read this article on the new Outside+ app available now on iOS devices for members! Download the app.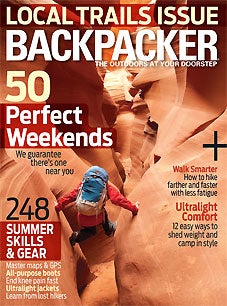 FEATURES

Big, Wild, Empty

Want to be alone with grizzlies, bighorns, and 200 miles of the Continental Divide? Bring your A game and explore Montana's 1.5 million-acre Bob Marshall Wilderness Complex. By Steve Howe
Ultralight Makeover

Cut pack weight in half—immediately—with our patented 12-step program. By Kelly Bastone



Summer Adventure Atlas

Don't waste a single weekend this hiking season. Start by knocking off the best trails near you—we scoured every state for overlooked three-day gems—then hit the road for farflung life-listers. By Kelly Bastone



How to Walk

The new science of smarter striding will change the way you hike, helping you go farther without injury or fatigue. Plus: our take on the barefoot phenomenon and simple cures for knee pain. By Annette McGivney
DESTINATIONS
Rip & Go!

WEST

Hop a ferry to Channel Islands NP and basecamp on Santa Rosa Island.
MOUNTAIN WEST

The Rockies get heavenly come August. Nab a private slice on this sneak route.



MIDWEST

Grab your paddle and discover a quiet corner of the Boundary Waters.
NORTHEAST

Score classic New England views on the East's newest national scenic trail.
SKILLS
THE MANUAL: Master GPS

Navigation made easy: Here's how to plot, map, and record your next trip.
Dirtbag/Gourmet Thai

Serve up spicy peanut noodles and summer rolls with satay dipping sauce.



Calls of the Wild

Friends doubt you heard a wolf howl? Play them your expert recording.
GEAR SCHOOL: Helmets

You only have one head. Protect it with the right brain bucket—and one that fits.
SURVIVAL
RIP & LIVE Desert Extremes

Broiling days and freezing nights. Scarce water and plentiful things that bite and sting. Here's how to ace it all.

GEAR
FIELD TEST: Light Hikers

Grand Canyon rangers rate 5 low-cuts.
FIELD NOTES

We test titanium pots, a weekend pack, a bargain three-person tent, a special anniversary watch, and a protective sun hoody.
REVIEW: Featherweight Shells

Get wind and rain protection for less.