August 2010 Table of Contents
Heading out the door? Read this article on the new Outside+ app available now on iOS devices for members! Download the app.
FEATURES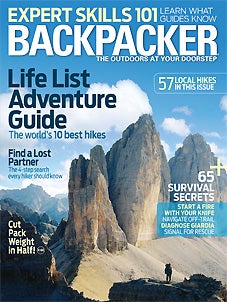 Above it All

When John Muir said that a "proper" wilderness experience requires at least two weeks of backpacking, he probably didn't foresee two Speedo-clad brothers hiking around the Sierra Nevada's 165-mile Tahoe Rim Trail, hitching occasionally into town for burritos and beer. Still, we're sure Muir would have approved of circling America's largest alpine lake on foot. By Charles Bethea
Life's Short, Hike More

What makes a backpacker a backpacker? It's not the garage full of gear or piles of guidebooks—it's the experiences, from thru-hiking a long trail to pushing your personal envelope to inspiring a child's love of wilderness. Here are 10 to add to your tick-list now—and the key skills you need to nail them. By Michael Lanza
Last Child on the Couch

Fact: Kids need to get outdoors. Myth: That's hard to do. From hiking-club organizers to after-school mentors, meet 10 heroes who are leading the way—and learn how you can do the same. By Jason Stevenson
The Trail to Neverland

High up in New Hampshire's White Mountains, where snow can fall in July and the paths start steep and get steeper, a magical transformation occurs each summer. A crew of young adults shows up to operate America's oldest network of alpine huts, where they provide refuge for hikers, rescue the lost and weary, and savor a moment in life when time stands still. By Bill Donahue
DESTINATIONS
NEW TRIPS NEAR YOU!

38 GPS-enabled hikes from Los Angeles to Boston, mapped by our field scouts
TOP 3 Hikes to Microbrews

Work up a thirst on pub-side trails in Oregon, Colorado, and New York.
NATURAL WONDERS

Plunge into the country's deepest lake, watch a withered fern come back to life, and witness sea turtles laying eggs.
RIP & GO WEEKEND ADVENTURES

Read, pack, hike. This month: overnight treks in Alaska, Wisconsin, and New Jersey
THE PEAK: Mt. Mitchell

Enjoy solitude and fixed-rope scrambling on the East's highest mountain.
SKILLS
THE MANUAL: Find a lost hiker

Turned around in the backcountry? Here are 33 essential tips to remember if you or your partner goes missing.
Fitness: Trail Running

Get in top hiking shape—and stay injury-free—with this go-fast guide.
Health: Sunscreen

Not all UV blocks are created equal. Here's how to choose a safe and effective one.
Dirtbag/Gourmet: Tacos

Make trail guac and Colombian arepas
GEAR SCHOOL: Telescoping Poles

Pick the perfect trekking sticks. Your legs will thank us in the morning.
GEAR
All-Purpose Boots

Our crew of Grand Canyon rangers and guides abused nine pairs of boots for four months.
FIELD NOTES

A convertible travel pack, a lightweight and affordable family tent, an air-conditioned T-shirt, a tough bear canister, and a headlamp that doubles as a lantern.
REVIEW: Survival Gear

Save your trip—and maybe your life—with an ultralight bivy sack, fail-safe firestarter, and complete emergency kit.