Heading out the door? Read this article on the new Outside+ app available now on iOS devices for members! Download the app.
AUGUST 2009 TABLE OF CONTENTS
FEATURES
Rocky Mountain

In the 1930s, two climbing guides pioneered a 43-mile loop through Colorado's iconic park. Retrace their steps–past moose-filled meadows, across the Continental Divide, and up a secret route on Longs Peak–on this insiders' weeklong adventure. PLUS: key skills, turn-by-turn directions, and a 3D map. By Dougald MacDonald

Plus, see the exclusive 3-D Google Flyover Video.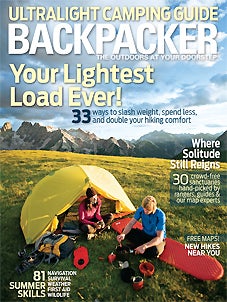 Raise Your Kid Here

A new twist on an old adage: You are where you live. And now more than ever, kids need to be surrounded by opportunities to hike, bike, and explore the outdoors. In this special report, we've identified the top 25 American towns with an optimal mix of accessible trails, inspiring teachers, and great recreational resources–all surefire cures for nature deficit disorder. By Jason Stevenson
Ultralight Handbook

Want to hike farther with less effort this summer? It's easy–just cut your pack weight in half with our foolproof 33-tip plan for carrying less in all conditions. By Elisabeth Kwak-Hefferan
Hundred-Dollar Hikers

Get instant comfort, slick-trail traction, and enough support for weekend loads for less than a Benjamin with these lightweight synthetics. Our field testers review 5 top models that scored big and cost little. By Berne Brody
Will Rescue for Treats

When hikers go missing in Yosemite, rangers call on a highly trained team–of dogs. Members of the park's new K-9 rescue squad rappel from helicopters and search miles of dangerous backcountry terrain. Their pay? Kibbles and a scratch behind the ear. Meet Gus, Ranger, and the other four-footed heroes that just might save your life. By Kristin Bjornsen
Solitude Life List

Really ready to get away from it all? We found 30 wilderness adventures so blissfully quiet even a hermit would love them. From empty summits to secluded coasts, these are the backcountry retreats where solitude still reigns. Plus: tips for crowd avoidance and the best trails in America's least-visited parks. By Dougald MacDonald
Q & A: Professor Rescue

Survival guru Robert Koester analyzes thousands of lost-hiker cases every year. What's the point of all his number crunching? To help search-and-rescue teams locate–and save–you faster.
DESTINATIONS
TOP 3 PERFECT SUBSTITUTES

Want national park-caliber hiking all to yourself? Head to these hideaways in Utah, North Carolina, and California.
NATURAL WONDERS

Go where the bison roam, cool off in a New Mexico ice cave, or gorge on Oregon's wild huckleberries.
RIP & GO WEEKEND ADVENTURES

Your planning is complete with these jam-packed guides to Glacier Peak Wilderness, the Adirondacks, and the Tetons. Just print them out–and hike.
THE PEAK: MT. RAINIER

Take an uncrowded route to the top of this icy stratovolcano, which has 26 glaciers pouring off its flanks.
SKILLS
THE MANUAL: WIN A CAMP COOKOFF

Upgrade your trail food with these strategies for drool-worthy dishes, perfect wine pairings, and delicious desserts.
Eat Your Medicine: Natural Pain Relievers
Cast a Wild Animal's Track
How to Avoid Mosquito Bites
Which Water Treatment is for You?
DIRTBAG/GOURMET SANDWICHES

Flavor-infuse your lunch menu with these pesto tuna, ham, Gouda & apple, and spicy chicken salad recipes.
Reader Tip: Double-Duty Firestarter

Start a fire with TP and olive oil.
MEDICINE MAN: POISON IVY

True or false? Eating the leaves of three will help your body build an immunity.
GEAR SCHOOL: ULTRALIGHT TENTS

One-stop shop: Here's how to choose, store, pitch, and fix lightweight shelters.
GEAR

REVIEW: SUMMER SLEEPING BAGS

Comfort-enhancing sacks for warm nights
FIELD NOTES: NEW REVIEWS

Ultimate Survival Technology Sparkie Firestarter

Backcountry.com Stoic Jacket

Evernew Titanium Pasta Pot

Gerber Crucial Multitool

Gregory Palisade 80 Pack