Can I Bring My Dog to Bear Country?
Our bear expert (a bear) weighs in on taking your furry friends to his home turf.
Heading out the door? Read this article on the new Outside+ app available now on iOS devices for members! Download the app.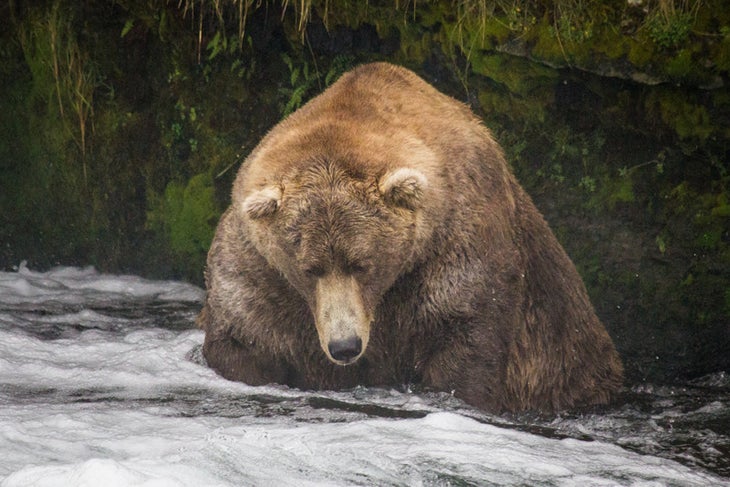 Q: I like to take my dog with me camping and backpacking (where it is legal to do so). What is the best way to keep them and you safe and separate? Will having a dog in the tent attract you, or will dogs keep you away?. —Sean McQuade, via email
A: While I'm actually very distantly related to dogs, we generally don't get along. They're all yappy little dogs to me.
A dog in bear country can be both a deterrent and an attractant. There are records of aggressive dogs who take off into the woods, find me, get me angry, and then actually lead me back to the owner, on who I then refocus my attack. Bad dog!
But a dog can be helpful in my backyard, too. They share the same heightened senses I do, and will probably detect me before you do. This can alert you to my presence ahead of time, so you can avoid an encounter or get prepared for a marauding bear entering your camp. Barking dogs often make me nervous, and can deter me from checking your camp at all. Be warned, though: Plenty of dogs sleep through the sound of a bear entering camp.
In emergency situations, a well-trained dog can even serve as last-ditch protection, chasing, barking, and keeping me away until you can get away, climb a tree, or find a weapon. But it's imperative you have a dog trained for this purpose; otherwise, he may give chase, retreat, and lead me to intensify my attack on you instead.
Regarding camping with dogs, there are a few good general rules to follow. Keep Fido on a leash: You don't want him/her running off following his nose, stirring up a bear, and bringing me back to you. Plus, any early detection potential is wasted if he cruises off beyond your detection. In camp, treat my food just like yours—clean up after any messes and keep it in a canister at night.
Ultimately, even the best-trained dogs can get unpredictable around bears, and the lines of communication between master and pet aren't perfect, so the absolute safest thing to do is leave your dog at home. I certainly won't miss him.
—BEAR