Announcing Project Backyard!
Stay-cations can't be adventurous? We post otherwise, and invite you to do likewise.
Heading out the door? Read this article on the new Outside+ app available now on iOS devices for members! Download the app.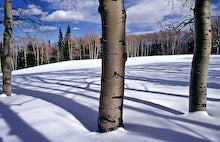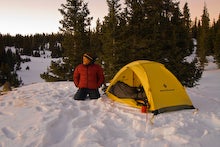 From Thursday through Sunday last week I had a superb four-day ski-about atop Boulder Mountain, an 11,000-foot plateau that sits just south of my home. The southern Utah weather couldn't have possibly been better–Sunny skies, almost no wind, and clear starry nights with a fat moon rising late.
As usual for my scouting sojourns, the itinerary didn't fall out quite as planned. I had mapped out a counterclockwise trip from Chokecherry Point on Highway 12 across Boulder Mountain, up onto the conifer-covered plateau, through the forested glades atop it, and then down off Bowns Point, with its magnificent vistas of Escalante Country, to the highway again, roughly 8 miles from my drop-off.
But breaking trail every inch of the way I didn't move as fast as planned. Then on day three I tried a shortcut finish to tighten the loop, and found myself cliffed out by lava rims. Since that happened just before dusk on Saturday, it meant a long forced ski by headlamp back along my inbound track. On Sunday I finished down the Meeks Lake Trail, which I'd broken a week earlier.
Plans or no, man it was beautiful – and out there. Nooobody goes up onto the Boulder Top in winter, and the plateau is huge. Sunny afternoons with silence so thick it made my ears ring. Frigid, starry nights, a fat moon the color of frozen silver hanging in the inky sky. And all this was within 10 miles of my house, on a trip I'd thought about but blown off for more than 15 years.
What this little escape made clear was that I was stupid to wait that long. I'd been missing out for no reasons other than ennui and inertia. So I'm going to continue probing out cool trips around home, and I'm inviting you to take up the gauntlet too and pursue your own Mission Backyard.
I'll keep posting maps, tracks and pics as I blunder through the next couple months of exploration. To post trips of your own, just go to backpacker.com/postatrip, surf around the software to get a feel for how you can combine maps, text and photos. Then EXPLORE YOUR OWN BACKYARD WILDERNESS and give us a link to your trip page in the comments section of any Pulse post.
And now, I'm going hiking again. You should too. The real world awaits. –Steve Howe