Adventure Film 101: Getting Started and Paying Dues
Adventure filmmaker Michael Brown drops us a line from Iceland to talk avalanches, glaciers, and paying dues in the film business (which share quite a few similarities).
Heading out the door? Read this article on the new Outside+ app available now on iOS devices for members! Download the app.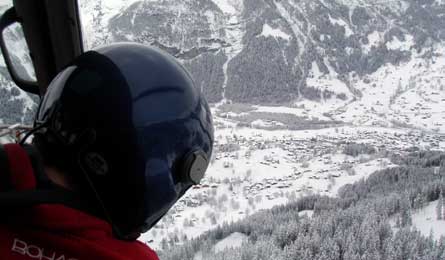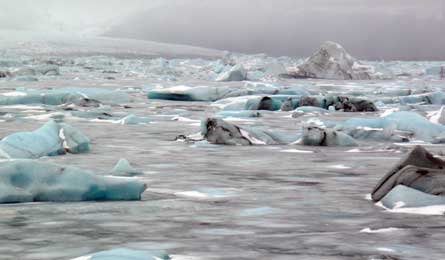 Komdu Blessaðurfrom from Iceland Air—and more specifically, their flight from London to Reykjavík. I'm on my way to the outlet glaciers that drain the massive ice caps to work on a film with James Balog and the Extreme Ice Survey.
No matter what the weather does, the glacial ice is a strong indicator of climate; it takes a long time to form and melt these giant ice rivers so they are more reliable than a thermometer to see trends of climate change. James's project is to document and record the state of the glaciers over time. One glacier in particular, the Solheimajokull, is accessible by road so James and his team are able to visit every few months to check their time lapses of the glacier. Other scientists have also been following Solheimajokull and the glacier shrinks every year. 2008 was the largest retreat year yet observed. On March 24, another film about James and his team that I directed photography for will air on NOVA.
I am glad to have come off my time in Switzerland in the correct time zone. I should arrive without suffering jet lag. The rest of the team, coming from Colorado, will need a few days to catch up.
Two weeks ago, I wrote that I was about to get into a helicopter to film ski patrollers tossing dynamite out of another helicopter in the Alps. Well, I'm alive, and it was quite a ride.
Here's how it shook out: We were in two teams, my brother Nick, the series director, was close to the ski patrol on the ground. My team in the air followed the first helicopter as it flew to starting zones while a patroller would toss five or six sausage bundles out the door and into the snow below. Using a special gyroscopic stabilized camera rig called a Cineflex, we tried to capture the explosions and subsequent avalanches. The Cineflex is a highly specialized rig requiring a specialist operator, in the case Dave McKay. The key to good aerials is to make great movements of objects of interest across the screen or against a more distant background. In this case, not easy.
We watched where the bundles punched holes in the snow then waited for the five-minute fuse to do its job. In the excitement of flying I was, more often than not, looking in the wrong place— then a blast of brownish white would explode, the concussion would hit us and a whoomp would fly through our chests. It was nerve-wracking because it seemed that we were always too close, the two helicopters with the pilot looking around frantically in the air, and we were scrambling to get the shot.

I looked up from the monitor at one point to see our poor production manager mid-use of a barf bag. So you can imagine, not the easiest composition to get.

————-
Now, on to this week's post: Getting Started and Paying Dues.
After a few years under in the mentorship of my family it was time to actually pay dues in the real world away from the protective umbrella of Dad. My brother Gordon and I started Serac Adventure Films and made a go of doing television commercials in San Francisco. It was harder than we expected. In order to make a living we both had to take every kind of work we could get.
And this is the key—you have to start somewhere and you have to keep learning. For me, and for my crew at Serac Adventure Films it was and is always a crash course. From the nuances of business to coordinating challenging, on the fly shoots, to dealing with advertising agencies, you have to be sharp, focused, and flexible in your thinking.
The lessons from this era were invaluable. I learned to cope with intense pressure and it's a skill essential to my abilities as an adventure filmmaker today.
Basing our business on my brother Gordon's innovative and often-brilliant camera work, we used a technique he created called the traveling time lapse TTL™. He would use an Arri 35mm IIC camera with a Norris Intervalometer mounted on a wood semicircle that rested on his shoulders spending hours taking careful steps between frames. The effect of his time lapses was like moving through places with an eye level point of view but fantastic speeds. Coors and Rainier Beer as well as tourism offices loved the effect and used it to give their ads a fresh look.
As I mentioned, commercials are intense; you have to schedule things months in advance with no way to know what the weather will be like in the two days you have planned to shoot. Everything happens really fast and mistakes are nearly always disastrous. In my mid twenties I had never done anything that would prepare me for that world. I remember ad agency execs yelling at me because we hadn't wet down the brick patio before shooting a hotel courtyard. (He was right, it would look better with light reflecting off a newly wetted surface. Of course the fact that it was a ski area in winter would mean that it would quickly become an ice rink too.) Another time, while shooting on snow far up Mt Rainier, Gordon's eye had come off of the eyepiece on several occasions. In film cameras, especially in bright environments, light can get in through the eyepiece and fog the film. This is exactly what happened and the shot, a critical one, was unusable. Gordon, being far too principled and taking full responsibility, offered to pay for the re-shoot. The agency client agreed and we ended up paying to work on that commercial. Now we carry insurance.
I also had to run the business end– incorporate the company, file paperwork, balance the books, file taxes and basically run the business. This was hugely complicated. Not to mention, I was also supposed to be a producer and help with productions so I would now have two jobs. I was new to every bit of it and had a lot to learn.



It was an interesting period in my film career. We didn't have much paying work, and didn't yet know how to find it, so I had plenty of time to ride my bicycle and learn how to windsurf.
Along with a lack of work came a lack of money, which is a continuing theme in the film world. Being poor is liberating because it makes you hungry and frees you from worrying about anything else. To this day, I wonder if we will ever do more than just sustain our business at Serac because when we do have cash we use it to buy new cameras or editing equipment. It is a continuous flow toward having greater capability for the next shoot and, in the end, increase the quality of your work. Paying oneself becomes a low priority.
The most exciting thing to happen during the California period was when Gordon met a photographer and adventurer named Michael Powers. Michael was a member of a group called the Tsunami Rangers, extreme sea kayakers that built their own boats out of Kevlar reinforced fiberglass and explored rock gardens, sea caves and waves along the California coast. Gordon saw the potential and we set about creating a proposal to National Geographic Explorer.
I would like to say that it was our big break but it wasn't, we still had a long way to go.
The biggest lesson of this production still resonates with me today. The people you know and your ability to communicate are the biggest asset you will ever have. We asked Dad to be involved in the production as well, we were using his contacts to see the idea. He had a working relationship with producers at National Geographic and could smooth the path to getting the film commissioned.
Because I had written a lot of the proposal materials I had made the naive mistake of thinking that getting a film commissioned was as easy as writing a nice proposal with a good idea. The resulting angry words between Dad and I over who really made the sale and drama underscored a lesson that now, 15 years later, I fully understand. It is really hard to get a film commissioned. It takes a lot of work, strong relationships with the commissioning executives and a solid track record. Still, we had the project to produce and now we needed to deliver on the promise.
To do it right, we had to innovate, another key element of filmmaking essential every day in this job. You have to use the material, environment, and situation to your advantage. And if it's not there, you have to develop a new technique, style, or piece of equipment to do the job.
In this case, Gordon set about creating ways to shoot in salt water by creating simple and very effective water housings for the cameras out of aluminum. He would leave the lens end open and insert a very simple plate of tempered glass. This optically pure glass allowed us to shoot without all of the annoying filters that come with commercial housings. He also found a way to keep the water sheeted off the glass so that when the camera splashed along either fixed to a kayak or in hand that the lens would clear instantly. Younger brother Nicolas also got involved and facilitated sound in salt water by putting a small DAT sound recorder inside a small Pelican case. With a drilled hole and lots of silicone caulk we were able to run a microphone cable out of the box. The lavaliere microphone wrapped up inside non-lubricated condoms held in place with rubber bands completed the sound recording rig.
Breaking into the business is brutal. Staying it in it is even tougher. I find a million reasons to quit every year but now it is too late. Next up, I'll talk about how I moved from commercials and industrial films back into adventure film.
Now off to see what Iceland has to offer, the forecast calls for lots of rain and snow every day – perfect.
—MICHAEL BROWN
Episode I: The First, Best, and Most Lasting Thrill in Filmmaking

Read Michael Brown's first blog for Backpacker.com right here.