2013 Year of the Reader: Meet the Winners
2013 is a yearlong celebration of BACKPACKER readers, with dream trips, gear makeovers, and other great prizes. Meet the lucky readers just like you who have already won this year.
Heading out the door? Read this article on the new Outside+ app available now on iOS devices for members! Download the app.

Photo Contest Winner Bryan Doctor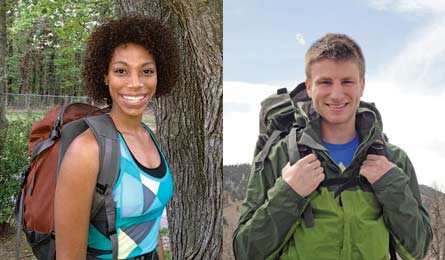 Dream Job Winners Tracie Williams and Josh Mallin
Dream Trip Winner Lou Ann Johnson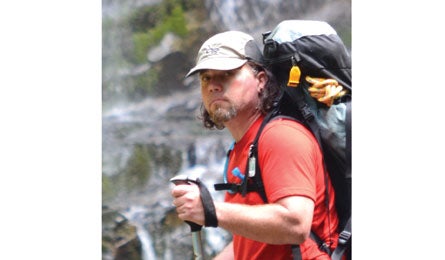 Superfan Dream Trip Winner Tyler Bounds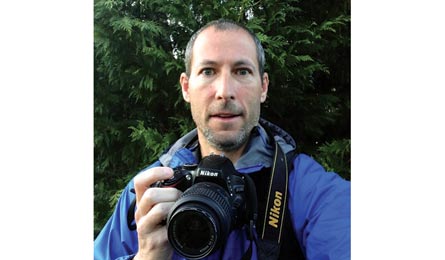 Makeover Contest Winner Fred Backhaus
FROM OUR JUNE 2013 ISSUE



PHOTO CONTEST WINNER

Bryan Docter


Talk about beginner's luck. Docter, 35, beat out more than 200 other entries with this glowing image of Arizona's Antelope Canyon, taken during his very first week of hiking—and first trip using a DSLR camera. "The light beam only appears for 30 minutes a day," the Chicago graphic designer says. "It was one of those 'right place at the right time' moments." His reward: a Tamron 18-200mm lens. For a chance to win one of your own—and see your photo on these pages—go to backpacker.com/photos.
Dim, narrow slots like this one are tricky to shoot. Pro photographer Max Seigal shares his tips:

◊ Pack a tripod. Low light means you'll need a long shutter speed (Docter's was 2 seconds).

◊ Use a wide focal length (18-24mm) to fit the entire canyon in the shot.

◊Use low ISO (Docter's was 100) to maximize the range of darks and lights that can be recorded in a single image. 
DREAM JOB WINNERS 

Tracie Williams & Josh Mallin
All year, we're connecting readers with exclusive internship opportunities with our industry partners. Williams, 30, a freelance copywriter from Chapel Hill, NC, scored a summer gig with the nonprofit Outdoor Nation, a grassroots organization that aims to empower youth to get outside. "I remember wishing I had access to all the cool outdoor opportunities that more privileged kids did," Williams says. "Outdoor Nation reaches youth in a demographic that's often overlooked." Mallin, 24, joined Verde PR, an outdoor brand-focused public relations firm, in their Boulder, CO, office in the spring. The Durango native is currently helping with marketing campaigns and social media outreach: "It's my job to keep track of the newest innovations in gear," he says. "To be a representative for companies that offer top-notch outdoor equipment is a dream come true." 
FREE GEAR!


What's better than getting new gear? Getting free new gear. Every week this year, one lucky reader takes home a prize from our gear closet. Read on for some recent winners—and their swag. Enter to win at backpacker.com/gearsweeps.


◊Jamie Kaiser, Watertown, MN

Vaude Terkum 85 backpack
◊ Aretina Trepczyk, Portland, OR

Merrell Refuge Core Mid boots
◊David Brouwer, Potsdam, NY

Atlas Run 22 snowshoes
◊ Loyd R. Ganey, Jr., Sierra Vista, CA

Granite Gear Leopard V.C. 46 backpack
◊Eric Flood, Alpine, AZ

Patagonia P26 boots
◊ Matthew Hofbauer, Croydon, PA

Boreas Sapa Trek backpack

"I don't do much camping these days, so I entered this contest for my son, who is an Eagle Scout. I can't wait to give it to him."
DREAM TRIP WINNERS

Lou Ann Johnson
As the third round of our dream trips contest proved, our readers are "in search of" many things, from Bigfoot to molten lava to sanity. But Lou Ann Johnson, 62, of Buena Vista, CO, pitched us a trek with the perfect balance of mystery, romance, and chance for success: a hunt for unmapped Native American ruins on Utah's remote Comb Ridge. "The ancestral Puebloans had an advanced culture in many ways, but since they had no written language, all we have is their art and ruins to give us insight into their world," she says. "I've been fascinated with ruins and rock art since I was a teenager, and I've looked at Comb Ridge from a distance for years. Very few people have hiked it, there are no trails, water is an issue … In other words, it's just my kind of adventure." This June, our Rocky Mountain Editor (and professional guide), Steve Howe, will escort Johnson and her husband, Marty, on a four-day hunt for petroglyphs and ruins along the wave-like formation. Pick up the January 2014 issue to see what they discover—minus a few revealing details, of course (some mysteries ought to remain hidden). Find ruins For a (slightly) more hospitable excursion to explore Utah relics, visit the well-preserved sites in Range Creek Canyon, a former ranch with an unparalleled quantity of Fremont petroglyphs, pictographs, buildings, and artifacts. Solitude is a given: Only 28 visitors are allowed in per day, May through November. backpacker.com/rangecreek
MAKEOVER CONTEST WINNER

Photography

Fred Backhaus, 43, Langhorne, PA




He may have called himself a "photography knucklehead" in his application, but Backhaus impressed our photo editors by pinpointing exactly what he needs to learn. Number one: How to use both his point-and-shoot and DSLR to their maximum effect. Number two: What to shoot. "My kids complain on hikes because I have to stop and take pictures of everything," the science teacher confessed. "They make fun of me—'Dad, you didn't get a picture of that rock!'" Number three: "I have hundreds of photos from every hike," he told us. "It would be wonderful to organize and edit them to make better memories."
Backhaus will consult with our photo team and receive professional coaching. In July, he'll test his new skills on a three-week family camping extravaganza at Mt. Rainier, Redwood, Yosemite, and Sequoia National Parks. We'll report on his progress—and share his best shots—in our January makeover feature.
SUPERFAN DREAM TRIP

Tyler Bounds, 41, Arlington, WA


In April 2010, Bounds, a gear nut and longtime subscriber who follows the picks and tips of our gear editor, Kristin Hostetter, set up a Facebook fan page called "I want to go hiking with Kristin Hostetter." We were, um, cautious at first. But who wouldn't want to reward that kind of enthusiasm? So we told him: Get 3,000 fans and we'll make it happen. Last spring, his recruiting efforts paid off, and now we're making good: Bounds is heading to BACKPACKER headquarters in Boulder this August for a two-night backpacking trip with Hostetter and other staffers. 
FROM OUR MAY 2013 ISSUE


PHOTO CONTEST WINNER

Michael Brunson
Brunson, a 28-year-old environmental education coordinator with the Appalachian Mountain Club, wowed us with this intriguing, multilayered shot taken on the Appalachian Trail. Proof you don't need an expensive camera to capture a winning photo: Brunson used a Panasonic Lumix TS20 point-and-shoot. 

The North Conway, NH, resident grew up hiking and camping and completed the AT last year. "When I'm out backpacking, I try to capture a moment in relation to how I'm feeling," he says, "whether that's joyful or melancholy." Here are his tips for nailing a similar shot.

» Keep an eye out for the details."While enjoying the beauty of the big picture, don't forget to look for the little things," like blooms, bugs, and moss.

» Get close.Use your camera's macro mode to focus on close-up objects.

» Pay attention to layers. Brunson's selective focus on the spiderweb makes it the clear subject of the photo. The hikers in the background add interest to the scene without competing with the web. 

See your photo here!Enter for a chance to get your shot published in these pages and win a Tamron 18-200mm Di II lens. Go to

backpacker.com/photosto enter.
DREAM JOB WINNERS 

Becca Skinner & Chloe Rossano
We've set up exclusive internships with our industry partners—and have placed our first two winners in their (temporary) dream jobs. Skinner, 22 (bottom), landed a summer internship in Patagonia's photo department. "There's so much company history wrapped up in these images," says the freelance photographer. "To be able to work with them firsthand is so cool for someone like me, who geeks out on old Yvon Chouinard photos." Rossano, 22 (top), will spend the summer with Jackson Hole Mountain Guides, where she'll assist on alpine climbs, including a run at the Grand Teton, and learn the ropes of managing an outfitter. "It's my goal to work in a field where women are the minority and do what I can to even the playing field," she says.
FREE GEAR!

Every week this year, we're raiding our gear closet for one lucky reader. Here's a peek at some recent giveaways. Want in? Enter the contest at backpacker.com/gearsweeps.



» Tom McCormick, Madison, WI

Magellan eXplorist GPS
» Angela Podgorny, Lewisville, TX

Marmot Speed Light Jacket
» Derek Kellum, Hale Center, TX

Outdoor Research Mentor Jacket

"My wife and I love hiking—we even went camping in New Mexico's Valle Vidal for our honeymoon. I could have used this shell then, when it rained 3 inches overnight. Next trip: Texas's Lost Maples State Natural Area.



» Art Wray, Stafford, VA

L.L.Bean Microlight tent
MAKEOVER CONTEST WINNER

Ultralight Upgrade

Lesley Fulton, 34, Fullerton, CA
In her application letter, Lesley Fulton literally begged us for an ultralight make- over. "If I can't learn how to lighten my pack, which is typically close to 50 pounds, my backpacking career is over," she told us. After two surgeries to remove a cyst on her spinal cord and repair ruptured discs, "my C2 through C7 vertebrae are fused with four metal plates and a bunch of screws. I'm not supposed to lift anything heavier than 40 pounds, let alone carry that much weight on my back for miles."

Her dream is to hike the 211-mile John Muir Trail, and we intend to help her. "We'll start by lightening up her tent and bag/pad combo," says Gear Editor Kristin Hostetter. "Then we'll shave a few pounds off her cloth- ing system, and swap out her 6.5-pound backpack with a supportive, lighter model. We'll also teach her to make ultralight meals." End goal: a base weight of 20 pounds or fewer. At the end of the year, after Fulton takes her new kit out on the JMT, we'll report back on how she—and our other Makeover Contest winners—fared.

DREAM TRIP WINNERS

Randy & Bill McDaniel
A heart attack cut their trip through the Smokies short; now, we're taking them back to finish what they started.
Bill was moving more slowly than usual as this Missouri twosome set out for a weeklong backpack through Great Smoky Mountains National Park in 2010. But it wasn't until Bill passed out that Randy realized something was seri- ously wrong with his older brother. Randy's quick thinking, a fortuitous blip of cell phone service, and a dedicated rescue crew succeeded in getting Bill off the mountain and to a hospital in time to keep a massive heart attack from killing him. The only casualty: their backpacking trip. Their story was so incredible, we had trouble believing it at first (eyebrow-raising—but true!—detail: A bear stole Randy's pack and chewed through his cookpot after he abandoned it to help Bill). Three years later, we're thrilled to help the pair, now 56 and 58, celebrate Bill's recovery (including a new heart) by helping them take care of their unfinished busi- ness in the Smokies. Later this year—permits and schedules willing—we'll re-create the pair's original 45-mile route, a loop that links the Appalachian Trail to the Benton MacKaye Trail in the park's northeast corner. Look for an update in our January 2014 issue.


Hike the Smokies Explore the rugged AT yourself on the 30.3- mile leg from Newfound to Davenport Gaps. The ridgeline trek swings past craggy Charlies Bunion and dozens of other sweeping viewpoints. backpacker.com/hikes/47495
FROM OUR FEBRUARY/MARCH 2013 ISSUE



PHOTO CONTEST WINNER

Jeff Pang

This Berkeley, CA, reader wins 2013's first photo contest.
An impromptu and unconventional Matterhorn masterpiece earned globetrotting trekker Pang the envy of our staff—both for his photographic eye and his choice of trails. He shot his winning image during a tour of the glorious Matter Valley in Valais, Switzerland, an alpine wonderland surrounded by soaring peaks. "I only had 10 minutes to shoot along the lakeshore," says Pang, admitting that capturing the winning image involved good timing, artful composition, and a little luck. As far as we're concerned, his lucky streak's still going. Pang's prize for outshining 650 other reader entries? PENTAX's K-30, a $900 weather-sealed DSLR. The backcountry-ready camera will help him keep shooting BACKPACKER-worthy pics. Turn to page 10 to see the other finalists' images and visit backpacker.com/photos for details about the rest of 2013's Year of the Reader photo contests.



DREAM TRIP WINNER

Kelli Bullard

This Amarillo, TX, reader scores 2013's first Dream Trip.
Bullard fell in love with camping at age 12, on her first trip ever: an overnight in the Texas panhandle with her church youth group. "Growing up, I preferred climbing trees to dress-up," she says. "Being outdoors energized me—it's what made me feel truly alive." But after that trip, life intervened, and Bullard hasn't slept in the woods since. Then she read Wild, Cheryl Strayed's tale of a transformative journey along the Pacific Crest Trail, and Bullard's long-dormant backpacking dream reawakened. With her kids in college, Bullard, 54, figures now is the time. "I want to be an inspiration to other women of my generation," she says. Bullard's winning entry stood out for the quality of her writing, the clarity of her goal, and because we're suckers for stories about rekindling a lost passion.
Hike the PCT Inspired by Bullard's PCT dream? Get out there yourself on an 8.9-mile shuttle hike near California's Sonora Pass; you'll cross a ridge with 100-mile Sierra views. We've deemed it the trail's best dayhike. backpacker.com/hikes/28822
Go to backpacker.com/dreamtrips for more information.
Makeover Contest Winner

First Timer

Mark Podl, 40, St. Charles, IL
With his kids now at the perfect ages for backcountry bonding—14, 12, and 10—Podl is ready to take the leap from dayhiking to overnighting. "We're fit and capable enough to hike with packs, but I don't know how to lead my family into more remote areas overnight," he says. "Will I be able to start a fire? How do we know there will be enough water? I've never had to hang a bear bag—what about wildlife?" That's where BACKPACKER comes in: We'll help Podl get equipped with core gear and set him up with private skills tutorials on basics like camp setup, water treatment, navigation, cooking, and more. At the end of the year, we'll report back on how Podl and the rest of our makeover winners fared, and which gear and skills worked best.
Apply for your own skills makeover at backpacker.com/makeover. Act fast—final entries are due February 1 (photography), March 1 (family backpacking), and April 1 (cooking).
Gear Sweeps Winners

» Margaret Farley, San Geronimo, CA

Bear Grylls Ultimate Survival Kit

"I'm a Boy Scout troop leader, and the week I won, my scouts were working on their wilderness survival merit badges, which require them to make their own personal survival kit. We used the Bear Grylls kit [which includes a firestarter, a fishing kit, and a multitool] to brainstorm ideas. On our major backpacking trip this month, we'll compare notes to see how their kits stand up to this one." (Above, Farley's troop teaches Cub Scouts to make survival bracelets.)



» Nora Davis, Index, WA

GoLite Jam Pack

"After decades of using an external frame pack, I splurged and bought a new women's pack last spring, so my 12-year-old son gets the GoLite. Our family's big goal for next summer is to hike the 75-mile section of the PCT from Stevens Pass to Snoqualmie Pass, and this pack will be vital to that trip!"
To enter for this week's prize go to backpacker.com/gearsweeps